Corporate Social Responsibility
ISG is a strong proponent of Corporate Social Responsibility (CSR). We endeavor at all times to operate our business in a responsible and ethical manner; recruit and retain superior talent; support diversity among, and provide career opportunities to our people; be good corporate citizens and contribute to the communities in which we do business, and do all we can to protect the environment – directly in our own operations and by helping our clients and their suppliers become better environmental stewards.
In advising our clients, both buyers and sellers of IT and business process services, we consider the CSR impacts of those services on business operations and include those factors in our recommendations.
GOSRIA Award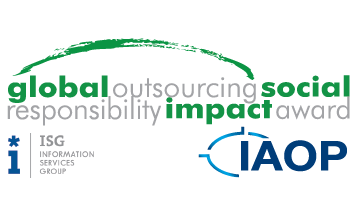 ISG is a proud sponsor of the Global Outsourcing Social Responsibility Impact Award (GOSRIA), given annually to the service provider that best demonstrates exemplary leadership in, and ongoing commitment to, activities that foster community involvement, fair operating and labor practices, respect for human rights, attention to environmental impacts, consumer issues and good governance.
The GOSRIA award was established in 2011 in partnership with IAOP, a global sourcing industry association that promotes professional and organizational development, recognition, certification and excellence to improve business service models and outcomes.
ISG Cares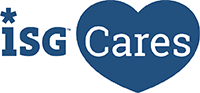 ISG encourages grass-roots community involvement from its employees through the ISG Cares program. Our employees are active in a wide range of charitable organizations in the 21 countries in which we do business, not only through their monetary donations, but in their direct commitment of time and energy to support fundraising and awareness activities.
ISG 10 Scholarship Program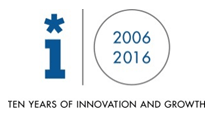 In recognition of its 10th anniversary in 2016, ISG introduced the ISG 10 Scholarship Program, to help support the current generation of science, technology, engineering and mathematics (STEM) students who will be a part of the workforce of tomorrow. The program, open to all direct relatives of ISG employees planning or currently studying for a college degree in the STEM fields, offers a total of 10 scholarships for the 2016-2017 academic year, each valued at $1,000.
ISG Top 10 Innovators Award

Also to commemorate its 10th anniversary, ISG in 2016 launched a program to recognize the top 10 innovations developed by its employees. The 10 winning teams or individuals each will select an institution of higher education to receive a $1,000 scholarship earmarked for students studying in the STEM fields.