Sourcing experts are well versed in how to establish service levels and the associated service level credits within a managed services contract. At least they used to be.
Recently, cloud-based software-as-a-service (SaaS) offerings have come to market and radically changed the way companies purchase services. Because SaaS solutions offer standard, non-negotiable service-level agreements (SLAs) out of the box, some say adding traditional SLAs to outsourcing arrangements is no longer necessary. What is necessary is to adapt traditional SLAs to be effective in this new cloud-based environment.
In a world where commodity services dominate, designing and building a service around the integration points between SaaS offerings and a managed services agreement has become more important than ever. Enterprises cannot simply rely on SaaS SLAs or their managed service SLAs. They need SLAs that reflect and protect the end-to-end solution, ensuring SLA coverage on the handoffs between suppliers and end users.
Shared services organizations or product owners responsible for business services must design and source all the service elements needed to deliver those business services to an end-user or customer. And, while a new SaaS component may be central to the service, other managed service components often still need to be integrated with the SaaS component so end users receive a complete end-to-end service offering. For example, if Microsoft Office 365 provides the basis for your email and collaboration service, you will also need to arrange for an administration managed service, including the accompanying service desk processes.
Establishing service levels that connect the SaaS component with the managed services components ensures each party delivers on its commitment. To do this, managed services SLAs are established around the non-negotiable SaaS SLAs and negotiated to ensure they cover everything to the point where the SaaS non-negotiated SLAs take over the coverage.
Since the SaaS component is automated, it will generally perform in a highly predictable manner. But a managed services component based on human labor poses the risk of compromising the entire service. This is the power of the appropriately designed service level: it incentivizes the service provider to deliver as promised.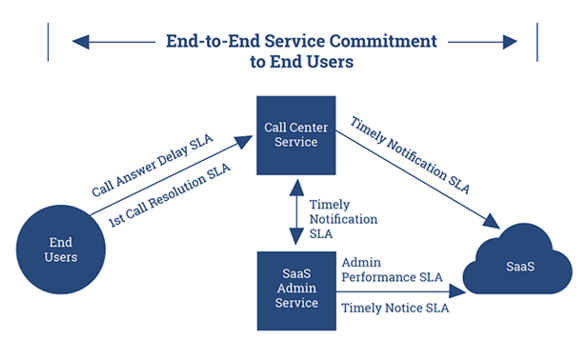 As seen in the figure above, each link in the service chain is an opportunity to establish a formal service level. The goal of these service levels is not to cause the SaaS service to perform differently than it is designed; rather, it is to ensure that the parties working around the SaaS element perform to specifications. And to fully incentivize the parties, each of these service level opportunities can have service credits associated with it.
Using this example, well-defined service levels might include the following specifics:
The service desk answers calls in a timely manner.
The service desk works to resolve most calls on first contact.
Where the service desk must hand off resolution to either the SaaS vendor or the administration function, it does so within the committed timeframes.
The SaaS administration service processes service requests within the committed timeframes.
When the SaaS administrator must obtain ticket resolution from the SaaS service, it notifies the SaaS service in a timely manner and follows up with that service to ensure resolution.
The SaaS service performs as the provider promised.
Overarching the service elements is the end-to-end service commitment the service owner has made to end-users. In a multi-sourcing landscape, a company cannot hold any one provider responsible for end-to-end delivery, but it can ensure each party holds up its end of the service bargain. Strong reporting can identify weak links so that service governance can drive any corrective action required and ensure quality service for users.
ISG helps companies determine the best service levels to apply to their cloud-based services. Contact me to discuss further.

About the author

Christopher has more than 30 years of outsourcing and consulting experience with special expertise in sourcing design and execution, contract negotiation and transition of outsourced IT services. He has helped global firms save costs and improve service delivery models, conduct renegotiations or restructure their outsourcing contracts, coach management teams on outsourcing governance practices and benchmark client IT services and outsourcing arrangements. In the last three years, Christopher's client work has included restructuring the WAN network for a large Asian pharmaceutical distributor and leading several end-to-end outsourcing projects for a large global life sciences company. More recently, Christopher helped an Australian state agency establish a new IT infrastructure shared services organization and establish agile software development services. Christopher's industry experience includes work in life sciences, government, healthcare, entertainment, insurance, manufacturing and telecommunications. Christopher is ITIL Foundations-certified in v2 and v3.