What is Happening?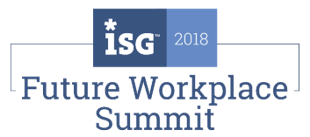 ISG's Future Workplace Summit will explore the technologies that are driving collaboration, innovation and productivity in ways that accommodate a multi-generational workforce.

March 26-27



ISG's upcoming Provider Lens™ Quadrant research study on Digital Workplace Services for the U.S. market indicates a surge in the usage of digital technologies in the modern workplace to enable anytime, anywhere, any device for employees. With workplace no longer being confined to a physical location or on a particular device, it is increasingly being defined by end users and their location or choice of devices. This has significant implications for enterprise IT strategy, spending, and sourcing - and equally weighty ramifications for providers of enterprise IT. We see market shakeups as providers redefine and position themselves accordingly.
The research report, posting this week for clients, leverages insights from ISG's engagements with enterprise user clients and evaluation of IT services providers' digital workplace offerings, capabilities, and market presence to help both ISG advisors and clients evaluate the current provider landscape and consider new relationships in meeting different enterprise business needs specific to their US operations. The results are plotted in a four-square quadrant format as illustrated in Figure 1.
Figure 1: Managed Digital Workplace Services – Large Market – U.S.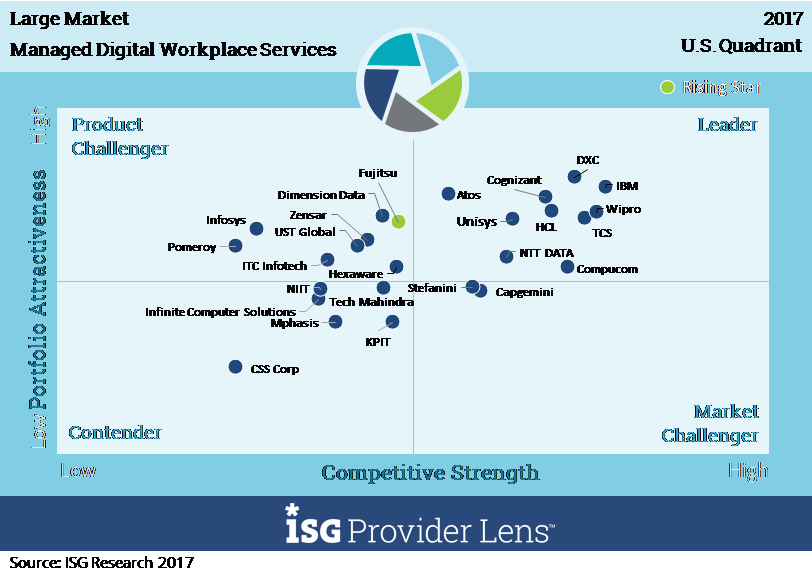 ISG's Provider Lens quadrant model positions IT services providers as follows:
Leaders. These are the most appropriate set of providers to cater to the needs of the enterprise client needs as described.
Product Challengers. These providers have a very attractive portfolio of services, but are limited by their competitive strength.
Market Challengers. The providers possess competitive strength, but need to improve portfolio attractiveness.
Contenders. These providers need to work on their portfolio attractiveness as well as their competitive strength.
Rising Stars. Services providers that didn't make the Leaders quadrant, but which demonstrate significant traction in either competitive strength or portfolio attractiveness, and which are expected by ISG to continue this trajectory based on current trends, are identified as Rising Stars.
Please note: Featuring a provider on a quadrant directly indicates that it is a relevant player in the market irrespective of its relative positioning.
The evaluation parameters and rating criteria for each quadrant are developed from ISG analyst and advisor experience with large enterprise IT and business organizations. The data regarding service provider capabilities comes from focused surveys, briefings and interviews with providers, inputs from ISG advisors, ISG benchmarking data, ISG Contracts Knowledgebase, ISG Engagement database, and desk research.
The x-axis of the quadrant is focused on the competitive strength of providers, evaluated using parameters such as brand image & awareness, geographic coverage, experience, execution capability, and their sales & marketing ecosystem. The y-axis of the quadrant takes into consideration services providers' portfolio attractiveness, and evaluates them on parameters such as vision and strategy, pricing competitiveness, technology competency, partnership ecosystem, innovation and differentiation, and their breadth of services.
Why is it Happening?
ISG analysts see key trends enabling and affecting workplace transformation strategies, including the following:
Digital workplace is defined by end users. With the consumerization of IT, end-user preferences play a more decisive role in workplace transformation initiatives. They use the same devices and, often, the same applications for personal and office work. End-user behavior toward these assets form the periphery of the digital workplace, which affects behavior within the core enterprise workplace.
Mobility helps boost productivity. Given the business need to stay connected, mobile strategy is an integral part of digital workplace strategy. Mobility solutions should integrate various collaboration tools like voice, e-mail, chat and video while providing secure access to corporate data. Enterprises are also acknowledging that groups other than sales and marketing benefit from a defined mobility strategy; e.g,, field worker enablement is a key focus area in many enterprises. Mobility covers all handheld and remote assets, including tablets, Internet of Things (IoT) devices and industry-specific field equipment like point of sale (POS) stations in retail and patient record systems in healthcare, besides just mobiles.
Automation and analytics. Millennial end users tend to like to solve IT problems themselves, and analytics can predict system failure based on device or application usage. Automation and analytics can reduce the volume of low-level incident tickets - and may lead to their complete elimination. Many service providers have developed automation platform solutions that can be applied to workplace support functions.
Net Impact
As end-user computing transforms into a connected workplace, workplace services are becoming industry-focused, and more of a business function with non-IT departments getting involved in the transformation strategy. As a result, service providers no longer focus on the scale of devices managed but on how well the workplace integrates with the rest of the business. Providers now need to integrate offerings with components like strategic design and consulting, enterprise mobile strategy, automation and analytics capabilities, intelligent agents and social collaboration tools containing productivity apps, social communities, enterprise applications and enterprise IT. A comprehensive offering which integrates IT with business operations across regions and business units, while improving employee engagement, is becoming more of an ask from the client rather than a push from the service provider.
Our ISG Provider Lens™ Digital Workplace quadrant report explores all of the above while providing detailed analysis of providers' positioning in digital workplace consulting, managed workplace services, managed mobile enterprise services, enterprise social collaboration and workplace-as-a-service (WaaS) quadrants. The managed services quadrants are further broken into mid- and large-market quadrants as the buying behavior across these two classes of enterprises is significantly different. While midmarket segment is price sensitive and interested in collaborative workplace services, large enterprises are primarily looking to reduce IT support costs and enhance the end-user experience via automation.
This report is not meant to rank providers or to assert that there is one top provider whose abilities can meet the requirements of all clients. However, it does suggest that based on the current market requirements, which providers have the most attractive capabilities, presence, and track-record to meet these requirements.
To obtain a full copy of the report, contact ISG at [email protected] or call +1.203.454.3900. Clients of ISG Insights subscription research services will see further analysis and insights from this and other, future ISG Provider Lens studies.
Associated Insights
Can We Plan the Workplace of the Future Using Today's Workplace Data?
2017 Future Workplace Summit - The Future is Now
Digital Workplace – How the Periphery Defines the Core
Provider Lens Report: Aligning Digital Workplace Requirements with Services and Solutions