ISG Provider Lens™ Research (Archetype & Quadrant) are dedicated studies of relevant offerings related to specific IT or BPO topics or service lines over multiple regions (see "IPL Project Plan" for details). Leading vendors and service providers are evaluated and positioned, based on a transparent methodology.
The studies provide IT vendors and providers an informed base of data and research to enable them to compare their own offerings with those of relevant competitors and to reveal strengths and weaknesses as well as competitive differentiators and unique selling points. Our study serves as an important decision-making basis for positioning, key relationships, and go-to-market considerations. ISG Advisors and enterprise clients also leverage information from these reports in evaluating their current vendor relationships and potential new engagements.
Vendor positioning is based on a neutral and independent research and evaluation process. Participation in the study is FREE OF CHARGE. Vendors can purchase reprint rights of the study for marketing, press and sales purposes only AFTER the study has been completed.
A project brochure with further information can be obtained by clicking on the following graphic:
Definition of Quadrants (market categories)
Below you will find the detailed definitions of the market categories evaluated in the study "Digital Business Transformation Services 2019". As part of the ISG Provider LensTM Quadrant Study, we are introducing the following 7 quadrants: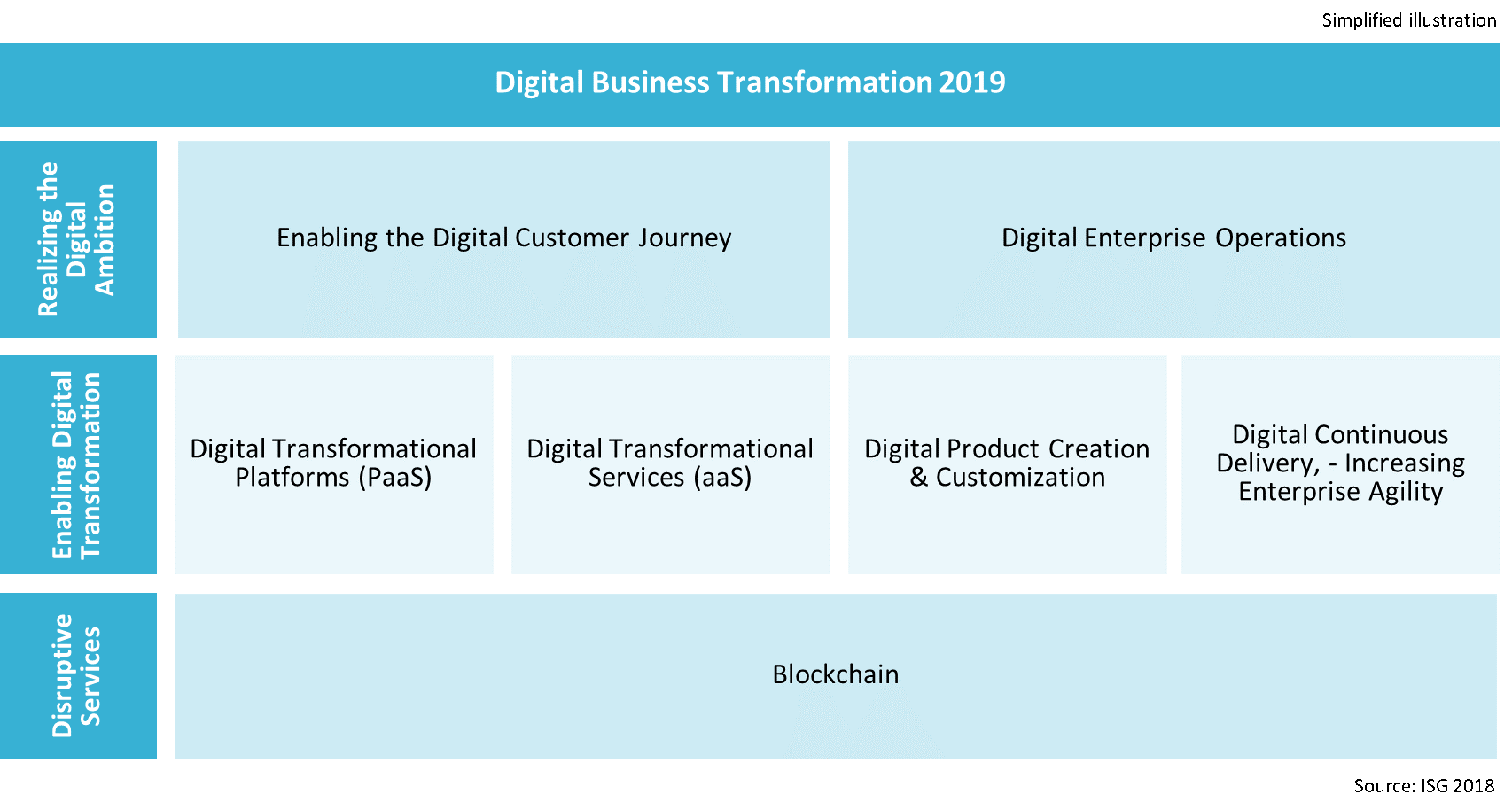 Segments Description
Enabling the Digital Customer Journey
A customer journey comprises the individual cycles experienced by clients before and during the decision-making process for buying or using a product or service as well as their product or service experience after having purchased the product/service. Digital technologies can be used to allow for a completely new customer experience. This category comprises agencies and service providers that have specialized in comprehensive portfolios of digital go-to-market/business strategies, brand communications, creative service, design and experience offerings and who understand but are not limited to their own underlying technology and solutions, ensuring an integrated strategy through to roadmap of the digital customer journey offering to the enterprise.
IT vendors, strategy advisors and service providers such as IBM, Accenture and Deloitte continue to take over marketing agencies and are building up their internal competencies to strengthen their presence in the marketing departments, while marketing agencies are strongly enhancing their digital and IT technology competencies.
Digital Enterprise Operations
This segment covers the Digitization of the processes of a typical large-scale organization – using an ecosystem of components, tech platforms, processes and system integration and capable of either using PaaS, or in-house operations/data center or as-a-service (aaS) operations and main DC functions in a managed and integrated (end to end) manner. Includes DevOps tools and improvement to all operational and rapid provisioning process.
Digital Enterprise operations providers help customers operate smart, IT-based infrastructures, platforms and networks that connect sales, service and partners across the whole value chain. This market segment combines traditional operational excellence, including highly sophisticated technology, with managed services know-how and an in-depth understanding of customers' business and industry-specific challenges.
These implementations are often considered "initial" or "starter" steps in the journey from traditional or current operations, towards cloud-based operations which map onto the enterprise inspirational "Customer Journey" plans. They are in many cases considered initial iterations and replaceable by more customized / comprehensive PaaS and/or XaaS offerings as the enterprise becomes more mature in its aspirations and further along its strategic roadmap of the overall Digital Transformation process, tempered by business and customer feedback, usage patterns and new requirements based on this initial operating offering.
Digital Transformation Platforms (PaaS)
This segment lists and grades all the PaaS multi-tenant platform solutions, integrated together and offered to enterprise by System Integrators (and potentially vendors acting in a SI role), with a focus upon those with a high degree of automation that are ready to use "out of the box" (pre-build) and those which need customization by the SI (and partners) but which are designed for ease of customer tailoring/modification (open / modular / customizable). Data center managed service or IaaS or hybrid cloud management is optional, as a client may have another provider for infrastructure management. Cloud computing is the foundation and the philosophy behind these platforms that can be enhanced and refined based on an expansive partner ecosystem.
Solutions may consist of a technological mix, including hybrids, of in-house developments and best-of-breed solutions by leading product and platform-as-a-service providers and are embedded in web platforms and cloud marketplaces which provide networking effects and integrate and distribute the platform provider's as well as third-party products or services.
Many systems integrators are established players in this segment. Reasons for this include prior histories of being involved with integration of technological advances of cloud management & orchestration and event processing services, coupled with their ecosystems of internal and partner offerings and adaptation capabilities.
Digital Transformation Services (aaS)
This segment evaluates and grades "cloud first" aaS service providers that are focused upon Digital Transformation with "out of the box" solutions or easy to customize solutions (open/modular) specific for enterprise needs. The Provider can manage the solution/service end to end if required. This may be individually focused part areas of the entire DT enterprise service chain (e.g. CRM or Mobile apps/IoT integration, microservice/API integration and provision, ERP, etc) or may be complete solutions based upon the overall design and transformational roadmap for the enterprise, as delivered by strategic planning.
Solutions may consist of a technological mix, including hybrids, of in-house developments and best-of-breed solutions by leading product and platform-as-a-service providers and are embedded in web platforms and cloud marketplaces which provide networking effects and integrate and distribute the platform provider's as well as third-party products or services.
Many service providers are established players in this segment. Reasons for this include prior histories of being involved with the supply of and integration of services and solutions to enterprises, including within the cloud management & orchestration and event processing service areas, coupled with their ecosystems of internal and partner offerings and adaptation capabilities.
Digital Product Creation & Customization
This segment covers the creation of new Digital products from ground up for enterprise, as new service components for the enterprise business, or adaptation of existing but outmoded service components. These developments and customizations may be offered as a Service but fall short of the full "Continuous Delivery" paradigm. Monetization of these products should be built in and part of the development process. Some examples of Digital Transformational products include application accelerators, mobile end-user browse and buy, hotspot marketing, try before buying/demo subscriptions, digital mirroring / simulation of trying a product with stats and customer acceptance feedback, etc.
Higher speed of innovation regarding the usage of digital transformational products and methods to translate information into revenues is based on lean, flexible and customer-centric business processes, with highly mapped and inclusive agile development supporting this. The current mantra focused on "information excellence" urges enterprises to scrutinize and improve all of their processes related to the creation of products and services. Major challenges for companies include functionality and processes to evaluate and support ideas within the context of current digitalization trends.
Digital Continuous Delivery, -Increasing Enterprise Agility
Digital Continuous Delivery gives organizations the ability to develop and deliver high-quality software faster and more efficiently than ever before and allows the use of PODS, Innovation Labs and direct feedback from end users and customers, often captured automatically via usage pattern analytics, to increase the relevance of software being released into the market as well as to shape new specific products and micro services. Continuous development and innovation providers may be in-house to an enterprise, jointly in-house and partner with external companies or may be offered as a service to the enterprise, with only a management and authorisation function remaining in -house.
Providers of this set of services must be able to offer all of the benefits and practices of companies from within the Digital Product Creation & Customization space, (as described in the preceding segment), but also offer a workplace or shared workspace experience for collaboration. Under this environment, crowdsourcing employees or user groups develop new products and services designed for new digital experiences. The providers have tools to support product ideation and prototypes testing such as: collaboration tools, virtual reality labs, IoT platforms for prototyping, telepresence tor remote team collaboration, design thinking, A/B tests, and methodology experts to facilitate product creation. Prototypes can be created and tested very fast utilizing the agile methods previously described in the preceding segment. Providers that compete in this market can engage 'by project,' or as a continuous 'permanent innovation lab,' or can share revenues from product monetization.
Blockchain
This is a vast and highly disruptive area (potentially). Although commonly associated with Bitcoin/cryptocurrencies, blockchain technology has many other applications. Bitcoin is merely the first and most well-known uses. In fact, Bitcoin is only one of about seven hundred applications that use the blockchain operating system today. One example of the evolution and broad application of blockchain, beyond digital currency, is the development of the Ethereum public blockchain, which is providing a way to execute peer to peer contracts. Simplistically, a blockchain is a type of distributed ledger or decentralized database that keeps continuously updated digital records of who owns what, with a network of replicated databases, synchronized via the internet and visible to anyone within the network. Blockchain networks can be private with restricted membership like an intranet, or public. When a digital transaction is carried out, it is grouped together in a cryptographically protected block with other transactions that have occurred in the last 10 minutes and sent out to the entire network.
Blockchain's decentralized, open & cryptographic nature allow people to trust each other and transact peer to peer, making the need for intermediaries obsolete. This also brings unprecedented security benefits. Hacking attacks that commonly impact large centralized intermediaries like banks would be virtually impossible to pull off on the blockchain, (every block ever made on a subject, across entire internet or network would have to be overwritten, plus backups).
In this segment we examine Blockchain as a Service providers.