ISG Provider Lens™ Study – Digital Workplace of the Future 2019 (Study)
ISG Provider Lens™ Research (Archetype & Quadrant) are dedicated studies of relevant offerings related to specific IT or BPO topics or service lines over multiple regions (see "IPL Project Plan" for details). Leading vendors and service providers are evaluated and positioned, based on a transparent methodology.
The studies provide IT vendors and providers an informed base of data and research to enable them to compare their own offerings with those of relevant competitors and to reveal strengths and weaknesses as well as competitive differentiators and unique selling points. Our study serves as an important decision-making basis for positioning, key relationships, and go-to-market considerations. ISG Advisors and enterprise clients also leverage information from these reports in evaluating their current vendor relationships and potential new engagements.
Vendor positioning is based on a neutral and independent research and evaluation process. Participation in the study is FREE OF CHARGE. Vendors can purchase reprint rights of the study for marketing, press and sales purposes only AFTER the study has been completed.
A project brochure with further information can be obtained by clicking on the following graphic: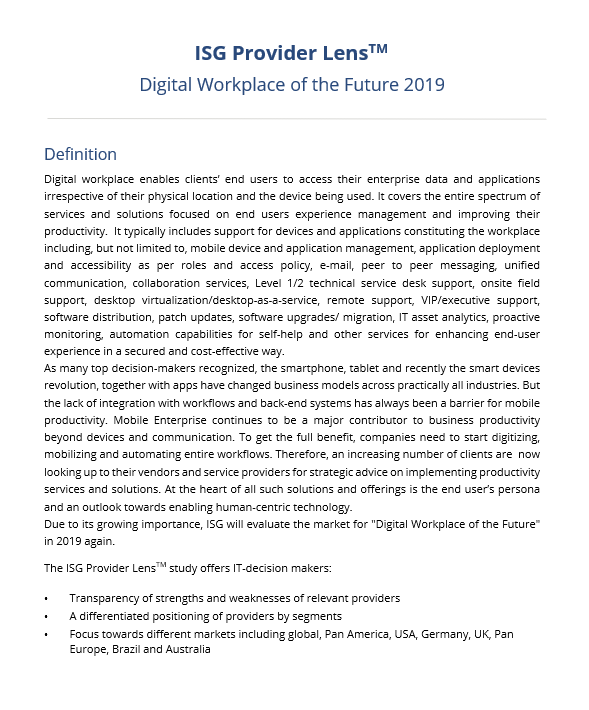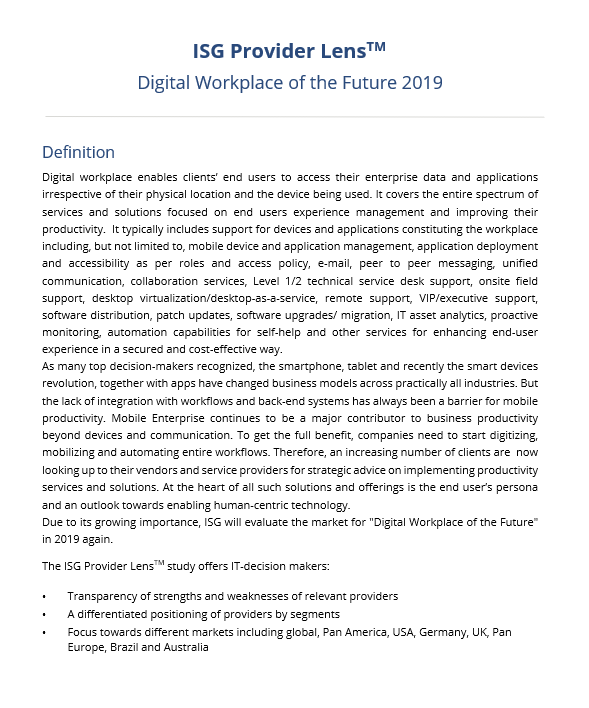 Definition of Quadrants (market categories)
Below you will find the detailed definitions of the market categories evaluated in the study "Digital Workplace of the Future 2019". As part of the ISG Provider LensTM Quadrant Study, we are introducing the following quadrants: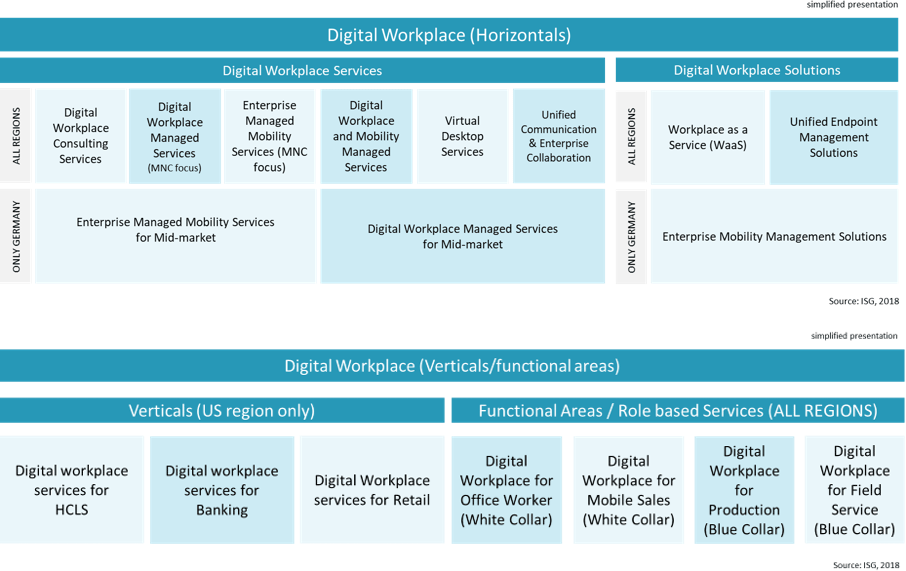 Segments Description
Digital Workplace Consulting
Digital workplace consulting centers on workplace optimization strategies. Modules include the support for defining a workplace strategy, designing the architecture and the roadmap and for validating the business case for transformation. ISG asks for a standardized methodology for segmenting and optimizing requirements based on personas, both for devices and for applications, to support digital and mobile workflows.
Digital Workplace Managed Services
Managed Digital Workplace Services encompass a range of services including the service desk, lifecycle management, user management, EMM services, IMAC, break-fix, hardware and software maintenance, kiosk services, troubleshooting, change management and transition management. Innovation and automation in the service desk domain based on artificial is a key area of focus. Consulting services and Desktop-as-a-Service are explicitly excluded.
Managed Mobile Enterprise Services
Managed Mobile Enterprise Services focuses on lifecycle management, user administration, troubleshooting, change management, transition management and support. The core proposition enables mobile users with single sign-on features to securely access productivity apps and data anytime and anywhere. It also includes mobile policy configuration and mobile security.
Managed Workplace and Mobility Services
The mid-market has fewer users, low capital and thus distinct requirements. Key ingredients for solutions include price competitive cloud-based propositions, service automation and AI related techniques to enable their end users to work from home or on the move. Service providers that combine collaborative workplace services with cognitive- and AI-enabled automation and mobility will lead this market.
Virtual Desktop Services
Cloud based virtual desktop services involve hosting clients' desktops in the providers' data centers. These could be delivered through all types of cloud infrastructure, from public via hybrid to private models. Service providers provide managed services in a user-based license model.
Unified Communication & Enterprise Collaboration
Unified Communication and collaboration services are an integral part of the digitized workplace. UCC services include managed services for collaboration, enterprise telephony and communication, social media-style community building, enterprise content management, crowdsourcing and productivity suites.
Workplace as a Service (WaaS)
The Cloud workspace or WaaS is a highly standardized and productized offering that is delivered through the public cloud and provided on a "pay-as-you-go or pay-per-user basis.
Unified Endpoint Management Solutions
Unified endpoint management solution is converging to encompass smartphones, tablets laptops and PCs. Centralized solutions include:
Integrate key ITIL processes across all physical, virtual, mobile and cloud-based workspaces (incident management, problem management, change management, request fulfillment, service asset & configuration management, service level management, service portfolio management, IT service catalog management).
Self-provisioning with integrated approval process and internal Enterprise App Store.
Provision of essential MDM features.
Verticals/Functional Areas
Providers that have developed specialized solutions, or customized the services, to meet vertical market demand or for productive needs of workers that perform specific functions.
The vertical industry evaluates suppliers that serve the Financial, Health and Retail markets with mobility solutions, whether for the safety and legal and regulatory compliance requirements of the vertical industry, or that have solutions specific to those markets.
Functional expertise assesses office worker mobility, applied mobility in sales functions, specialization in factory floor mobility solutions, and field service management solutions such as maintenance and support.
Definition of Archetype Research
In this study, we identify and classify the typical buyers of Digital Workplace of the Future Services & Solutions.

Ad-hoc client archetype
These clients usually have a legacy-heavy enterprise IT function that has multiple silos and is disjointed from the business. For these organizations, enterprise IT is usually a cost center, not a value generator. A digital workplace would represent a great new resource for such organizations, but these organizations often are not well prepared to leverage digital workplace technology.
Transformation Oriented archetype
These clients adopt digital workplace initiatives to improve their service delivery and operational efficiency. Their IT organizations may have a silo structure and be disjointed. For these clients, an efficient IT service delivery and tech support, driven by analytics and automation can act as initial steps towards digital transformation.
Cloud-Enabled archetype
These clients are more receptive towards usage of cloud-based technologies in their workplace environment. They prefer to host their applications (legacy or otherwise) over private or public cloud.
Cloud-based workplace, unified communication and workplace productivity tools will be key areas of importance for these clients.
Digital Archetype
These clients aim at developing an extremely customized personal and smart workplace for every end user with extensive usage of modern automation technologies, like artificial intelligence, robotics, etc. End users for these clients can work from anywhere, any device and anytime and can get the same seamless experience. This archetype is focused towards providing every employee an experience of having a digital personal assistant.
Next Gen Sourcing Client
These are large enterprise clients with deep experience in sourcing their workplace services. They do not have a disjointed IT operation but rather one that enables business differentiation. These clients will look for a digital workplace solution that is oriented to achieving business objectives and enabling business growth. These clients will take best of the other four archetypes and will look for a digital workplace solution which would aim at business enablement achieving business objectives.