ISG Provider Lens™ Study – Next-gen Application Development & Maintenance (ADM) Services 2019 (Study)
ISG Provider Lens™ Research (Archetype & Quadrant) are dedicated studies of relevant offerings related to specific IT or BPO topics or service lines over multiple regions (see "IPL Project Plan" for details). Leading vendors and service providers are evaluated and positioned, based on a transparent methodology.
The studies provide IT vendors and providers an informed base of data and research to enable them to compare their own offerings with those of relevant competitors and to reveal strengths and weaknesses as well as competitive differentiators and unique selling points. Our study serves as an important decision-making basis for positioning, key relationships, and go-to-market considerations. ISG Advisors and enterprise clients also leverage information from these reports in evaluating their current vendor relationships and potential new engagements.

Vendor positioning is based on a neutral and independent research and evaluation process. Participation in the study is FREE OF CHARGE. Vendors can purchase reprint rights of the study for marketing, press and sales purposes only AFTER the study has been completed.
A project brochure with further information can be obtained by clicking on the following graphic: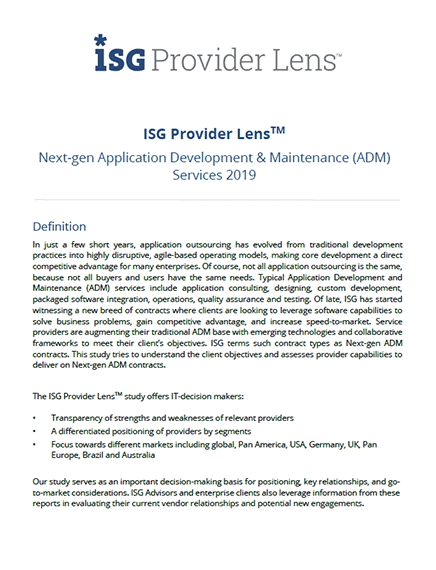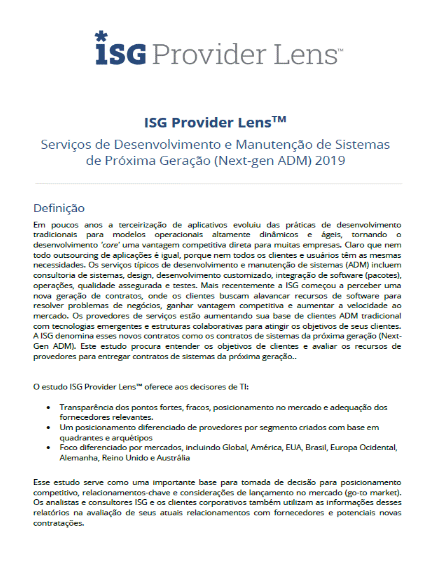 Definition of Quadrants (market categories)
Below you will find the detailed definitions of the market categories evaluated in the study " Next-gen Application Development & Maintenance (ADM) Services 2019". As part of the ISG Provider LensTM Quadrant Study, we are introducing the following 6 quadrants:

Segments Description
Next-gen ADM
Like traditional application services, next-gen ADM includes consulting, design, custom development, packaged software integration, operations, and testing. However, the scope, delivery mechanism and outcome for such contract pivot around a value-based approach where the focus is on achieving enterprise agility and solving business problems. This quadrant will assess vendors based on their capability to augment traditional ADM services with emerging technologies/methodologies like agile, DevOps, automation, digital and modernization techniques to deliver application outsourcing projects. It will also assess provider capabilities in incorporating new approaches to develop and deliver applications that focuses on business outcomes.
Agile Development
Agile Development focuses on incremental and iterative approach to application development. As agile encompasses frequent and early releases of the working software, it is being viewed by Enterprise as a medium of attaining enterprise agility.
This quadrant will assess capabilities of a provider in being able to deliver tangible results through use of various agile methodologies. It will also look at the focus a provider has towards use of agile development with respect to its overall application development practice.
Continuous Testing
Continuous testing focuses on delivering quality assurance at speed. In terms of technology, it encompasses various aspects of automated testing such as shift-left, end-to-end automation across testing phases. However, in terms of people and processes it goes a step beyond automation testing to accomplish higher collaboration among QA and development teams to sync with sprint cycles, feature-driven testing, responsiveness to change, creating a feedback loop and greater client involvement. Continuous testing is gaining momentum specially to help enterprises keep pace with their Agile and DevOps initiatives.
Service providers for this quadrant would be assessed on their progress made and capabilities developed in terms of creating a continuous testing environment for their clients with measurable outcomes.
Next-gen ADM – BFSI Industry
BFSI industry includes ADM services provided to Banking, Diversified Financial, and Insurance companies.
This quadrant will assess the strength of providers that provide Next-gen ADM services to BFSI industry vertical.
Next-gen ADM – HCLS Industry
HCLS industry includes ADM services provided to Healthcare institutions, Health payers, Pharma, Biotech and Medical devices companies.
This quadrant will assess the strength of providers that provide Next-gen ADM services to HCLS industry vertical.
Next-gen ADM – Manufacturing Industry
Manufacturing industry includes service provided to conglomerates, capital goods, construction, consumer durables (like automotive, household appliances), aerospace and defence, materials, semi-conductors, technology hardware and equipment companies.
This quadrant will assess the strength of providers that provide Next-gen ADM services to Manufacturing industry vertical.
Definition of Archetype Research
In this study, we identify and classify the typical buyers of Next-gen Application Development & Maintenance (ADM) Services.



Managed Services
ADM outsourcing scenario where clients are looking to engage with single or multiple service providers in a managed services mode. In this relationship, service provider(s) are required to comply with SLAs/BLAs and comply with agreed deadlines. In this model, the client no longer micro-manages operational aspects and look for continuous operational improvement and cost reduction by engaging with provider(s) for longer period.
Digital Transformation
ADM outsourcing scenario where customer-centric companies are trying to create a competitive advantage, enabled through emerging technologies. These buyers can either be mature outsourcers or digitally born companies with multi-channel customer touch points. For these companies, software is a primary medium of rendering services. Increasing revenue is the major driver behind their outsourcing strategy. There is a surge in adoption of pricing models where the service provider's fee is directly linked with the business outcome itself.
Leveraging Packaged Software Platforms
ADM outsourcing scenario where companies are looking to consolidate their landscapes on to external platforms like SAP. There is a growing adoption of SaaS-based ERP and BPM platforms to achieve lower cost of entry, reap early benefits, and higher degree of accessibility. They are looking to achieve business process expertise through standardization of those processes on a common platform. They want to engage with service providers who have platform cycle know-how, can develop business complementing services (web), and have platform integration skills.