ISG Provider Lens™ Research (Archetype & Quadrant) are dedicated studies of relevant offerings related to specific IT or BPO topics or service lines over multiple regions (see "IPL Project Plan" for details). Leading vendors and service providers are evaluated and positioned, based on a transparent methodology.
The studies provide IT vendors and providers an informed base of data and research to enable them to compare their own offerings with those of relevant competitors and to reveal strengths and weaknesses as well as competitive differentiators and unique selling points. Our study serves as an important decision-making basis for positioning, key relationships, and go-to-market considerations. ISG Advisors and enterprise clients also leverage information from these reports in evaluating their current vendor relationships and potential new engagements.
Vendor positioning is based on a neutral and independent research and evaluation process. Participation in the study is FREE OF CHARGE. Vendors can purchase reprint rights of the study for marketing, press and sales purposes only AFTER the study has been completed.
A project brochure with further information can be obtained by clicking on the following graphic: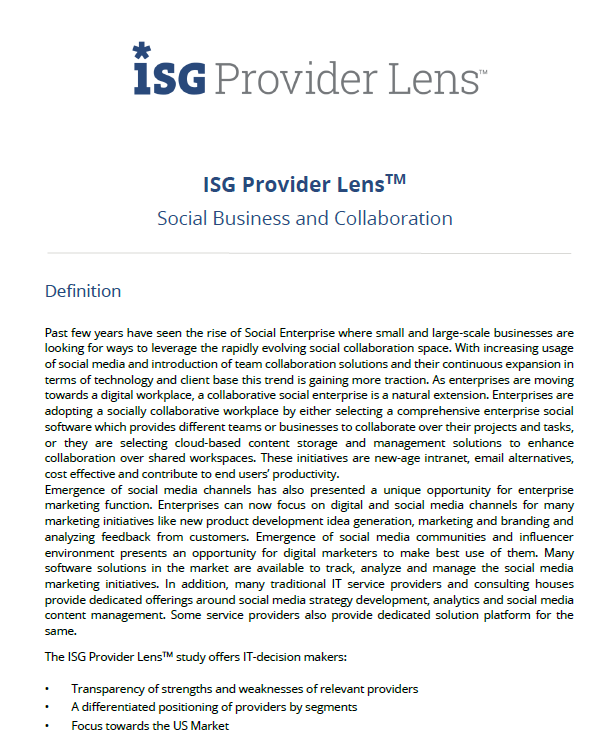 Definition of Quadrants (market categories)
Below you will find the detailed definitions of the market categories evaluated in the study "Social Business and Collaboration 2018". As part of the ISG Provider LensTM Quadrant Study, we are introducing the following 5 quadrants:
Segments Description
Enterprise Social Software
Enterprise social software is a software solution, mostly cloud-based, which is used to create internal collaboration. It is like the next gen intranet solution where end users can access the entire workplace data and information. The basic and most important characteristic is ability to collaborate over voice/chat/video. Integration with productivity suites, email etc. is an added feature. This solution should be accessible over any platform or device.
Enterprise Social Collaboration Software solutions offer collaboration across teams, groups and entire enterprise over a common platform. These solutions can be integrated with other business functions and unified communication channels. It keeps the end users/ individuals involved in a group/ project/ task or for entire organization to work towards achieving their goals while also enhancing their own productivity. They provide secure, integrated and automated solution for enhancing end user's experience and helping enterprises make best use of their digital workplace.
Social Media Management Solutions
Social Media Management makes it easier for organizations to monitor, listen, interact, engage and collaborate with their target audiences and within multiple departments across different social media channels. These solutions can help to effectively track, converse, monitor, analyze, report and manage various social media venues and conversations. Outbound and incoming online interactions along with other business marketing activities can be efficiently managed in this way. Besides the specific functionality, integration with the company's system environment and seamless integration of third-party functionality plays a key role.
Enterprise Cloud Content Collaboration and Management Platforms
Cloud based enterprise content management solutions provide cloud-based storage for business content along with collaboration features. These solutions also provide end user access management along with secured file sync, share, edit functionalities. These solutions can integrate with enterprise content management and digital asset management. These solutions provide seamless access to multiple end users and team members to create, edit and share content in a collaborative manner.
The new age EFSS platforms that also provide online content solutions have become key in the collaborative digital workplace. Cloud based deployment and conditional content access to any device are key features for these solutions
Chatbots Platforms
Bots have become an integral part of the collaboration solution. Intelligent bots which can trigger applications and processes based on chat are improving end user experience and enhancing their productivity.
These platforms provide a graphical user interface and automated functionality, which eliminates most of the programming work. A key chatbot development focus is on dialog planning and design and the integration of existing platforms. The platforms anticipate customers' behavior, specifically within free (non-scripted) dialogs, and support developers accordingly. Additional analysis help achieve continuous improvements of chatbots to address clients' requirements and dialog behavior accordingly, specifically within the context of free (non-scripted) dialogs.


Social Media Analytics, Management and Consulting Services
These are consulting houses and service providers that have specialized on the strategic consulting of companies regarding the use of social business software/services or complete suites and their implementation. These services generally cater to the requirement of enterprises' marketing department. Service providers offering Social Media services provide consulting around choosing best in breed social media management solution. They also offer analytics services to measure enterprises' social media marketing effectiveness.