Customer expectations are greater than ever, especially in the retail and consumer packaged goods (CPG) industries. Digital access to information, social networking platforms and the Internet of Things (IoT) have created conditions that make consumers increasingly impatient and fickle. To meet the demands of this new customer, companies must take both an outside-in and an inside-out approach. They must focus on the outside-in to understand what their customers want and the inside-out to determine what their employees need to meet those increased customer expectations.
To compete in today's market, retail and CPG companies need to create compelling and "sticky" customer and stakeholder experiences. In many ways, this requires that companies re-imagine everything about the way they connect, transact and engage with the market. This market responsiveness depends on IT organizations that can deliver next-generation capabilities and services.
ISG has been speaking with technology providers and buyers about what 2018 will hold for retail organizations. Our ten predictions below are based on how we believe companies will be prioritizing their investments in both operational IT and customer-facing digital technologies.
1. Top retailers will set their sights on unified commerce platforms. In moving toward a customer-centric operating model, IT leaders will need to invest in platforms that are cloud-based, composable and designed to leverage reusable components. While the benefits of unified commerce models are clear – channels can share data from a common infrastructure, for example, and customer information is available to all users regardless of touch point – they can be complex to deliver. The key to success is a well-thought-out digital strategy that uses levers to help a company be more agile and move away from siloed point solutions like POS and e-commerce to microservice-enabled enterprise solutions that are deployed from the cloud.
2. Progressive retailers will accelerate their implementation of artificial intelligence. Today, the convergence of the digital workforce with traditional customer service is completely changing the shopping experience. As consumers become more and more comfortable interacting with digital assistants like Siri and Alexa, they are beginning to perceive human interaction as less efficient. Retailers will need to make significant investments in the digital workforce to help them deliver what customers want – which is to say a seamless omni-channel customer experience.
3. Adoption of robotic process automation (RPA) will increase. By automating back-office processes and integrating functions, companies can remove complexity and uncover new efficiencies. RPA is a bridge between technology and service delivery, allowing businesses to focus less on operations and more on customer outcomes. Retailers will become more and more interested in RPA as they realize the potential they could tap by digitizing operations, improving customer focus and leveraging the flexibility of the digital workforce.
4. Companies will spend more on managed services and artificial intelligence-based cyber-defense technologies. Retail and consumer companies will need to bolster their cybersecurity efforts by implementing technologies such as cloud-based cybersecurity, advanced authentication and data analytics. While many will focus on advanced technologies such as point-to-point encryption, next-generation firewalls and tokenization, others are working to enhance security processes for payment cards and mobile payment systems.
5. Blockchain will gain traction. The decentralized blockchain has the potential to make a significant impact on the retail industry well beyond managing the supply chain or tracing a product's journey. The consumer's appetite for more information, secure transactions and improved transparency is already affecting the retailer-customer relationship. Blockchain technology answers these needs by guaranteeing provenance of goods and security of the transaction. Retailers are likely to conduct more proofs of concept and pilots with blockchain in the coming year.
6. Companies will take significant steps in deploying a user-experience architecture supported by predictive analytics. Being able to gather, analyze and disseminate customer data across channels is fundamental. The next-generation platform will leverage this data in real-time and allow retailers to consider interrelated factors and environmental conditions such as the time of day, the weather, and the consumer's physical location to make the shopping experience more relevant. Retailers focused on these efforts are realizing personalization strategies, increasing customer conversions and recognizing higher revenues.
7. Digital leaders will use product data to feed merchandising and marketing. Companies that redesign product information management (PIM) and master data management (MDM) systems to connect product attributes to artificial intelligence platforms will generate rich customer insights to support omnichannel merchandise planning. These predictive models can help merchants, marketers and planners gain a greater understanding of customer behavior to better align segmentation, improve messaging and optimize website experience.
8. Retailers will invest in robotics and IoT to improve warehouse, distribution and last-mile delivery performance. In the warehouse, automation can dramatically improve speed, reliability and accuracy. "Physical automation" or goods-to-person (GTP) systems use automated carousels, conveyors, storage and retrieval systems to bring inventory right to the order picker. Drone technology also is on the horizon for many companies' efforts in improving "last-mile" delivering of goods right to consumers.
9. Companies will spend more on analytics to leverage digital, mobile and social insights to spot new paths to value. Mobile and social data are changing the way retailers engage with consumers. Social media allows retailers not only to communicate directly with their customers but also to collect and digest important customer information. The better a retailer can understand who their buyers are and how they feel about their brand, the more likely they are to succeed.
10. Retailers will experiment with augmented reality and voice-enabled digital assistants, but production rollouts will lag. Disruptive technologies such as artificial intelligence and augmented and virtual reality are changing the shopping experience. But, while these "bright and shiny objects" fit into the category of capabilities that improve the consumer experience and employee productivity, they have not proven to be highly scalable to date. And – for the time being – retailers will be better served by focusing their investments on technologies that blend the physical and digital touchpoints along the customer journey.
The future presents challenges to retailers. Successful IT organizations will need to adopt an agile organization model, provide a secure and compliant environment and align with the business to enable a digital experience. The ISG Digital Framework below guides IT organizations as they develop the inside-out approach they need to respond more efficiently to the market and enable new growth and the outside-in approach to set them on a path to customer centricity.
ISG Digital Framework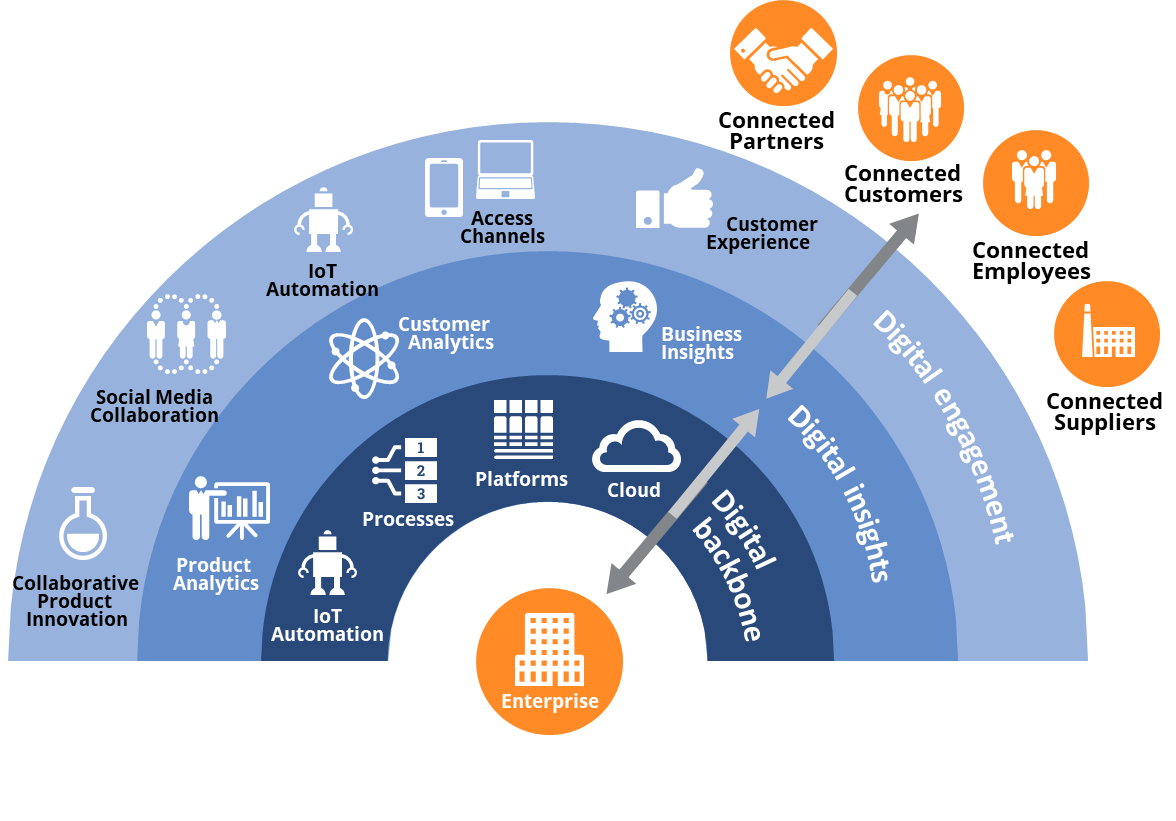 The retailers that will step out in front in 2018 will embrace technology – but they will do so by refining how they engage with the market, how they improve operations and how they respond to a demanding and savvy consumer. Contact me to learn more.

About the author
Mike Witty has 25 years of experience assisting retail and consumer product companies define their customer experience and supply chain strategies. He works with large national and multi-national companies to create digital and analytic strategies and to design, integrate and implement technologies to improve both the external customer experience and internal operational efficiency. Mike also partners with clients to lead target operating model transformation initiatives and the rollout of change management programs to mobilize process and organizational change across their environments.