The ISG Star of Excellence Awards™
What is the Star of Excellence?
Congratulations to these Service Providers in Qualifying for the 2019 ISG Star of Excellence!
Accenture
Atos
ADP
BT Group
Cognizant
Conduent
Fujitsu
HCL
IBM
Infosys
Mindtree
TCS
Unisys
2019 Star of Excellence Winners were announced at the ISG Sourcing Industry Conference, on September 17th, in Scottsdale, Arizona.

ISG announced Mindtree and IBM have been named overall winners of the second annual ISG Star of Excellence Awards™. Mindtree earned top honors for achieving the highest cumulative client experience score for the quality of its core technology services, while IBM earned the same distinction for the quality of its emerging technology services.

The Star of Excellence is an independent recognition based on industry wide "Voice of the Customer". The Star of Excellence is an award for service providers who have consistently demonstrated highest standards of client service excellence. The award is based on feedback collected through an online survey, which is designed and administered by ISG.
Providers and ISG Advisors may nominate their clients to participate. Clients may also register on the microsite to provide feedback on service providers within their ecosystem.
It is our vision that the Star of Excellence will be recognized as the leading industry award for client service excellence and serve as the beacon for measuring client service excellence.
Read the 2019 ISG Star of Excellence Winners Press Release
Visit the 2019 ISG Star of Excellence Website
Why is ISG running this program?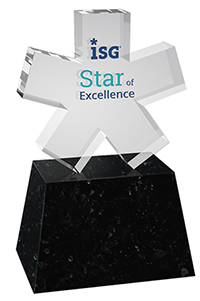 ISG is running this program for the benefit of the sourcing industry. We believe it is critically important to reward and recognize providers who are consistently delivering outstanding customer experiences. By making customer experience a key competitive differentiator, the Star of Excellence will encourage the broader industry to make this a key focus area.
As the largest trusted, global technology research and advisory firm, ISG has the market permission to run this program. Our role in this program is to facilitate structured conversations about client service and establish gold standards in measuring it.
Read more about the ISG Star of Excellence Methodology