ISG Blockchain Now™

What is the value of blockchain to my organization today?
And what is the power of blockchain tomorrow?
ISG has the answer.

Read the Article:
Finding the Real Enterprise Value in Blockchain
ISG delivers blockchain solutions that enable enterprises to improve the efficiency, accuracy and security of their business processes – regardless of your current capabilities. We work with you to solve immediate and validated business problems – regardless of your industry. Embarking on the blockchain journey doesn't require a massive transformational effort, just the right methodology and clear alignment to business goals.
Blockchain is quickly proving it has the potential to increase operating margins, enable new revenue streams and underpin the next evolution of business. But understanding how it can drive the greatest value in your environment can be a challenge. ISG can help you identify high-ROI blockchain solutions to improve upon legacy technology, optimize existing business processes and improve data security. ISG builds "blockchain blueprints" designed specifically to support your wider strategic enterprise initiatives.
By leveraging our innovative ISG FutureSource™ approach, we work with you to find the right solution and accelerate the process of identifying and engaging with blockchain technology providers.
Does your enterprise need blockchain?
Enterprises across a wide range of industries – manufacturing, insurance, logistics, trade finance, banking, pharmaceuticals and automotive among others – are paying attention to blockchain as a powerful way to enhance transactional processing speeds, increase operational margins across business value chains and establish new revenue-producing business models. Think of it as a way to record and validate information between multiple parties. Implemented in specific areas of your enterprise, it can solve immediate challenges to the way you do business.

Though blockchain is often associated with currency and banking, more than half of current use cases are outside of these industries. Distributed ledger technology is ideal for secure, end-to-end, provenance and authenticity tracing, which means it will dramatically disrupt supply chain processes and commercial transactions.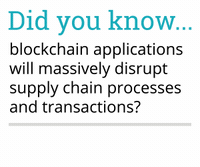 Blockchain enhances the "sanctity of data," allowing access only to those with permission and providing transactional security at each step of an audit trail – all the way to the end user.
Emerging applications of blockchain are enabling organizations to "leapfrog" traditional ERP enhancement models by creating a new platform without spending years to upgrade or replace a system. They are driving innovation in supply chain by improving warehouse management and inventory tracking, temperature control requirements for shipments and storage, cross-border strategies, audit trails for product recalls, outsourcing and purchasing and invoicing. Blockchain technology is also providing the foundational layer for IoT devices, allowing organizations to create cryptographically backed security protocols, handle explosive growth of IoT devices and efficiently process high-volume transactions between devices.
ISG's Blockchain Now™ Solution
ISG guides enterprises along the blockchain journey – whether you're just beginning or already up and running. We understand the technology, but more importantly we understand how the technology can drive value for your enterprise. You need to solve actual business problems, and you need actionable business cases that prove blockchain can provide real returns.
To do this, we use a unique approach to gauge capability and help you create a blockchain strategy that is "business ready."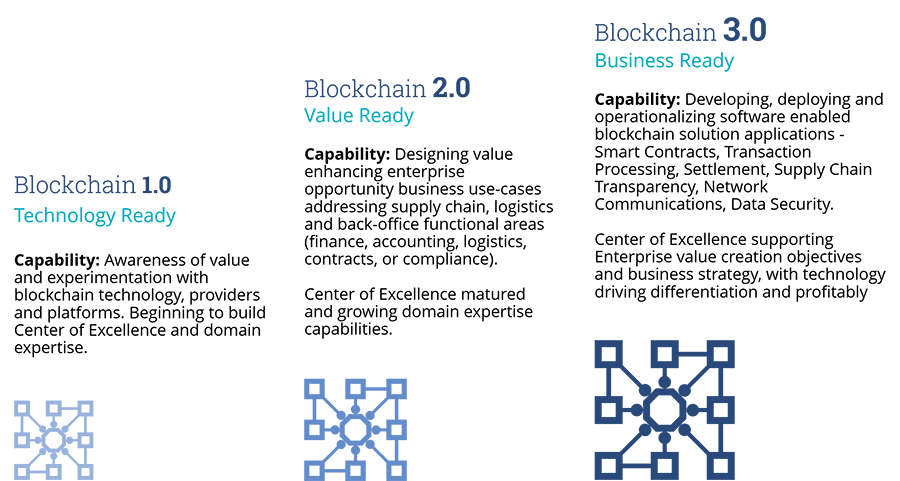 Getting to Blockchain 3.0
Enterprises that have Blockchain 3.0 capability can implement, deploy, operationalize and support software applications that are built with blockchain technology. When these distributed applications – or Dapps – are aligned with a defined business strategy, they enable multiple parties to exchange data for a wide range or uses, including smart contracts, transaction processing, supply chain and communication routing.
A smart contract, for example, can contain all terms and conditions between the parties and delivers an immutable, verifiable and secure record of all related transactions. Not only does a smart contract ease compliance and reporting, it drastically reduces operational overhead, administration and service costs.
The Distributed Blockchain Ecosystem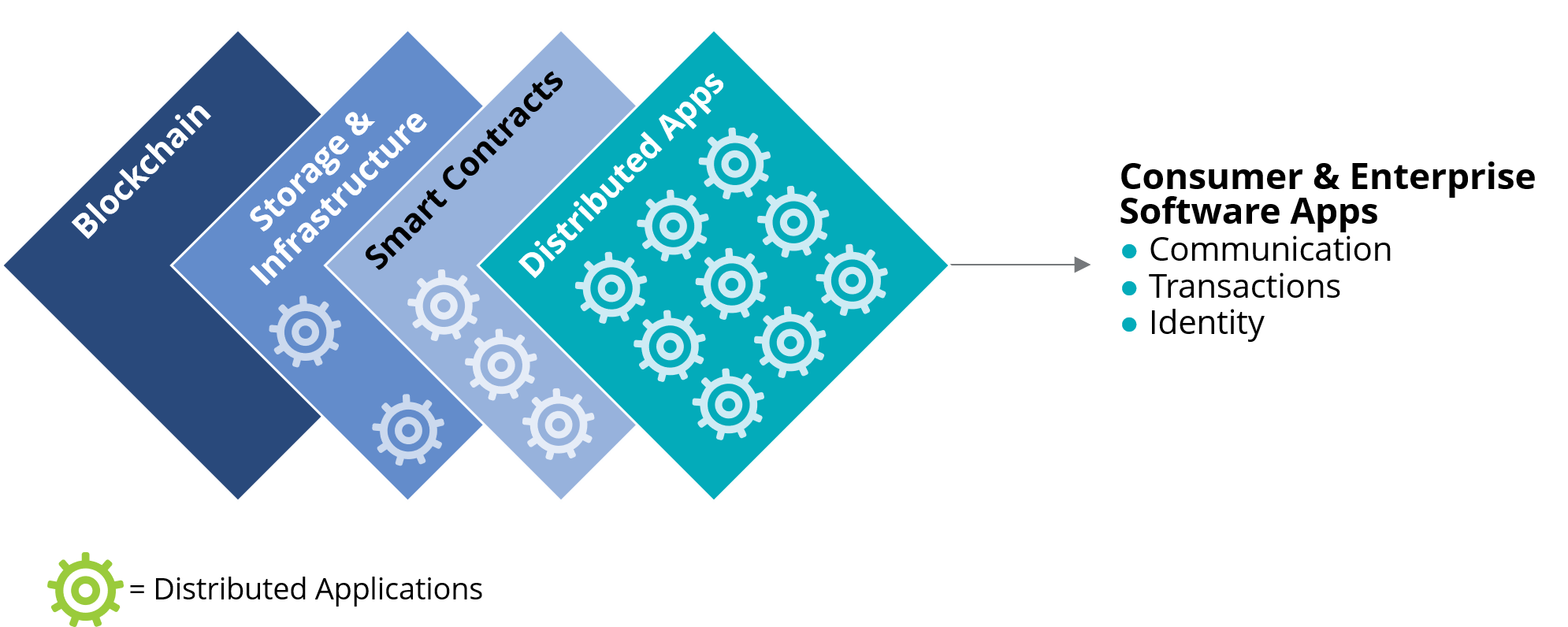 Let ISG help you develop solutions with the right technology services providers to deliver the true value of blockchain. Contact us to learn more.