Global As-a-Service Market Is Critical Growth Area for Outsourcing Industry
Cloud computing has changed the way nearly every global enterprise operates. The pay-as-you-go model allows companies to reduce IT costs by outsourcing hardware and software maintenance and support to Infrastructure-as-a-Service (IaaS) and Software-as-a-Service (SaaS) providers.
As a result, the global sourcing marketplace is quickly changing shape—expanding beyond traditional IT services providers to include providers that sell software and infrastructure on demand. With those dynamics in mind, ISG has just expanded its industry-leading marketplace barometer, the quarterly ISG Index™, to include, for the first time, coverage of the growing As-a-Service market.
According to the 2Q 2016 Global ISG Index™ released last week, the As-a-Service segment now represents 36 percent of the global sourcing market – nearly double its share from early 2014. And growth is accelerating.
Here's a quick comparison: While companies in the traditional sourcing space had a market size of nearly $115 billion in 2015, the combined annual revenue of firms offering IaaS solutions—public cloud companies such as Amazon Web Services, Google, IBM Softlayer, Microsoft Azure and Oracle, to carrier cloud companies like British Telecom and AT&T, to co-location providers like Equinix—amounted to nearly $24 billion. The combined annual revenue for firms offering SaaS—a list currently made up of 550 providers across a variety of functional domains—came to more than $51 billion.
All told, the As-a-Service market is already more than half the size of the traditional sourcing market, and we expect it to continue to capture an ever-larger share going forward.
The chart below depicts the combined market of both As-a-Service and traditional outsourcing annual contract value (ACV).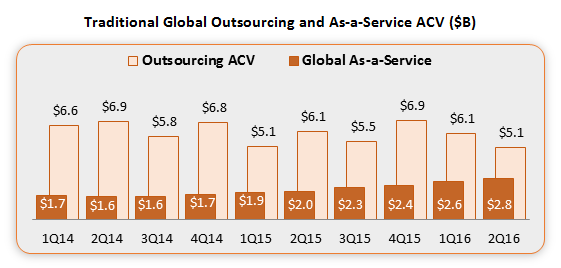 The traditional sourcing market pulled back in the second quarter and came in at lower levels than initially projected. As you can see in the chart, traditional sourcing ACV this quarter came in at its lowest quarterly level since before 2014, when it fell below $5 billion in the fourth quarter of 2013. The decline in 2016 is due mainly to the lack of growth in new scope deals and lackluster numbers in contract restructurings, which were down 18 percent from this time last year.
In contrast, the As-a-Service market has continued to grow steadily over the past two and a half years, including jumping 45 percent since last year's second quarter. Annual contract value for IaaS deals in the first half of 2016 was $3.5 billion—nearly a billion dollars ahead of what it achieved in the first half of last year. This constitutes vigorous year-on-year growth of 70 percent. The SaaS market, which had an ACV of $2 billion in the first half, grew a more modest 16 percent over the first half of 2015. The gap between IaaS and SaaS has been widening since the end of 2014. IaaS amounts to about 63 percent of the As-a-Service market at present.
At the half-year point, the combined market, including both traditional and As-a-Service sourcing, grew 10 percent compared to the first half of last year. The robust As-a-Service market drove the increase, specifically the high-growth area of Infrastructure-as-a-Service. Factoring in As-a-Service contract flow into the combined market, ACV likely will finish 2016 with high single-digit growth.
To get a fuller picture of current market dynamics and the growth in demand for the As-a-Service model, view the 2Q16 Global ISG Outsourcing Index® presentation slides, press release and infographic on the ISG Outsourcing Index® page.