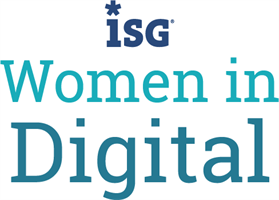 Boston Dinner & Networking Event
Register for the event by completing the form below.
The ISG Women in Digital Dinner is a networking event for female leaders engaged in transformative programs, digital strategies, operational improvements or emerging technology.
Joining us for the Boston event, Ola Chowning, ISG Partner, will discuss how agile operating practices can be a catalyst for women to take a larger role in software development. Agile requires a very fluid working style and is about bringing a team together and giving them all equal "power" to drive the work – which opens many doors and provides more opportunities for women to shine.
Date: Monday, October 28, 2019
Place: Bricco | 241 Hanover St, Boston, MA 02113 | (617) 248-6800

Agenda
7:00 pm - Refreshments
7:30 pm - Dinner and Discussion
• Appetizer: Welcome - Kimberly Tobias

• Entrée: Open More Doors with Agile Operating Practices – Ola Chowning

• Dessert: Women in Digital Communities - Kimberly Tobias

9:00 pm - Closing Message
We at ISG are excited to share our growing presence of Women in Digital — connect with us October 28th.