ISG recently worked with aircraft manufacturer Airbus to help manage the overhaul of its IT system, which after 12 years in a thrice-renewed contract had become difficult to navigate. In order to reduce some of its complexity, Airbus began looking for a new provider, issued a request for proposal (RFP) and enlisted ISG to help steer the business and potential suppliers through the RFP and tendering process. In this story, Peter Radig, head of Airbus' hosting services, explains why he appointed ISG and how, with an excellent team and top management potential, major business change is possible.
Continue reading on Computer Weekly.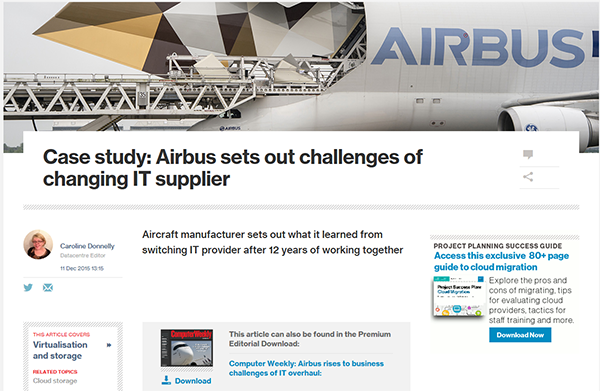 About the author


Nico Vermeulen has a wealth of experience to offer from a career spanning more than 30 years in the IT services industry. He could gather this experience on the leadership of diverse complex international outsourcing programs (the Netherlands, US and the UK) and the delivery of the contract Services. Nico has worked in outsourcing projects on the provider side. His experience covers all degrees and variations of IT Outsourcing, e.g. infrastructure & data centre operations, End User Compute (EUC) services, call centre services, applications management and offshore/near shore services.