Remember when DevOps was edgy and novel? It seems like just yesterday I was speaking with enterprise IT leaders who were scratching their heads about the buzzy new trend of merging software development and operations with the aim of producing better outcomes.
The market has shifted significantly in the past few years. Now, when I have similar conversations, we end up talking about the logistics of adopting these new principles. Leaders are no longer wondering whether it's worth it to adopt Agile and DevOps, but rather how to scale, organize and optimize these practices in their organizations.
Our latest study Agile and DevOps in 2019: Enterprise Culture is Key helps answer those questions. It looks at enterprises' current and planned adoption of Agile and DevOps and evaluates key metrics used to measure software development and operations performance, with an analysis of best practices and key inhibitors to agility.
Our insights come from a survey of more than 300 enterprise technology practitioners in the U.S. and Europe. Their responses show that the transformation that happens when an organization adopts Agile and DevOps at scale is more cultural than it is technical, and that it takes time for the necessary organizational change to show benefits.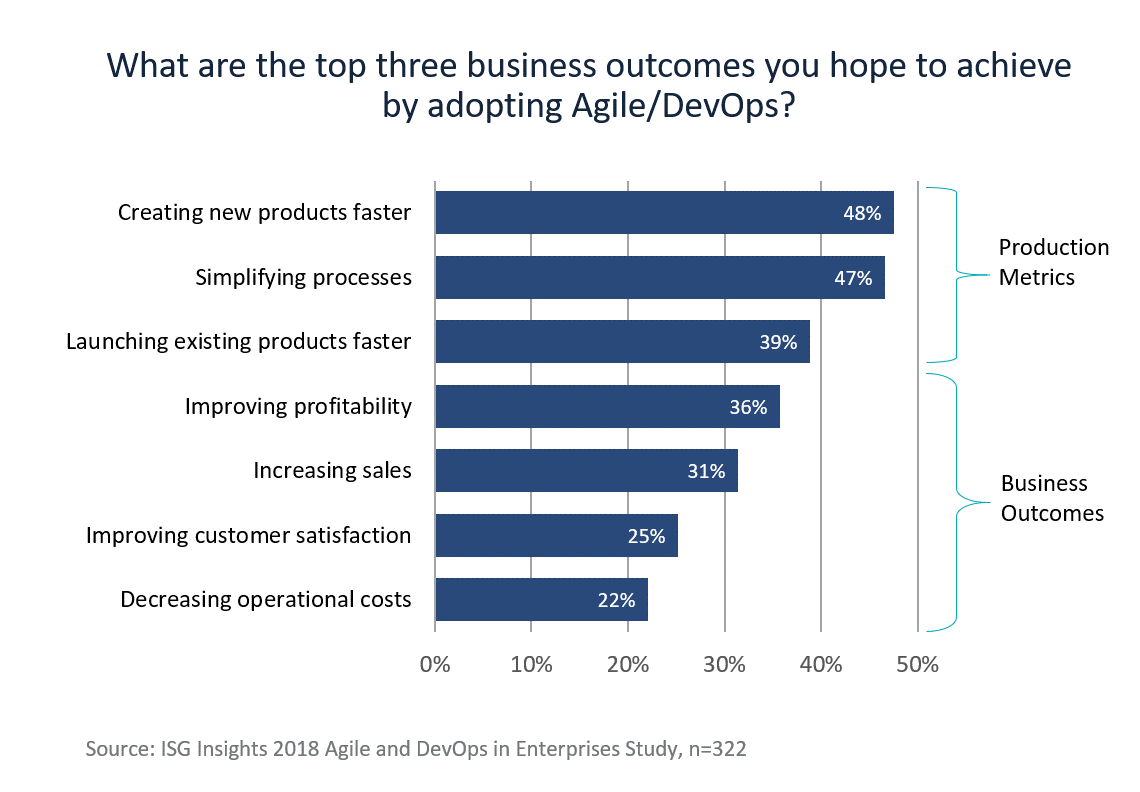 As companies adopt Agile and DevOps, their priorities shift. Businesses that self-reported a high degree of agility in their development practices were focused on creating and launching new products, as well as simplifying processes. Companies that reported using Agile methodologies for fewer projects were more focused than their counterparts on increasing profitability and sales.
We also found strong differences between regions and industries, with organizations in the U.S. reporting far greater success with Agile and DevOps than their European counterparts. This could be a problem for the lagging companies' since success in digital business requires a commitment to automation and capabilities that enable rapid innovation – both direct benefits from Agile and DevOps techniques.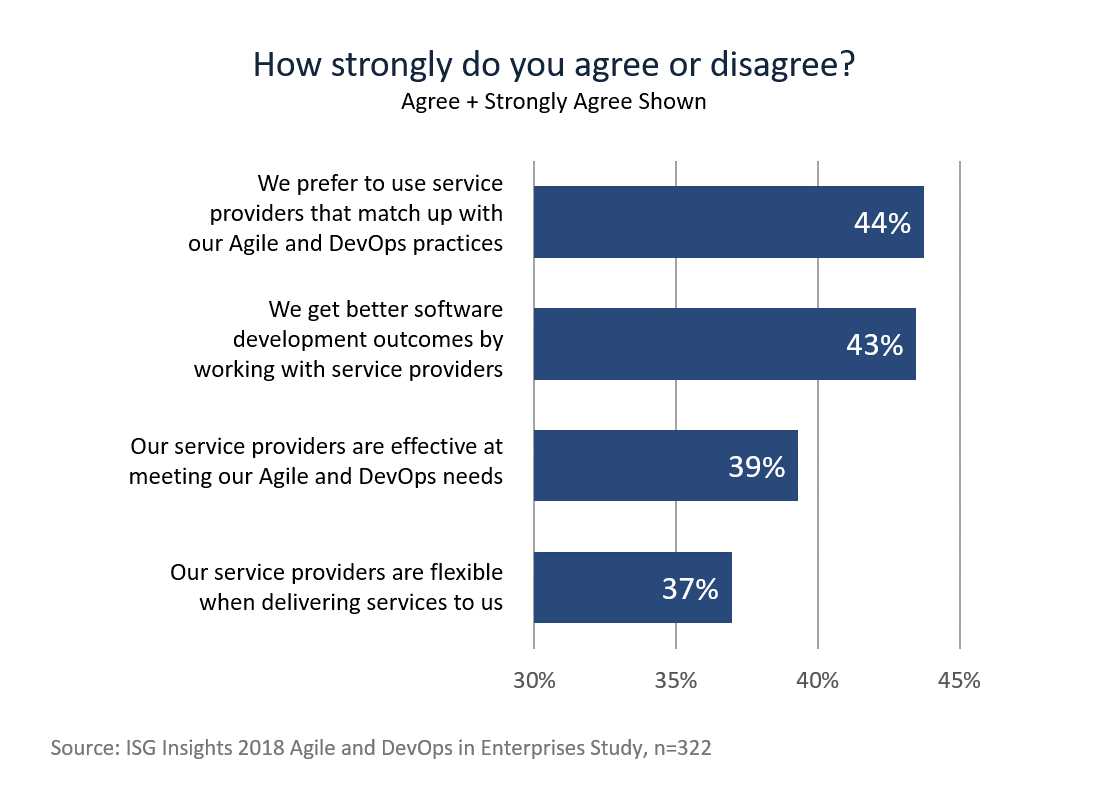 The study also looked at how enterprises are incorporating Agile and DevOps into their work with service providers — a key consideration in many transactions that ISG advises today. Our findings show a need for increasing maturity in the market — less than 40 percent of survey respondents agreed or strongly agreed that service providers were successful at meeting the Agile and DevOps needs of their customers. Even fewer said that providers were flexible in delivering services — something key to successful adoption of Agile and DevOps.
The full study reveals many more interesting findings about what Agile and DevOps maturity looks like in enterprises today. To hear more about our findings and what enterprises can do to level up their Agile and DevOps culture, join ISG's Enterprise Agility lead Ola Chowning and me for a webinar discussing our findings on Wednesday, February 6 at 1:00 p.m. EST.
We look forward to sharing more with you!

About the author

Blair Hanley Frank is a technology analyst covering cloud computing, application development modernization, AI, and the modern workplace.