ISG Insights™
Inform Your Digital Transformation & Procure the Perfect Service Provider
ISG Insights is a unique IT and business research subscription backed by practitioner led experience that draws from the thousands of engagements and transactions we conduct each year with over 700 enterprises globally – to build and scale their digital operations.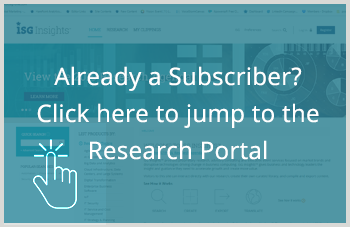 The last five years have truly changed the way enterprises build solutions and engage with service providers. The internet of things (IoT), robotic process automation (RPA), bots, and of course cloud computing are a big part of this shift. What used to cost $50 million and take two years can now be achieved for under $2 million in less than six months. No more need for large servers with huge upfront development costs and even larger maintenance fees. Your solutions won't be out of date by the time they go live. That's the good news.

Now for the not-so-good news. The number of options and approaches has grown exponentially. So, instead of choosing from five to seven service providers, you now have to select from more than 500 – and most of them specialize only in a single area.Are you and your team missing a tier-two or tier-three supplier that could save your company time and money? Could you find a provider that is perfect for your 2019/2020 initiatives? How do you rank service providers in a specific area like IoT or RPA? Do you need a methodology for aligning your needs with providers' capabilities? And finally, how can ensure you're not overspending?
ISG understands the ramifications of more choice, faster turn around and lower costs and started prepping for it years ago. The result is ISG Insights™, a portal designed to provide procurement officers, IT leaders and executives an easy-to-use research and Service Provider evaluation solution built on data collected from in-market advisors.
ISG Research Solutions
ISG Provider Lens™ Service Provider Quadrant Studies – Global and Regional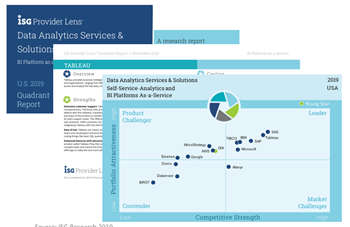 Need to create a short list of service providers? Use ISG Provider Lens™ Quadrant and Archetype reports to quickly find the best-fit providers.
The ISG Provider Lens™ Quadrant studies provide an excellent view of the top players and/or service providers in the defined technology solution by country, region or globally.
Each report consists of 8-10 quadrants, specific to an IT or BPO topic or service line
Vendors are evaluated and positioned, based on a transparent methodology
Quadrants are rank-based
Leaders are featured with key strengths and weaknesses
2018 Reports: Data Analytics, Microsoft Ecosystem, Digital Transformation, Digital Workplace,
ISG Insights™ Inquiry – Contact with Analysts and Advisors
Still not sure how to make the right decision? Use ISG Insights™ on-demand service to speak with an expert on the specific topic you need to understand.
Client need for external data and information can't always be satisfied by reading research. Having access to industry experts is a valuable way to contextualize the insights and apply recommendations.
ISG Insights™ Research Inquiry
Access to Analysts based on their technology and business IT expertise in connection with their published research.
ISG on Demand Inquiry
Access to Advisors based on their engagement and sourcing industry subject matter expertise.
ISG InformX™ Health Check Report - Exclusive IT Benchmark for ISG Insights Subscribers
Using the richest IT benchmarking database in the world, the ISG InformX™ Health Check Report compares, quantifies, and offers high-level performance optimization recommendations across the IT organization.
Health Check Components:
SWOT Analysis: Overview of the key quantitative and qualitative results supported by the input data.
Heat Map: IT service tower performance summary across Cost, Quality, and Productivity measures.
Detailed Results: IT metrics compared to the Reference Group Average by IT service tower.
Scoping Summary: Overall in-scope costs, personnel, and volumes by IT service tower.
Request a Test Drive
What used to be available only to the largest enterprises can now be accessed by businesses of all sizes thanks to ISG Insights™.