Assess Your Cloud Strategy with ISG's Rapid Cloud Appraisal
Achieve your cloud goals and turn 'Cloud First' to 'Cloud Done Right'
Carry out the twenty-five question Rapid Cloud Appraisal
Selecting the right strategy is key to achieving your cloud outcomes. When organizations contemplate large-scale migration to Cloud, they generally fall somewhere along the path and stop due to complexity and cost. Most organizations experience one or more failure modes—pilot stall, gridlock, cultural chaos etc.
ISG is beginning to see gaps in the enterprise cloud adoption strategy, cybersecurity strategy and the misalignment of technical and business drivers. ISG helps firms to assess their Cloud strategy, thus we offer different Interactions with our Assessment surveys:
Want to assess your Cloud Maturity ratings?
Need help to operationalize your 'Cloud Strategy'? For more detailed analysis and recommendations, contact us.
Value of Assessment Surveys
Value: Cloud drives cost overruns when clients fail to effectively prevent and solve underlying issues of higher consumption, underperforming systems, poorly planned migration etc.
Relationship: Clients frequently get caught into a vicious cycle of frustration, emotion, and failure to resolve core issues with their provider
A formal Governance operating model and processes help clients to realize value and reduce strife and conflict in their relationships
Clients who grow their Cloud maturity save money, reduce emotion, improve services, and can create an environment for innovation
Measuring findings against objective standards and rating maturity (together with other observations) immediately creates actionable insight for improvement
Rapid Cloud Appraisal helps you succeed at every step of the journey whether you're just beginning to plan your cloud migration or supporting applications already in the cloud by recommending key actions to take before, during, and after your cloud migration. Rapid Cloud Appraisal enables an effective and systematic approach to prevent and solve underlying issues rather than just treating ad hoc symptoms and putting out fires.
What to expect when you complete the Rapid Cloud Appraisal?
Based on the responses received, ISG team will assess your cloud readiness mapping across ISG's Cloud Maturity framework incorporating six strategic and operational domains. The report will also include a Cloud Maturity profile of Industry peers and maturity rating for you against the reference group. This report will serve as an objective assessment of your cloud readiness and help you communicate with stakeholders.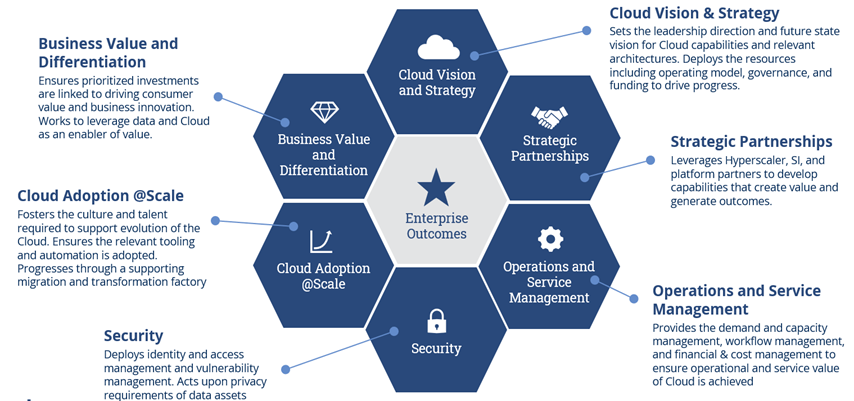 Cloud Maturity Framework Summary Report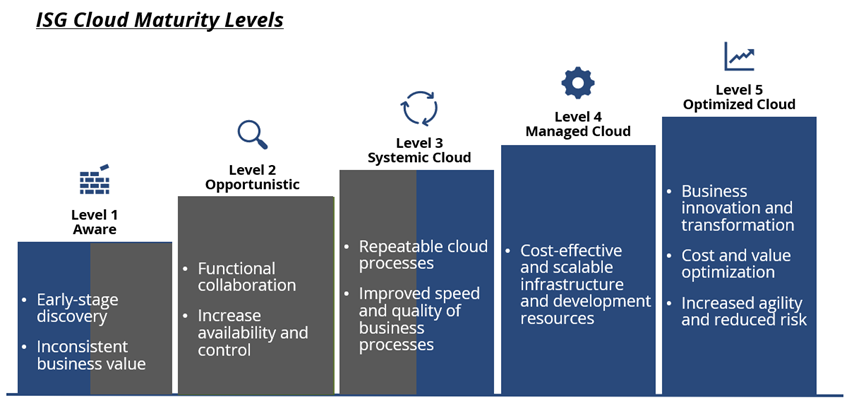 Cloud Maturity Level Mapping Report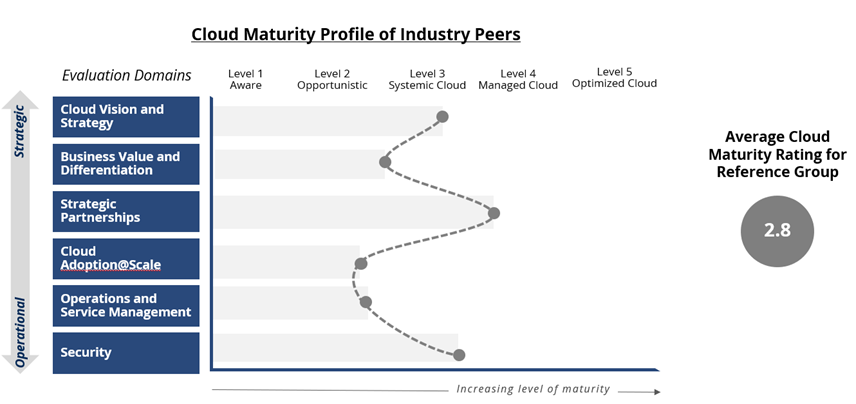 Cloud Maturity Profile of Industry Peers
Remember: Lack of upfront due diligence impacts efficiency, governance, and sustainability aspects.
Got
Questions
?