ISG Digital Value Assessment™
Maximize your digital investments
Making progress requires measuring progress.
Critical business decisions today can be challenging without insight into the true value of your digital investments.
Organizations are scrambling to make sure they have the capabilities they need for digital transformation.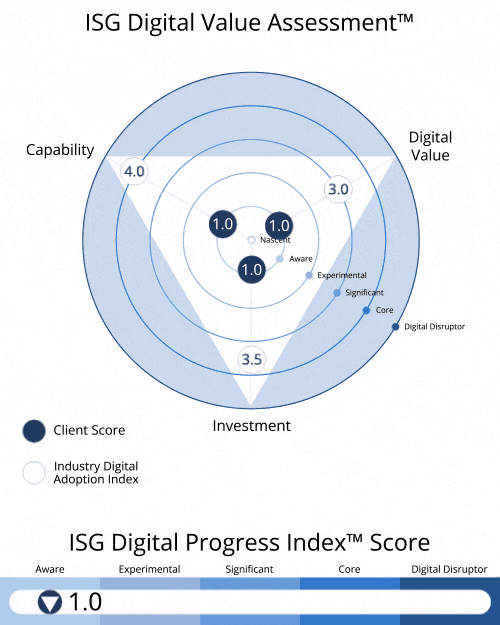 But the pace and priority of that investment – plus the adoption and scale of those capabilities – must support the organization's business strategy.
Companies that are realizing the most value from their digital investments are seeing well over 10 percent annual revenue growth and well over 10 percent operating expense reduction. They are doing so by regularly assessing the business impact of their digital investments, allowing them to make informed decisions based on real analytics.
Based on the foundation of the ISG Digital Cube, the ISG Digital Value Assessment™ helps organizations measure the return on their digital investments by correlating three critical datapoints:
Capability. Are you adopting and scaling the right digital capabilities at the right pace?
Digital Value. Are you recognizing the expected value and returns from your digital investments?
Investment. Are you investing in the right digital capabilities at the right levels?
The combined value of these three dimensions reveals your ISG Digital Progress Index™ score.
ISG has a robust pool of benchmark data from >500 organizations, with good distribution by company size based on revenue, regions and industries. Through the application of proprietary algorithms and deep regression analytics across this vast pool of data, ISG now has the unique capability to explicitly predict the value potential from individual or groups of digital capabilities adopted by an enterprise at various levels of scale. Conversely, ISG can also identify the groups of capabilities that organizations should adopt, and the levels of investment required in their adoption to achieve specific value targets.
Identify gaps and opportunities to get the most of your digital investments.