As enterprise interest in cloud-native solutions grows, so does the market and the need for consulting. This offers opportunities in several respects, especially for AWS partners who can meet certain requirements.
The use of cloud-native solutions is growing in Germany. Cloud-native solutions enable enterprises to create and execute scalable applications in cloud environments. According to a 2022 ISG study for the EuroCloud Native association, 27% of cloud users and planners in Germany that employ 50 or more people are already using cloud-native solutions. This is up from 22% in 2021. Another 19% plan to use cloud-native solutions in the next twelve months. Only 8% are not considering cloud-native solutions.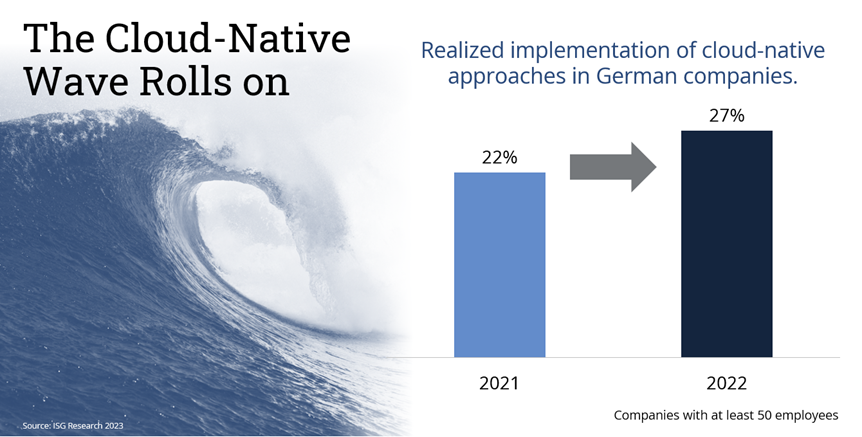 Cloud Growth Drivers
The flexibility and cost advantages of cloud solutions have made it the IT delivery model of choice in recent years. As a result of the pandemic, the market penetration of cloud-based offerings accelerated. Moving large numbers of employees to remote work at short notice was often only possible with the help of cloud-based collaboration solutions. Furthermore, inflation caused by the crisis is pushing many companies to transform their IT landscapes into demand-oriented and cost-flexible architectures.
Due to their distinctive ability to scale quickly and act flexibly, cloud hyperscalers are the biggest beneficiaries of the current demand for cloud solutions. As one of the world's leading hyperscalers, Amazon Web Services (AWS) is benefiting dramatically from the growing customer demand.
With the growing cloud-native market in Germany, interest is also increasing among potential customers that have not yet switched to (AWS) cloud platforms. For these interested parties, there is often a great need for support in optimizing cloud adoption. Likewise, of course, existing AWS customers that want to further develop their commitment or need support in ongoing operations may also need advice.
Although finding cost reduction opportunities through AWS remains a very relevant motive due to the current crises, which are bringing immense cost increases and uncertainty, the longer term will continue to require change management and digital business strategies. German organizations will be in need of sound consulting in the adoption of AWS-based solutions; this market is also correspondingly competitive in Germany.
Success Factors of AWS Consultants
The partner network for AWS consulting is an important success factor for AWS itself. The better the AWS consulting partners are at the start and during ongoing operations, the better the AWS business will develop. At the same time, AWS partners can benefit from their customers' successful entry into the AWS world through follow-up business such as managed services. Service providers that offer consulting as well as migration and support in AWS operations, i.e., end-to-end services, have a good chance of success in the market.
With a compelling AWS consulting offering, consultants can create the foundation for lucrative follow-up business.
-Frank Heuer
As part of the international provider research from 2022 ISG Provider Lens AWS Ecosystem Partners, ISG examined, among other things (AWS migration, AWS managed services, services regarding AWS-based solutions for SAP, IoT and data analytics/machine learning), the market for AWS consulting in Germany. ISG evaluates the following services from AWS partners: training, analysis, insights and consulting for a wide range of business and IT requirements, including cloud strategy, business case development and support, and customer requirements for governance, risk and compliance support. ISG believes that offerings from the most relevant vendors must not only include critical technologies, architecture, security and industry-specific solutions, but also demonstrably generate business value through consulting services.
How to Evaluate AWS Partners
ISG uses the following criteria to evaluate AWS consulting firms:
Availability, experience and certification of staff delivering and supporting appropriate services
Scope of AWS competency and service delivery offerings and certifications
AWS-aligned consulting roadmap and innovations (current and planned)
Evidence of customer value through business outcomes or other measurable improvements
Scope and availability of programs for customers (e.g., planning workshops and training)
Extent of security tools, technologies and services used
Number and reputation of references for services and solutions on AWS
Suitability, maturity and adaptability of the pricing model
In the current report, ISG identified and evaluated 30 providers as the most relevant AWS consulting companies in Germany. In the process, 11 achieved a position as "Leader", i.e., a provider that has both a high portfolio attractiveness and high competitive strength. kreuzwerker was identified as a "Rising Star" – a provider that has the potential to become a leader in the coming years.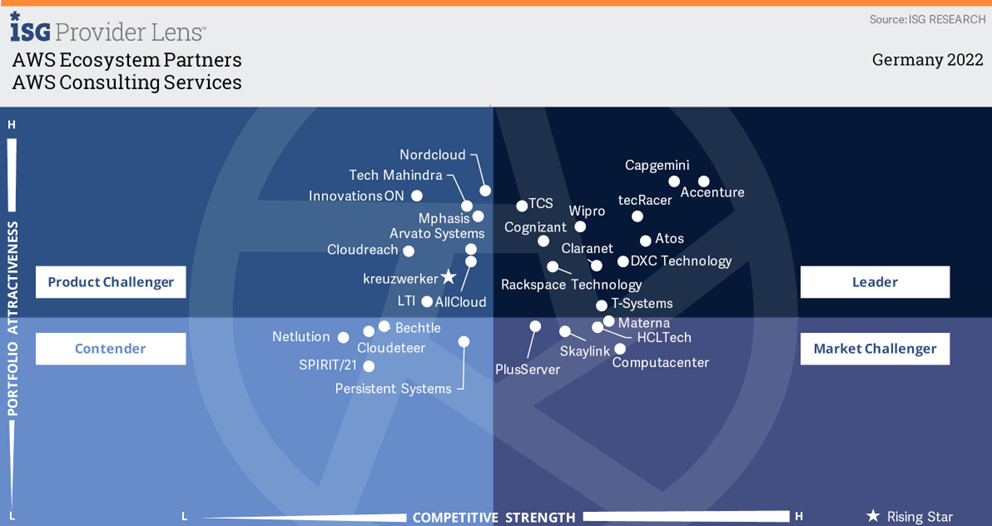 Not that, following the completion of the research phase of this study LTI merged with acquired provider Mindtree to form LTIMindtree. In the meantime, Atos has spun off the provider Eviden.
Recently, the vendor survey for the new 2023 ISG Providers Lens AWS Ecosystem Partners study has been launched. The results will be published in the fall of 2023. The 2022 study is still available. If your company is represented in the above analysis and you would like to use the results, please contact us. Please also contact us if you are operating in the AWS service market in Brazil, Germany or the U.S. and have not yet received an invitation to the provider survey.