This paper benefited from the contribution of Rohit Bhatt, Director, Digital Engineering
Why the Aerospace Industry Needs Digitalization
There is no doubt digitalization increases productivity and provides visibility into requirements that impact downstream engineering and manufacturing. Increased visibility can be achieved by using a comprehensive digital twin and digital thread. Digital thread-based solutions enable multi-disciplinary processes and stitch together multiple data streams to present a rich and holistic view of products, processes and production.
A digital thread enables greater productivity and innovation and integrates solutions and software to provide better visibility, collaboration, automation and traceability within a key domain and between multiple digitized domains. Currently, manufacturing in the aerospace industry is fragmented with little connection between products, processes and production. These are all disparate with no digital thread connecting them.
Digitalizing aircraft helps manufacturers collect real-time data, which they can leverage to implement predictive and corrective maintenance. Corrective maintenance involves analyzing the maintenance process and determining the most effective way to execute it. This promotes proactive maintenance of aircraft, which helps avoid unexpected repair costs and minimize aircraft downtime, leading to time and cost savings.
By collecting and analyzing real-time data during the initial manufacturing process, manufacturers have more control over data, so they can use it to improve processes as needed, identify areas that can be altered to increase efficiency or change a process to enhance product quality.
Manufacturing Value by Weaving the Digital Thread in the Aerospace Industry
In the aerospace industry, the demand for quality, budget and time of delivery is high; introducing new technologies into this environment can be daunting. Enterprises attach great value to data security and production downtime, so manufacturers need to ensure reward and contain risk at the same time. Many leading aerospace companies are making investments in technologies that leverage cloud, big data and internet of things (IoT) capabilities with a digital thread manufacturing strategy that has the potential to deliver enormous benefits in many key operational and financial areas.
Digital thread is helping the aerospace industry seamlessly integrate information throughout the value chain – from design to engineering, supply chain, production, quality, delivery, service and so on. A digital thread helps all these functions share contextualized information in a bi-directional flow that facilitates manual reporting and analysis.
For manufacturers that are implementing digital thread in operations, it's important to simplify the system architecture and eliminate the duplication of systems that is typical of legacy growth. Many companies are enabling integration with other enterprise systems like ERP or PLM and supporting the visibility of universal metrics and standardization of processes.
This new ecosystem connects the people, systems and data that are required for creating an intelligent factory that can deliver the capabilities of the future.
While it is exciting to see these technologies create new opportunities, they also can lead to new challenges. Enterprises need a seamless back-and-forth flow of data between engineering and manufacturing. Digital thread creates one ecosystem in which everything exists. This includes the process from model-based system engineering to program planning, product design, verification management, supplier management, intelligent manufacturing and product support (maintenance, repair, overhaul). This new ecosystem connects the people, systems and data that are required for creating an intelligent factory that can deliver the capabilities of the future.
Creating a digital twin and leveraging a digital thread from design to manufacturing reduces the cost of changes and shifts "left" maintenance and manufacturing factors into earlier stages of product development. Shifting left also allows for changes in the design and manufacturing at an early stage without causing any delay in the program. This flexibility reduces risks and costs, increases the productivity and efficiency of the workforce and enables powerful data analytics in service of continuous improvement of the production line.
Manufacturing organizations in the aerospace industry should start by evaluating their current software and strategy to identify potential areas where they can incorporate new technologies.
How Manufacturing Companies Are Connecting and Centralizing Data
Aerospace companies are facing challenges in managing the enormous quantity of data they produce. There's product design data, manufacturing process data, updates on supply chain data, IoT data from products in the field and customer and client feedback data. All these data need to be analyzed, managed and made available across departments and throughout the organization.
Most of the data are managed by independent and unconnected software packages; these processes and distinct systems need to be streamlined and consolidated. One way to simplify the process is by finding a software solution to centralize and coordinate all the data.
One example is Airbus' data platform called Skywise, which provides suppliers, OEMs and airlines with an industry platform to address aircraft operations challenges. This helps and allows operators across the world to take advantage of a better aircraft experience based on data insights and make sustainable decisions on their operations.
Likewise, Boeing came up with Boeing AnalytX, a collection of software and consulting services that transform raw data into efficiency, resource and cost savings. Boeing AnalytX helps customers with real-time maintenance and engineering support necessary to make operations decisions for their Boeing aircraft, execute crew-management strategy and increase operational efficiency.
How Digital Transformation Can Help Achieve Net-Zero Emissions by 2050
Every industry is facing pressure from investors, regulators and consumers to incorporate more ESG and sustainability into their daily operations. According to ISG's Smart Manufacturing Survey, sustainability is a major objective for Global 2000 manufacturers (see chart below).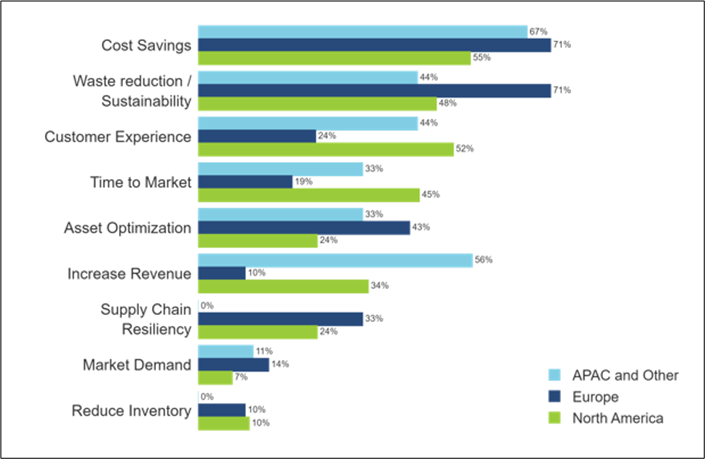 ISG Smart Manufacturing Pulse Survey 2022
The commercial aerospace sector can make an immense impact on its carbon emissions through operational changes, sustainable aviation fuel (SAF), new propulsion technologies (such as electric and hydrogen) and global market-based measures like carbon offsets. Companies achieving carbon neutral growth through 2030 would need billions of funding annually. Maximum investment should go toward SAF, and the remainder should be used to develop electric batteries, hybrid electric, hydrogen aircraft, renewal electricity and greenhouse production plants.
Long-haul flights are responsible for the majority of global aviation emissions, and SAF is the only viable option for decarbonizing. SAF is an underutilized resource that will be critical to achieving the industry's net-zero emission goal by 2050. SAF is made from agriculture, household, forestry and industry wastes and delivers carbon emission savings of 70% or more. Developing countries with large agriculture sectors can benefit from establishing themselves as suppliers to this market, increasing their energy independence.
In October 2022, at a meeting for the United Nations governing body for aviation ICAO, governments around the world reached a landmark agreement to aim for net-zero international aviation by 2050. The U.S.'s pioneering use of SAF is achieving impressive results. Airlines have set ambitious targets to buy three billion gallons of SAF by 2030 – over 10% of total usage (as per World Economic Forum).
Although aircraft are more fuel-efficient and greener than before, the industry still relies heavily on fossil fuels. For a greener future, it is important to transition to hydrogen fuel cells that work by converting stored chemical energy into electricity, much like a battery. The benefits of hydrogen have been in the spotlight for some time. A complete hydrogen fuel cell propulsion system can hold three to five times more energy than the equivalent mass battery electric system. A battery-electric flight is limited to short-range hops of 20-150 miles. A hydrogen fuel cell propulsion system can expand this reach by three to five times. Higher energy density, lower weight, greater reach and faster turnaround times can translate into big savings. The high energy density of hydrogen fuel cells allows them to compete directly with combustion solutions.
What the Aerospace Industry Needs to Do to Digitalize
Product transformation is a priority for the aerospace industry. Since Covid, the industry has accelerated its digital transformation programs to modernize operations. The digitization programs are highly fragmented due to the complexity of products, government and regulatory approvals, financial investments and technology modernization. ISG observes a great many digital thread investments are still in proof-of-concept stages and are reshaped midway due to a fragmented approach from OEMs to supply chains and unstructured data lying across them.
The current scenario demands a single ownership of a digital thread across the value chain by the aerospace OEMs, which would be the single source of truth for the organization and its ecosystem. This could only happen if aerospace OEMs take the lead in addressing both the upstream and downstream challenges and requirements in their digital transformation journey.
Many manufacturers have already embarked on their own fragmented digital transformation initiatives but few have connected those initiatives via digital thread into a comprehensive, end-to-end, digital transformation strategy. A robust digital thread solution would seamlessly connect engineering, manufacturing and after-market maintenance with a bi-directional data flow that would help aerospace manufacturers increase revenue streams, reduce time to market, diminish product modifications and defects, increase customer satisfaction and achieve carbon neutral growth. ISG can help manufacturers on this journey by using our experienced subject matter experts to build and implement a robust digital thread strategy for your company.