Network Transformation Optimizes Performance and Security
Seldom in recent years have events necessitated technological change at the scale or pace as witnessed today. Digital transformation initiatives have intensified and accelerated to meet the demands of conducting business virtually. The number of connected devices, data volumes and network activity has increased inordinately as COVID has reshaped the workplace with employees, business partners and customers consigned to their place of residence. Combine this with the perpetual demand for cloud-based services, and network traffic patterns are changed irrevocably.
As enterprises accelerate digital transformation and cloudification and embrace a blended remote and on-site workforce, network transformation is paramount to optimizing security and performance.
The Network Transformation Journey
As companies work to optimize the enterprise IT stack, they are increasingly supplementing private cloud with public cloud. Enterprise architects are tasked with assessing hyper-scaler capabilities to determine which workloads are most appropriately hosted in which clouds. Companies adopt hybrid and multicloud strategies not only to address specific workload compute and storage characteristics, but also to avert vendor lock-in and meet regulatory and/or data sovereignty requirements.
While hybrid and more complex multicloud strategies addressed corporate storage and compute requirements, the impact on network traffic patterns has sometimes been a secondary consideration. Previously, network connectivity was based on the principle of accessing centralized services located in enterprise data centers from remote office locations, production and research and development sites. Data in transit was secured via static, robust, private network topologies enabling data exchanges in accordance with predefined rules and routes to ensure application performance, data integrity and security framework compliance. Furthermore, there were protocols to define a clear perimeter between the internal "trusted" enterprise networks and the untrusted public networks.
Maintaining delineation between networks was paramount, and cloud connectivity was established point-to-point from enterprise data centers to cloud-based resources, essentially annexing or appending the cloud services with existing private compute capabilities. Whilst this approach sufficed for hybrid cloud connectivity, applying the same approach to multicloud connectivity quickly generates network sprawl, which at best is inefficient and at worst impacts end-user performance.
The Disruption of a Dispersed Workforce
Performance impacts are due not only to ineffective routing but also to requirements for corporate security. Inbound (ingress) and outbound (egress) traffic must be inspected at centrally located security appliances before it goes to its intended destination. Whilst an essential necessity, the process incurs additional network routing and latency issues between client and server.
Software-defined networks (SD-WAN) are positioned to address the issue by building in route optimization and advanced threat management to appliances and eliminating the need to backhaul traffic to centralized datacenters. However, as enterprises migrate to SD-WAN solutions, network and security aspirations were dealt a blow when COVID-19 dispersed employees to work from home. This disrupted expected traffic patterns again, this time away from site-based SD-WAN appliances and their optimized traffic routing.
Not only did working from home change traffic patterns, it also reinforced backhauling of client traffic to the data centers to connect employees to the corporate network. And – because the majority of employees rely on consumer class routers to protect the corporate end user device from the Internet and/or other devices in the users' home – it exponentially increased the enterprise's attack surface and therefore its risk.
A New Approach for Enterprise Networks
With the proliferation of cloud-based services and new traffic patterns, enterprises need a new approach toward their network.
Network transformation needs to consider the entirety of the enterprise – not only cloud-based services but also the myriad of non-IT managed Internet-of-things (IoT) devices – as critical operational technology used in production environments converges with IT services.
To address this fundamental shift to a more inclusive, distributed and remotely accessed model of IT services, network transformations must deliver seven key components: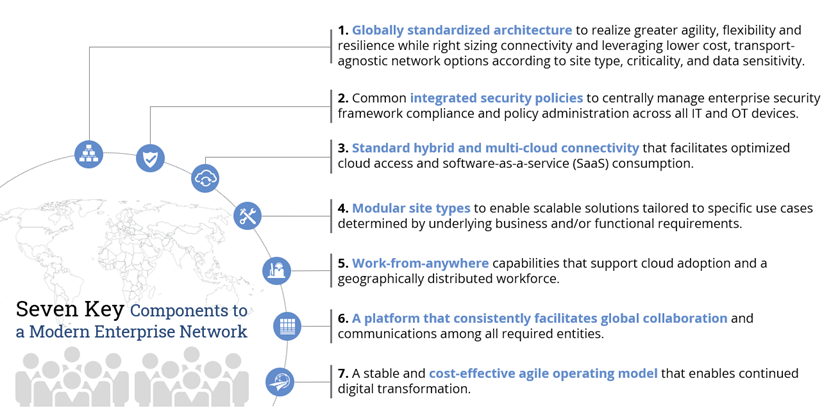 The transformed network must be a competitive differentiator, with a topology that not only meets connectivity requirements today but can evolve and adapt quickly to meet tomorrows' diverse requirements.
Network transformation is paramount for supporting digital transformation and adjusting to the new ways of working. While some enterprises embark on such undertakings in-house, many find that working with a third-party simplifies and accelerates the process and assures a successful outcome.
ISG has proven experience in driving global network transformations to help organizations gain a distinct competitive edge. Our intellectual property, market intelligence, industry expertise and executive-level relationships and influence with providers mean businesses implement the best solutions governed by market-leading contractual terms at the best market price. Contact us to find out how we can help guide your network transformation.