The Mainframe Is Still Here
In 2022, many enterprises still rely on mainframe systems to support their business applications. According to IBM, "92 of the world's top 100 banks, 23 of the 25 top U.S. retailers, and nine out of 10 of the world's largest insurance companies run System Z mainframes. Nine out of the top 10 global life and health insurance providers use a System Z mainframe. And 71% of global Fortune 500 companies are System Z clients." Some of the largest markets for mainframe computers are Europe and Canada.
Mainframe systems are resilient platforms that leverage high-performance hardware and software tools for integrating mainframe applications with new technologies and computing platforms. But mainframes suffer from various issues, making them a high-profile target for IT modernization efforts. Common questions include: How should companies include the mainframe in their cloud strategies? How can we optimize mainframe costs and introduce agility into legacy mainframe applications? As COBOL, Assembler, PL1, Natural, and other legacy programming languages become increasingly procedural and outdated – and as more and more legacy programmers are getting close to retirement – what are the risks of a skills shortage?
How to Modernize the Mainframe
In the 2022 ISG Provider Lens Study on Mainframes Services & Solutions, we will shed light on some mainframe modernization solutions available to enterprises. Examples include:
Focusing on cloud-native applications that use automation. Such solutions enable the standardization of application languages and databases, including open source, using advanced tools to successfully convert mainframe applications to run in the cloud.
Keeping legacy applications on mainframe platforms and introducing agile methods, DevOps, application programming interfaces (APIs) and microservices to improve agility and integrate mainframes with private and public clouds. Service providers have added pay-as-you-go (PAYG) options to enable the mainframe-as-a-service (MFaaS) model.
Re-engineering applications off the mainframe, using automation to assure logical integrity of code. Available tools are fast, reliable and high quality. Recent advances in methods and technology include artificial intelligence (AI), programming frameworks, code quality inspection and automated testing.
Understanding the Mainframe Services and Solutions Market
The IPL Study on Mainframes Services & Solutions will look at five key areas: 1) mainframe modernization services, 2) mainframe application modernization and transformation services, 3) infrastructure services that provide MFaaS, 4) traditional outsourcing providers with extensive experience in mainframe operations services, and 5) mainframe application modernization software and toolsets that enable legacy application assessments and application conversion (including replatforming, rehosting, refactoring, rewriting or reengineering).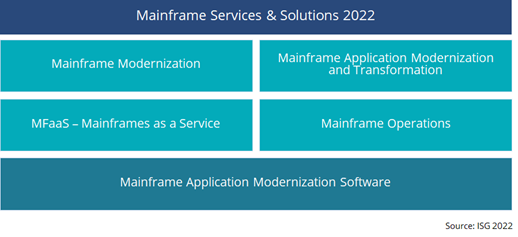 The study evaluates the market, describes latest developments and identifies leading providers that offer:
State-of-the-art and methodologies, technologies and tools to decouple, migrate and modernize legacy applications, databases and user experiences (UX) of either IBM Z, IBM AS/400, IBM iSeries, HP, Cray, Fujitsu or Unisys mainframe applications
Different ways for clients to move mainframe workloads and functionalities onto any modern platform, including hybrid or public cloud
Options to outsource the operation of client-owned on-premises mainframes to traditional outsourcing providers, including options for hardware and software ownership, upgrades and modernization responsibilities, security and other typical mainframe operations.
For the first time, the study will include European and Canadian perspectives on the market.
Gain Market Awareness and Improve Your Position
The research phase falls in the period between November 2021 and March 2022, during which survey, evaluation, analysis, and validation will take place. The results will be presented to the media in April 2022.
We have invited more than 150 providers in this sector to participate in our study, including large multinational software and service providers as well as smaller, locally established providers. ISG collects data for the purposes of writing research and creating provider/vendor profiles. The profiles and supporting data are used by ISG advisors to make recommendations and inform their clients of the experience and qualifications of applicable providers/vendors for outsourcing work identified by the clients. Active participation, therefore, not only supports a precise view on the marketplace, but also gives providers an improved positioning with the global team of ISG sourcing consultants.
Providers who are interested in actively participating in the study will find the brochure with all study details here.
Providers can also view/download the questionnaire from here using the credentials they have already created, or refer to instructions provided in the invitation email to generate a new password. If you need any support or require an invitation email, please do not hesitate to contact us at [email protected].
We look forward to your participation!
About the authors
Oliver Nickels has in-depth technical and business knowledge and more than 25 years of experience as marketing manager, management consultant and start-up entrepreneur to contribute to ISG customer projects. His focus areas are Organizational Change through digital & AI-based technologies and the Digital Customer Journey - especially User Experience, Voice Interfaces and Chatbots. Specific strengths include his ability to take the customer's perspective and to plan, implement and effectively integrate digital business processes and digital customer dialogues.
Pedro L. Bicudo Maschio brings extensive experience in the research of the Brazilian and Global services' market. With more than 30 years of experience, he is highly skilled at analyzing market positioning, vendor contracts, pricing models, vendor staffing and delivery cost structure for improving market competitiveness. Pedro has experience in both client and vendor roles. As a research author, he is well positioned to assess and report on the state of the industry and make recommendations for both enterprises and service provider clients.