The COVID-19 pandemic has spurred a huge surge in the adoption of virtual care systems as doctors overcome lockdowns and work to reduce risk for themselves and their patients. Healthcare providers are deploying connected healthcare monitoring devices at an explosive rate. According to the Consumer Technology Association, total revenue from U.S. shipments of healthcare monitoring devices increased by 73 percent in 2020 and is forecasted to reach $1.2 billion by 2024. A recent report from nonprofit FAIR Health found that telehealth claims for private insurers rose nearly 3,000 percent in 2020.
While the pandemic may have accelerated the move to remote and virtual care, it will not end when the pandemic wanes. People have grown used to virtual care, and many will prefer it despite the option of in-person care. Analysis of ISG deal data, shown below, illustrates the global growth of virtual healthcare. Virtual care is not a temporary measure but a long-term practice beneficial to members and patients. This shift requires rethinking the traditional assumptions and embracing value-based care. Healthcare payers and providers will need to make a permanent shift in their business models.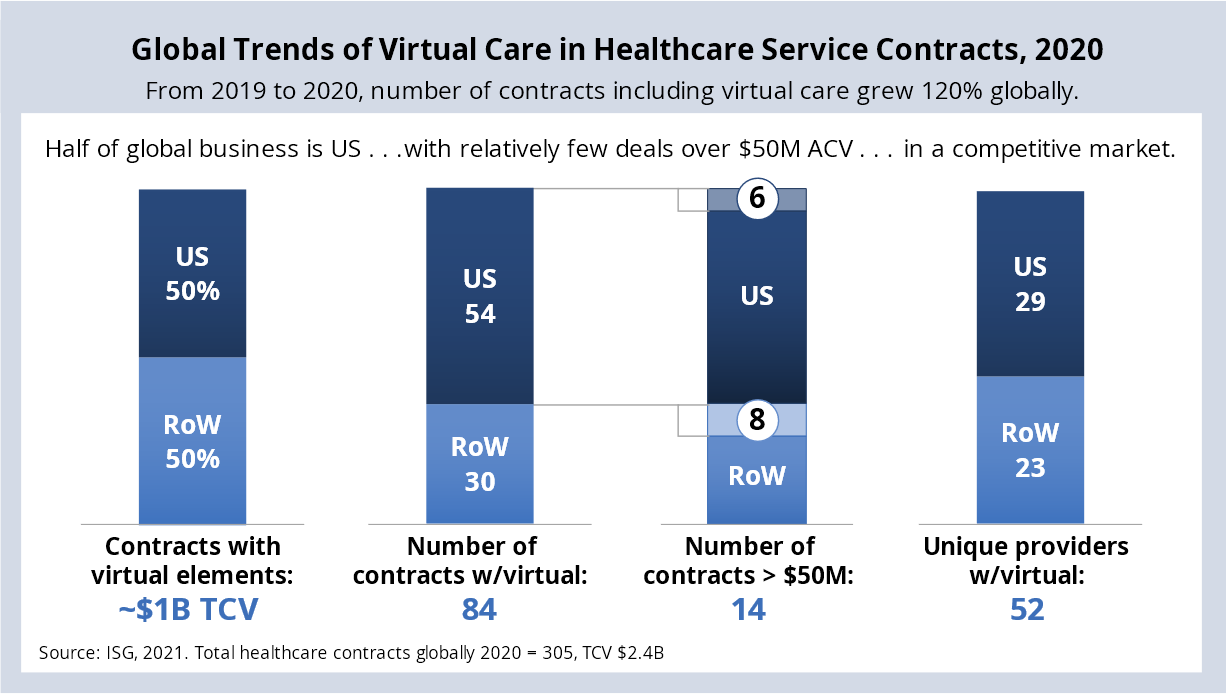 The ISG Provider Lens™ Healthcare Digital Services report for the U.S. evaluated dozens of service providers that work with payers and providers to enhance digital services. The service providers emphasized the importance of virtual care to their healthcare clients in 2020, with growing demand for digital services in support of remote patient engagement.
Health Tech Market Is Expanding
Meanwhile, the health tech market is expanding. According to Crunchbase, investors so far in 2021 have put $4.1 billion to work across 24 supergiant health-related rounds, many of which address virtual care via wearable sensors, telehealth, online pharmacy services and digital mental health services. Demand for virtual care for mental health exploded during the pandemic. A nationwide claims analysis conducted by Cigna explored how the pandemic altered the course of healthcare for its customers. It showed a 27 percent increase in the use of outpatient behavioral health services over pre-pandemic levels. Nearly two-thirds of behavioral care between March 2020 and November 2020 was performed virtually.
Established telehealth players also are keeping busy. Amwell reported that it added 65,000 providers to its ecosystem in 2020. That's a growth rate of 950 percent over the prior year. Total patient visits increased 400 percent between 2019 and 2020, bringing its patient numbers up to 5.9 million. ISG expects 2021 demand for telehealth services will level off as people get vaccinated and return at least in some contexts to in-person visits.
Demand for Digital Healthcare Services Is Growing
The changing landscape of digital healthcare services is attracting some notable entrants from outside the traditional healthcare ecosystem. Amazon has moved past its Haven venture with Berkshire Hathaway and JP Morgan Chase and is now focused on expanding its virtual-first healthcare solution Amazon Care, which is offering telehealth services to some U.S.-based Amazon employees. It's planning to offer these services to other U.S. companies this summer. Amazon employees in Washington state can access in-home clinical services via a local subsidiary Care Medical. Care Medical is planning expansion to additional states, but Amazon will need to partner with other providers to expand more quickly.

It appears Amazon's initial foray in healthcare will be to offer Amazon Care as an employer-sponsored benefit. Amazon has not yet indicated it intends to sell directly to healthcare payers. But it's clearly assembling the infrastructure to disrupt the $3 trillion healthcare market. With this launch, combined with the acquisition of virtual pharmacy PillPack in 2018, Amazon appears to be building a patient-centric solution that will provide both virtual and in-home care, as well as drug fulfillment and distribution.
Amazon is not the initial innovator in this space. Virtual care delivery options are widely available and offered by many U.S. employer plans and healthcare providers already. But Amazon offers a strong logistics platform as well as the computing and data infrastructure to scale its services. Some are raising concerns about how Amazon will combine health data with shopping and other data it manages. We expect Congress and the courts will inevitably get pulled into these discussions. For employers and their employees, Amazon Care will be another data sharing-privacy versus convenience-cost tradeoff.
Another nontraditional healthcare provider Uber is providing a prescription delivery service via its Uber Health division. It recently announced expansion of those services via a partnership with ScriptDrop that works with several large pharmacy and grocery chains. Both Uber and its competitor Lyft offer rideshare programs to people needing transportation to doctor appointments.
Providers in the Virtual Care Ecosystem
Healthcare market giants aren't standing still while new entrants take over. Kaiser Permanente launched its virtual-first VirtualPlus health plan in the state of Washington in September. The plan offers virtual care as the primary touchpoint for non-urgent issues. Digital health companies including Teladoc and One Medical also already have a significant footprint in this space, as the healthcare ecosystem is complex with many smaller clinicians providing services. CVS Health and the Walgreens Boots Alliance are investing in their own prescription delivery services as well.
Technologies that enable virtual care are but one piece of the puzzle. Providers need to build processes that will help determine whether its best to recommend virtual care or in-person care to patients. Those processes should consider each patient's distance from care facilities, transportation access, severity of illness, comfort with remote care, insurance coverage and other criteria. Providers must plan and implement data sharing standards that follow the latest laws and regulations. Payers and providers will need to commit significant effort to accommodate the growing demand for virtual care services.
Navigate Evolving Ecosystems: Guarantee Your Survival in the "New Future"
If we've learned anything over the past few months, it's that the rate of change we've collectively experienced is here to stay – this is the "new norm." The need for digital capabilities within the Healthcare & Life Science industries was present before the pandemic hit, but in the last 12 months, the need has accelerated ten-fold. Healthcare and Life Science organizations that were already stressed are struggling to cope with increasing demand and the pressure to adapt.
Immerse yourself in the latest conversations about the Healthcare and Life Science ecosystems through thought-provoking keynote sessions and interactive panel discussions. We'll investigate patient-centric approaches, interoperability success, rapid response tactics, shifts in user expectations, and applications of pandemic-forced innovation. It's an event you can't afford to miss.