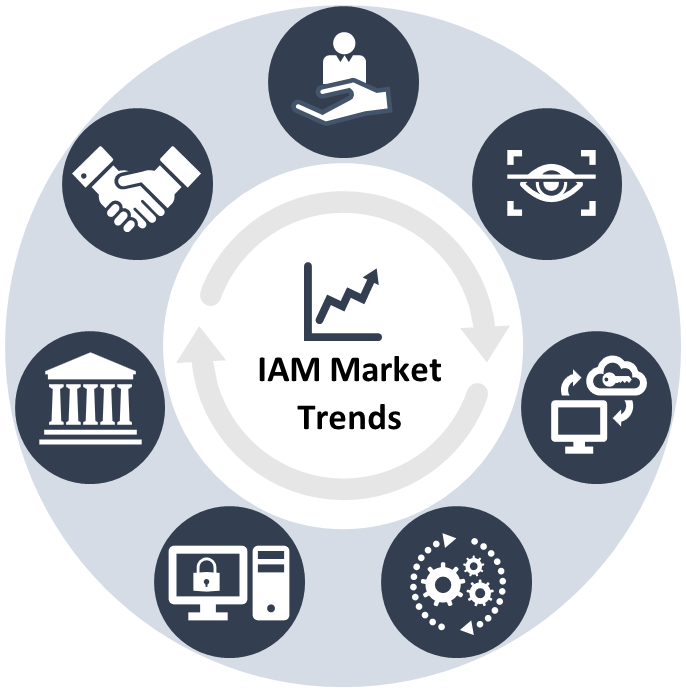 Staying Ahead of Trends in Identity and Access Management
For today's enterprises, identity access management (IAM) plays a pivotal role in securing resources while delivering seamless user experiences. As enterprises strive to meet the challenges of an increasingly interconnected world, it is crucial to stay abreast of the latest IAM market trends and be strategic in enhancing security, engaging customers and improving operational efficiency.
Let's look at some of the key IAM market trends and what enterprises should be doing.
Strategic Recommendations for IAM
The latest trends in IAM fall into three categories: 1) better user experience (customer IAM and passwordlessness), 2) modern architectures (cloud integration and Zero Trust), and 3) stricter access control for all identity types (stricter privileged access management (PAM), next-level identity governance and provider/third-party access).
Let's look at each of these in more detail.
Customer IAM (CIAM) is evolving, driven by the fact that customers of enterprises want meaningful customer engagement and omnichannel access. Regulatory mandates on privacy further emphasize the importance of providing users with control over their data. Also, digital transformation efforts are driving enterprises to consider new digital products that require new approaches to identity and access, e.g., interacting with customers through a digital lifecycle product instead of just selling a piece of equipment.
ISG's strategic recommendation is to evolve your CIAM solution to achieve omnichannel coverage to ensure a seamless customer journey and higher customer retention rates. By enhancing customer experience and meeting privacy regulations, you can build stronger relationships with your customers.
Passwordless authentication is a must for remote work and improved user experience. Biometrics as a secondary authentication factor is already increasingly common. Other factors like QR codes, authenticator apps and tokens are on the rise.
ISG's strategic recommendation: Grow your access management solution to implement password-less scenarios, enhancing user experience and strengthening security. Leveraging biometrics and eliminating passwords can significantly reduce the risk of credential misuse. While using social media platforms to authenticate users might not be viable in the enterprise environment, it is an option for your CIAM solution.
Cloud integration is on the rise, requiring you to secure access via the cloud to multiple accounts. Flexible deployment models that bridge on-premises and cloud-based solutions are gaining prominence.
ISG's strategic recommendation: Integrate your identity governance and administration (IGA) solution with cloud use cases, leveraging the latest cloud and licensing models. This ensures comprehensive IAM coverage across hybrid environments and optimizes cost-effectiveness.
Zero Trust is a critical part of modernizing your network and security architecture – and it necessitates a state-of-the-art and well-integrated IAM system as a foundation.
ISG's strategic recommendation: When adopting a Zero Trust/Secure Access Service Edge (SASE) strategy, you must upgrade and integrate your IAM solution to provide continuous risk-based authentication at any point in your infrastructure. This enables seamless authentication, authorization and secure access across hybrid environments, enhancing your overall security posture and laying the foundation for Zero Trust.
A stricter PAM approach is needed to address the rapidly proliferating machine identities, such as non-human accounts and automation technologies. Hardened regulatory requirements are driving wider adoption of rigorous PAM solutions.
ISG's strategic recommendation: Adopt a more rigorous PAM approach, expanding coverage beyond traditional system and admin accounts to include RPA, service accounts, application accounts, API keys, IoT/IIoT environments as well as external services not integrated into your IAM landscape, e.g., social media accounts. This safeguards critical assets and mitigates the risks associated with non-human accounts.
Next-level identity governance is needed to address embedded analytics tools in IAM solutions to authorize access, conduct periodic reviews, validate access and ensure segregation of roles. Continuous risk-based authentication and a shift toward attribute-based access control (ABAC) or dynamic authorization are gaining prominence with Zero Trust initiatives.
ISG's strategic recommendation: Move your IGA solution up the maturity scale by integrating it to more applications and systems and enhancing the existing integrations as well as by embracing AI, machine learning and automation. Advanced analytics and risk-based approaches can help you streamline access management and enhance compliance.
Provider/third-party access is critical for the improved capabilities driven by market demand for integrated, end-to-end solutions. Stricter access control and governance requirements necessitate robust IAM solutions that cover not only the enterprise but third-party relationships as well.
ISG's strategic recommendation: Adopt third-party (cyber) risk management and third-party access management solutions to manage the access privileges of external entities. This ensures tighter control, reduces security risks and strengthens overall governance.
IAM continues to evolve to address emerging challenges in security, user experience and regulatory compliance. By understanding and leveraging key trends in IAM, enterprises can enhance their IAM strategies. ISG's strategic recommendations provide actionable insights to optimize IAM solutions, empowering organizations to embrace new technologies, strengthen security and deliver exceptional user experiences.
ISG helps enterprises stay ahead of the curve by aligning their IAM initiatives with the latest market trends and best practices. Get in touch with us to discuss how you can apply the strategic recommendations for your IAM landscape.