Digital Business Summit 2017
Title :
Digital Business Summit 2017
Summary :
Join ISG's Digital Business Summit as we explore what's next and what's beyond next.
External url :
Place :
Renaissance Hotel
Upcoming event badge :
No
Event start date and time :
Jun 19, 2017, 01:00 AM
Event end date and time :
Jun 20, 2017, 01:00 AM
Summit Update
Find out what more than 500 business and IT leaders say about their current and near-term plans for automation and artificial intelligence technologies. During his Tuesday session, Stanton Jones, ISG Insights Director, will discuss findings from the newly released
ISG Automation Index™
.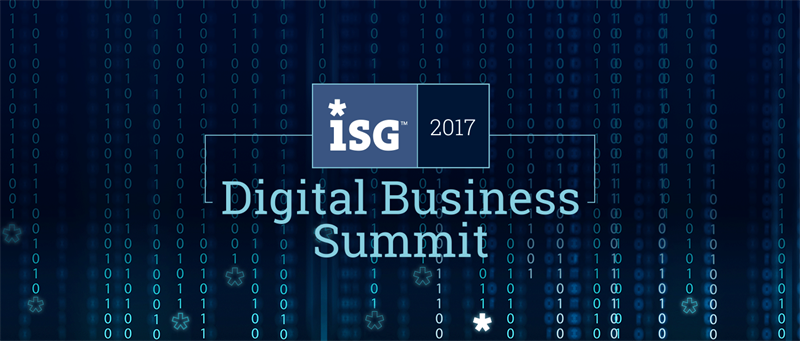 June 19-20, 2017
Renaissance Hotel, 2222 North Stemmons Freeway, Dallas, Texas
Leaders in every industry face a dizzying array of new digital opportunities. But few signposts exist to guide them. How do large, traditional companies take advantage of fast-moving digital innovations?

Find out how to tap emerging technologies to transform your enterprise, unleash new value chains and realize new customer opportunities. Find out what's next and what's beyond next.

TRANSFORM YOUR BUSINESS AND CREATE DISRUPTIVE BUSINESS OPPORTUNITIES
Now in its seventh year, the 2017 Digital Business Summit brings together experienced senior digital business strategists and technology leaders to explore how enterprises are transforming their business.
Attendees at the Digital Business Summit are provided with an end-to-end view of the impact of digital disruption on technology infrastructure, business operating models and organizational strategies.
Successful companies are leveraging disruptive digital technologies to transform existing operating models and reap significant competitive advantage. Understand the emerging trends, changes in markets and where the next threats are going to come from, as we explore what's next and what's beyond next.
WHO SHOULD ATTEND?
The Digital Business Summit is focused on enabling and delivering enterprise advantage, improving the ability to compete through innovative new ways of doing business and new businesses entirely.
Attendees of the Digital Business Summit include:
Senior IT Leadership (CIO / CTO)
Senior Business Strategists
Senior Marketing and Product Marketing Leaders
Senior Finance Leaders
Business and IT Risk Management
Corporate and Line of Business Leader
WHY ATTEND?
Through interactive sessions, conference participants will gain valuable information and actionable advice from industry experts and peers:
Review the digital disruptors driving transformative changes based on our most recent C-level research
Hear about the best practices of some of the early adopters of automation tools
Explore some of the key breakthroughs in securing the digital universe
Network with peers and share ideas and best practices
Agenda
June 19, 2017
12:30 - 1:30 pm
Registration and Light Snacks
2:00 - 2:45 pm
ISG Keynote: The Digital Journey — Keys to Success
Bill McNee, Partner, ISG Research

When enterprises embark on the digital journey, they have the opportunity to fundamentally rethink the customer experience, create new digital or hybrid products and services and develop agile and responsive supply chains and business models. As enterprises create new ways of engaging with their customers and tap new revenue streams, entire industries are being turned on their heads. The keynote presentation will:



Discuss findings from ISG's latest C-level research
Identify key investment opportunities in cloud, IoT, security, and automation
Share first-person insight into the initiatives, strategies and challenges of leading-edge business and IT leaders on the digital journey

2:45 - 3:15 pm
Driving Transformation with Integrated and Cognitive Security
Sridhar Muppidi, IBM Fellow & CTO, IBM Security
3:15 - 3:45 pm
NETWORKING BREAK

3:45 - 4:30 pm
Driving the Digital Transformation: ISG Executive Insights
Steve Hall, Partner, ISG Digital Advisory Services

By the end of 2017, enterprises will need to think of Digital Business not as a separate IT initiative but as a broad vision for the entire enterprise. This will require a complete redesign of the enterprise IT operating model. Enterprises will extract business value through their digital fabric, by connecting with customers, suppliers, partners and employees in a whole new way. In this three-part session, we will discuss insights from an ISG Analyst, hear from industry leaders driving their own digital transformation and explore the facts of a real-world case study.
4:30 - 5:00 pm
Driving the Digital Transformation: Customer Panel
Moderator: Esteban Herrera, Partner, ISG
Panelists: Bernie Gracy, Chief Digital Officer, Agero, Gregg Blatt, EVP — Worldwide Operations, CAST



Learn how to manage the human side of digital transformation
Identify the common obstacles and roadblocks to and enterprise's digital transformation
Find ways to accelerate the transformation for competitive advantage

5:00 - 7:00 pm
WELCOME RECEPTION AND STATIONS DINNER

June 20, 2017
7:45 - 8:55 am
CONTINENTAL BREAKFAST
9:00 - 9:30 am
Securing the Digital Universe: ISG Executive Insights
Jim Hurley, Director, ISG

The digital universe of the not-so-distant future leverages IoT sensors, information from anywhere at any time, virtual reality and data, cognitive computing, analytics and the digitization of the physical world. This session will explore the foundation for a secure environment in the new digital universe and will address the following key issues:



What the future of pervasive digital security is and why
What key breakthroughs to expect and when
What changes will occur and who is most impacted

9:30 - 10:00 am
Securing the Digital Universe: Customer Panel
Moderator: Steve Follin, Director, ISG
Panelists: Jerry Wynne, Systems Security Officer, Noridian Mutual Insurance Company, Fargo, Jim Hurley, Director ISG
10:00 - 10:30 am
Automation and Digital Labor: ISG Executive Insights
Stanton Jones, Director & Principal Analyst, ISG

Automation and AI are everywhere. It's hard not to encounter an opinion piece about how "digital labor" will fundamentally change the nature of knowledge work. What's missing in this conversation is precisely which roles enterprise leaders need to automate, and what they are already automating today. In this session, we'll examine recent research into how automation is changing enterprise buyer plans, and how this, in turn, is affecting the IT and business services markets. We also will discuss how you can get ahead by applying some of the best practices learned from early adopters.



Separate automation and AI hype from reality
Understand which business support functions are being automated today
What's likely to be disrupted by automation and AI tomorrow

10:30 - 10:45 am
NETWORKING BREAK
10:45 - 11:15 am
Automation and Digital Labor: Customer Panel
Moderator: Chip Wagner, President — Global Business Advisory Services (BAS) & Emerging Services, ISG

Robots are the rage! Every company wants to know:



If they are a fit for them
How they would work
What the art of the possible is for savings
How does the operating model change, etc.

With our panelists, we will explore use cases from their companies, do's and don'ts, myths and facts, and hear how automation has changed their company. We will also take questions from our audience who might be considering the RPA journey.
11:15 - 11:35 am
The Agile Enterprise
Rajib Datta, Partner, ISG & Ola Chowning, Partner, ISG



Enterprise Agility: Stop doing agile ... and start being agile
What should be attainable? It's not just about implementing Pods and an Agile process. What does "being agile" mean?
What does the journey look like to get there? Top down big bang? Grass Root innovators?
What are the operating model components to address?

11:40 - 12:00 pm
How the Internet of Things Fits Into a Digital Business Strategy
Ron Exler, Principal Analyst, ISG Research interviewed by Bruce Guptill, Executive Director and Principal Analyst, ISG Research



New ISG Insights data shows the relative importance of the IoT
Shifting the focus from sensors to customer experience (CX) outcomes
How the intersection of emerging technologies, location intelligence, and the IoT can create new value

12:00 - 1:00 pm
LUNCH
1:00 - 1:20 pm
Blockchain
Jim Hurley, Director, ISG & Alex Manders, Principal Consultant, ISG



Blockchain and databases — how do they compare today?
What to expect in the market from database and blockchain technologies
Planning considerations, and questions

1:25 - 1:45 pm
Workplace of the Future
Lisa Graver, Principal Consultant, ISG
1:50 - 2:10 pm
Digitization of Business Services — Finance & HR
Scott Furlong, Partner, ISG and Deb Card, Partner, ISG

How do cloud-based HR and Financial systems enable greater agility and analytics to drive the digital agenda



Impact of Digital on F&A and HR — Functional role in driving the "Digital" message throughout the enterprise
Use cases of how emerging / disruptive technologies are driving benefit streams in F&A and HR
RPA and automation are taking off in F&A and HR; what can your company expect?

2:15 - 2:35 pm
Change of Course: Navigating the Digital Playing Field — Organizational Change Management
Julie Williamson-Wright, Vice President, Organizational Change Management, ISG



How can organizations thrive on a disruptive digital playing field?
How does organizational design transform strategic operations, drive process integration, and enable speed to competency?
How can data be used to navigate the field, increase user adoption, and enhance the customer experience?

2:35 — 3:00 pm
NETWORKING BREAK

3:00 - 3:20 pm
Advanced Analytics
James Burke, Director, ISG and Debjyoti Paul, Vice President — Digital Business, Mindtree



A strategy blueprint for how and where your organization gets started, and what needs to be considered in the approach to implementing and sustaining advanced analytics in your organization.
Where is your organization on the maturity curve for using advanced analytics? How do you move your organization to where you would like it to be on that maturity curve?
Real-world examples of company's advanced analytics journeys; how these journeys started and what they did to move their organizations forward to achieve the business objectives desired from the implementation of advance analytics.

3:25 - 3:45 pm
End-user computing becomes experience centric — How 'digital' is the buyer Workplace?
Jan Erik Aase, Director and Principal Analyst, ISG

Digital Workplace is the defining model of end-user computing in the present cloud and mobile era, the same way desktop was some years ago. The digital wave has hit enterprises like a tsunami. Several buyer archetypes have evolved depending on the overall corporate goals, for example improving employee efficiency or the end-user experience, or enhanced business integration . Each archtype has a different set of requirements when it comes to their preferred work space tools, devices and technologies. This session will characterize the different buyer archetypes and reveal our picks for the best partnerships.
3:45 - 5:00 pm
Emerging and Disruptive Technologies Showcase
Hosts: Alex Bakker, Director, ISG and Stanton Jones, Director, ISG
Showcase Panelists: Stuart Feffer, Co-Founder & CEO, Reality Analytics, Inc. and Ken Fromm, Technology Evangelist, Iron.io

What's next and what's beyond next? DevOps, Big Data and IoT are not just buzzwords. Companies have already started using vendors for these three topics in their large enterprise IT landscapes including the renovation of existing legacy systems. We will look at three niche companies whose offerings are challenging how legacy landscapes can be coaxed into bending to the digital agenda of an enterprise.
5:00 — 6:00 pm
CLOSING RECEPTION

Interested in sponsoring Digital Business Summit? Download the sponsorship prospectus here.
Location :
2222 N Stemmons Fwy, Dallas, Texas United States