Recently, the Infrastructure Investment and Jobs Act passed the U.S. House of Representatives 228-206. The bill, which passed the U.S. Senate in August, now heads to the President for final signature. It allocates approximately $72.5 billion for the Utilities and electric vehicle (EV) charging sectors. The last time the Utility industry saw an influx of capital investment from the U.S. government, it was a result of the American Recovery and Reinvestment Act of 2009. That bill allocated approximately $4.5 billion that in most part was matched by the industry for a total of $9.5 billion and resulted in what we now know as AMI 1.0, or the Advanced Metering Infrastructure's initial implementation.
Investment in Clean Energy Transmission
The 2021 infrastructure bill targets EV infrastructure, power infrastructure and the electric grid. Official communication from the White House states the following:
"The bill invests $7.5 billion to build out the first-ever national network of EV chargers in the United States. The bill will provide funding for deployment of EV chargers along highway corridors to facilitate long-distance travel and within communities to provide convenient charging where people live, work, and shop. Federal funding will have a particular focus on rural, disadvantaged, and hard-to-reach communities."
Also within the legislation is about $65 billion of investment that constitutes the single largest investment in clean energy transmission in American history. The White House communication states:
"It upgrades our power infrastructure by building thousands of miles of new, resilient transmission lines to facilitate the expansion of renewable energy. It creates a new Grid Deployment Authority, invests in research and development for advanced transmission and electricity distribution technologies, and promotes smart grid technologies that deliver flexibility and resilience. It invests in demonstration projects and research hubs for next generation technologies like advanced nuclear, carbon capture, and clean hydrogen."
EV Charging and Revisiting ADMS
It's clear the bill emphasizes EV chargers. According to the International Energy Agency (IEA), the U.S. trails both China and Europe in total EV numbers (including battery and plug-in hybrid EVs). The current administration, through this bill, is focused on changing that.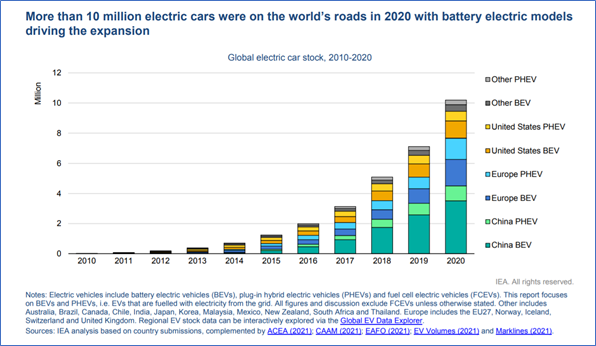 Source: IEA
The U.S. market share of plug-in EV sales is one-third the size of the Chinese EV market. This bill is attempting to put infrastructure in place that will encourage EV adoption in the U.S.
EV adoption has some significant implications for the Utilities industry. The following diagram summarizes potential impact areas.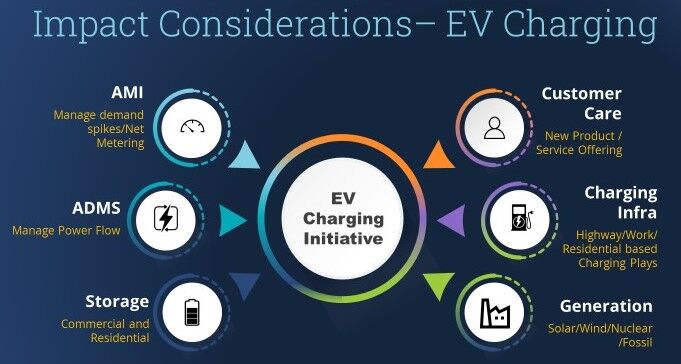 Source: ISG Point of View
For the past five to ten years, U.S. Utilities have been modernizing an aging grid that was built to withstand the highest load day of the year and was based on large, centralized generation with predictable load. Along with this modernization comes a software requirement to manage distribution power flows that fluctuate based on distributed energy resources and rapidly changing load patterns, like many EVs charging at the same time. The software solution marketed to meet this requirement set is referred to as the Advanced Distribution Management System (ADMS).
ADMS includes or integrates to multiple functions in the Utility infrastructure such as outage management, fault location, isolation, and restoration, Volt-VAR optimization, demand response, EV support, and integration of distributed energy resources such as wind, solar and battery storage. Its purpose is to maintain distribution grid stability when fluctuations occur, which will increase as EV charging takes hold. It is a vital piece of the emerging utility infrastructure and will be accelerated with the passage of the infrastructure bill.
Implications of the New Infrastructure Bill for Utility CIOs
What does this mean for Utility CIOs and COOs? Now that the infrastructure bill has passed, it is only a matter of time before we will see projects proposed for funding. As it pertains to the ADMS, Utility CIOs/COOs should:
Identify if your utility will be applying for funds. Many of the projects will be larger than during the ARRA of 2009 (capped at $200 million) and will include pipes, wires, equipment and hardware. Those projects will require a software component as well as the design, build, implementation and support activities that undergird all technology-based solutions.
Partner with the operations business unit. In many utilities, the ADMS resides or will ultimately reside in operations as operational technology (OT). IT and OT partnerships are nothing new and have actually become a trend in recent years. Not only will the ADMS belong in operations, so will its functions and possibly other applications such as Outage, FLISR, Volt-VAR, DR, EV apps and DERS. Even if your system was upgraded as recently as five years ago, operational engineers may have concerns about their systems' ability to keep up with the changes that will happen over the next few years.
Review and update your operations application roadmap. Many utilities already have an applications roadmap that includes plans for the retirement, upgrade or replacement of specific technologies. This bill may change your priorities, and the window to apply for federal funding will be open only for a short timeframe. Ignoring this could place your utility at an operational or financial disadvantage.
ISG helps companies in the Utility industry build strategies, roadmaps and business cases for change. Our deep understanding of solutions and providers can fast track the software and systems integrator selection process. Contact us to find out how we can help your organization.