ISG GovernX® - Smarter Contracting Solution

What is Smart Contracting?
The short answer: an AI-powered negotiating and contracting solution
Smart contracting uses technology to save time to create, negotiate and close any contract for any user persona or risk dynamic. Smart contracting is a core capability of the ISG GovernX®️ platform. It leverages machine learning technology to give you the ability to programmatically suggest the best possible contract, or remediation given various deal dynamics. These data inputs can be via our easy-to-use Wizards prompts or through real time intelligence data.

Quick Sign Agreements
For click-to-sign renewals, addendums or policy updates.

Smart Negotiation
For a simple and fast workflow for negotiation intelligence, meta-data extraction and remediation speed.
Developer API
For enabling a contracting process using the existing systems in place today.
Analytics Intelligence
For valued real-time analytics captured to ensure an always improving contract workflow within a smarter contracting system.
AI Meta Scan
For reviewing incoming or older contract language against current or newly defined risk policies. Just define your search parameters – dates, language normalcy, risk parameters, etc. – and go.
Workflow Designer
For making your own smart driven contracts with "if-then" statements or enabling sales teams or customers to generate their own for ease of onboarding.
What does smarter contracting do for your business?
A better, less costly contract-to-close ratio with reduced errors and improved cycle times
A contract workflow with AI that learns with each use, allowing to draw down costs each year
An easier, more governable way to identify and manage risks
A clear ROI to top and bottom lines via a faster and more efficient supplier contracting process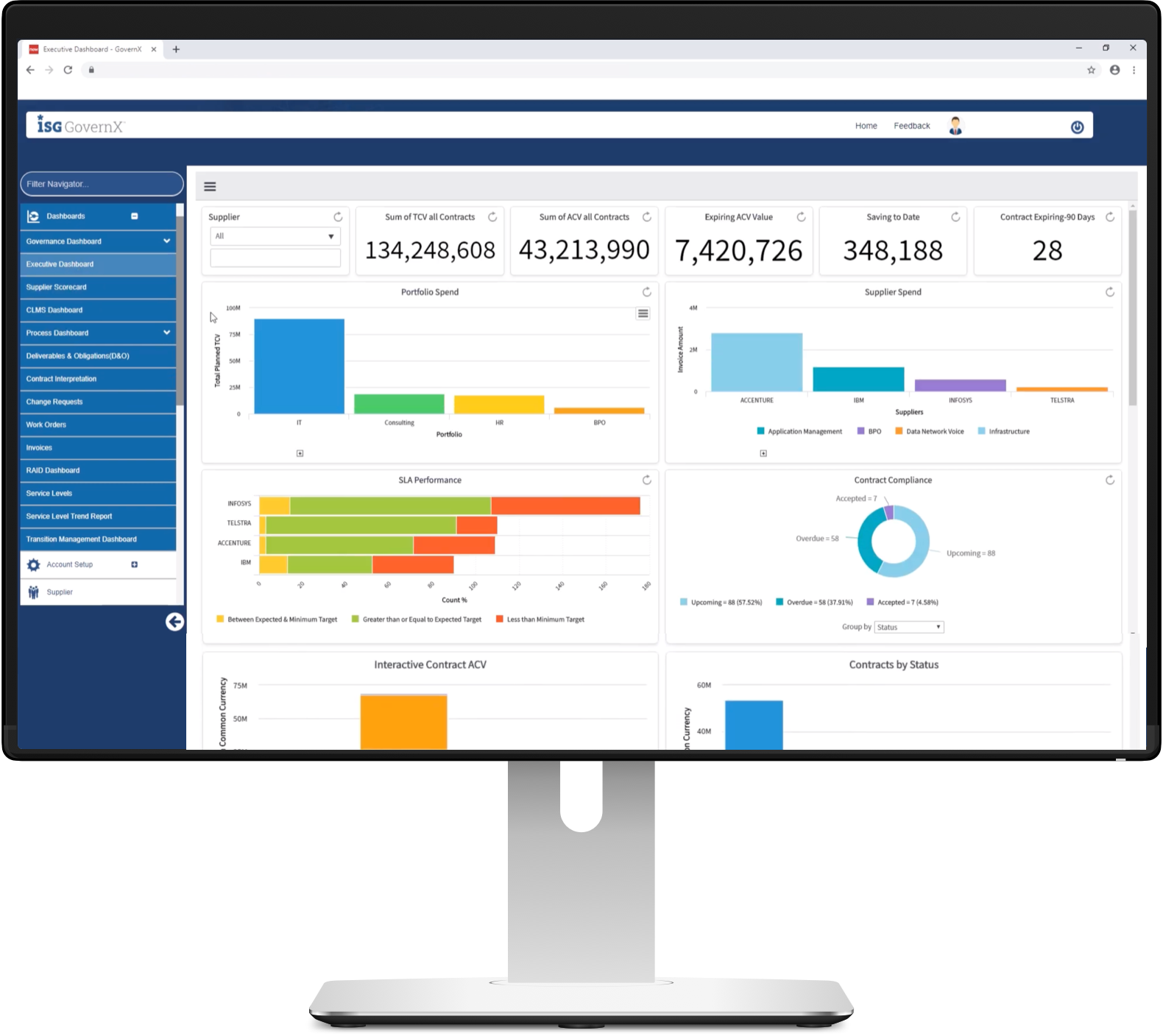 About ISG GovernX®
ISG GovernX® simplifies contract compliance by offering a single web-based interface for AI-powered contract building, cognitive data extraction, alerts, workflows and intelligent dashboards along with an industry-leading knowledge base and document repository. Quickly scale from one to many contracts so you can proactively manage relationships, commitments and accountability.