At the recent AWS Transformation Day, ISG got a glimpse of how DB Systel successfully moved its sophisticated SAP ecosystem to the AWS cloud. This article highlights DB Systel's cloud journey and puts market surroundings into context.
DB Systel, the IT service provider and digital partner of Deutsche Bahn AG, completed the migration of 27 SAP-based application systems, including enterprise resource planning (ERP) and business warehouse, from in-house hosting to the Amazon Web Services (AWS) cloud platform. This program was part of the overall move by Deutsche Bahn toward cloud-based infrastructure, which will subsequently lead to the shutdown of its in-house data centers. We spoke with Dominik Heller, Project Lead "SAP goes Cloud", and Steffen Mueller, Service Team SAP Operations, both DB Systel, about the project.
Due to the diversity of SAP systems and the company's vast application landscape, the overall migration took almost three years. As part of this process, the project team harmonized the release status, database and system administration tools the company uses. Some of the systems were already moved to the SAP HANA database. The team agreed that AWS' comprehensive range of services, innovation power and ability to fulfill all relevant compliance regulations – including data storage in Germany and adherence to all relevant ISO norms, security and GDPR – were the main reasons for choosing AWS.
The move to the cloud computing platform has helped to reduce infrastructure costs by 10 percent and led to better efficiency in system operations, such as faster backup and recovery or additional opportunities for automation. Furthermore, it provides the foundation for the upcoming transformation of SAP applications to new-generation software such as S/4HANA and BW/4HANA. Though this would be another major program with multiple challenges to address, it would offer the prospect of further cost reductions by leveraging related consolidation opportunities and significant efficiencies by optimizing business processes.
Why do companies migrate their SAP systems to public cloud hyperscalers such as AWS?
Enterprises strive for flexibility (or elasticity), innovation, security and, most importantly, cost reduction, with fewer commitments and owned assets. Optimizing digital technologies is driven by investing opex instead of capex. The ISG Index recently reported a massive increase in adoption of as-a-service (aaS) solutions alongside an expansion of the ITO industry in EMEA. The following illustration outlines the current trends by region: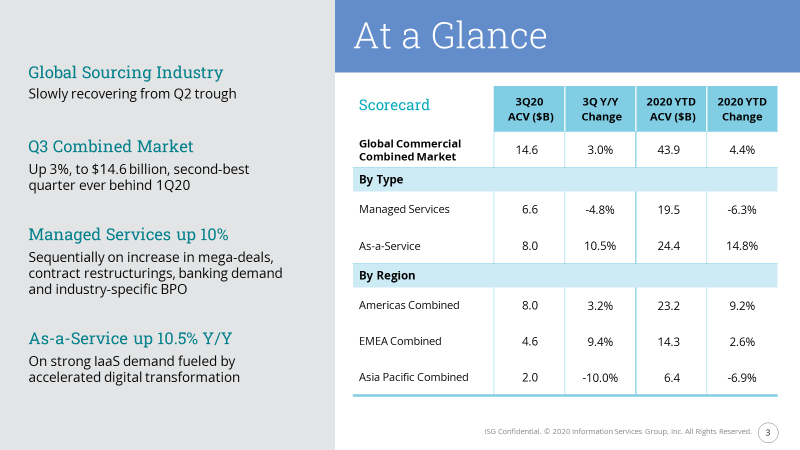 Source: ISG Research 2020
The global lockdown brought upon by the pandemic forced companies to quickly react to keep their businesses running. This led to a vast adoption of cloud collaboration tools and platforms as well as remote desktop infrastructures and cloud desktop environments.
This shift, along with other long-lasting trends such as the need for automation, standardization and boundaryless operations to enforce collaboration, drove the use of the anything-as-a-service (XaaS) model to a significant level (+12.1 percent YTD for EMEA). While the market for traditional managed services declined, the demand for managed public cloud services and cloud-native offerings increased due to the complexity offered by container clusters and service meshes.
Increased use of digital technologies: The COVID-19 crisis has driven the demand for cloud services globally. This also is the case for less tech-savvy organizations that want to boost their computing power to handle a remote workforce and high volumes of data transactions and thus prepare their critical environments for the new reality. Hyperscalers play a key role here with their proven ability to upscale rapidly and provide flexibility through the adoption of cloud technologies.
High SaaS demand: The use of software-as-a-service (SaaS) collaborative and business intelligence (BI) solutions has significantly increased with the shift to a remote working model. Customers are increasingly focused on enabling optimization and cost reduction across verticals, such as analytics in retail and digital solutions in the financial sector. These vertical-focused customers expect customized SaaS solutions from providers as per their changing business needs.
Cloud providers such as AWS benefited from the situation as they were able to quickly offer scalable infrastructure. Some certifications – particularly important for customers such as DB Systel adhering to German standards – as well as migration models and modules were already in place and highly advanced as other clients had already undergone this process of change. ISG observes a major trend among enterprises transforming their legacy mainframe applications to get out of vendor lock-ins. This basically involves breaking up monolithic-type applications into consumable, steerable and intelligent micro services.
For DB Systel, the move to the public cloud and subsequent shut down of its own data centers has been a long-standing goal. At the beginning of the pandemic, the company was already in the final stages of migrating its SAP system landscape.
Cloud migration — a challenge: Companies are looking for suitable partners to create, review and, above all, implement a (public) cloud strategy. In many cases, operations remain in the hands of professional service providers. In addition to the strategy and assessment of the system or application landscape, which tends to be highly automated, it is migration that poses a massive challenge for companies. AWS is one of the hyperscale providers that not only has a vast partner network on their side, but also a variety of tools and deep understanding of the important stages involved in the transformation of large enterprises.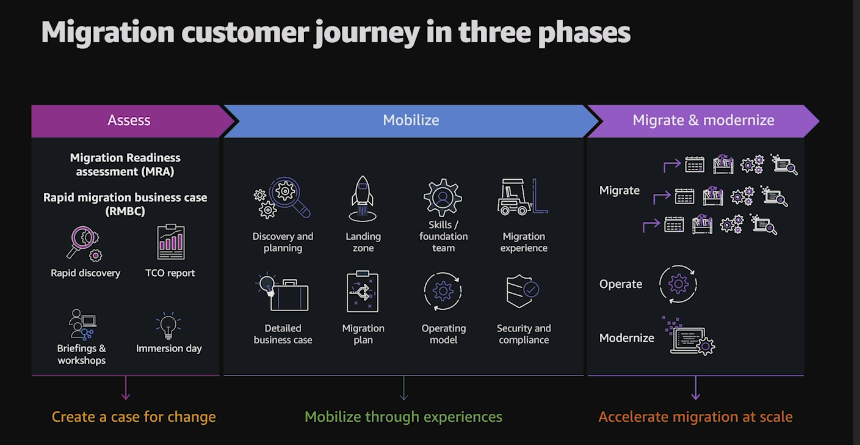 Source: AWS
It is therefore imperative for companies to look beyond purely technical aspects and focus on the business perspective and value, including the people with roles and responsibilities, and governance, risk and compliance (GRC). At the technical level, platform selection for applications and infrastructure, security and the operating model should be given careful consideration. Acquisitions such as CloudEndure and dedicated partner programs, for example the Migration Acceleration Program, prove AWS' commitment to helping enterprises migrate to the public cloud.
Hyperscale benefits for enterprises: Hyperscale clouds offer another interesting benefit for companies. Their global infrastructure allows enterprises to quickly expand a regional scope and run workloads next to users. This provides companies greater flexibility in their IT and business-driven workloads while supporting their compliance with regional policies and governance models. This has been especially beneficial for DB Systel, which manages user data on behalf of Deutsche Bahn. Even as DB Systel, in collaboration with AWS, offers a data model or cloud architecture that secures core data and prohibits broad data access from outside, customer data is generally highly secure inside AWS. This is due to its sophisticated intelligent cyber security defense systems and numerous certifications such as BSI C5, among other important compliance standards.
Critical Note and Future Outlook
From the first months of the COVID crisis, many companies had plans for the adoption of aaS or hyperscale public cloud solutions already in the drawer. These are now being rolled out fast. However, some companies cannot cope with the speed required to keep up with the necessary organizational change management, policy update and compliance with industry regulations. As a result, the XaaS market is pushing the envelope further in terms of new features, updates and other aspects. In addition, the issue of GRC could fall on the feet of companies in the aftermath, because, in the rush, many failed to sufficiently consider short-term success or cost savings.
This is the main reason why ISG introduced the Governance, Risk & Compliance quadrant for the first time as part of the ISG Provider Lens (IPL) Public Cloud – Solutions & Service 2020 study, which is planned for release in December 2020. The study will not just cover hyperscale infrastructure, platform providers and consulting and managed service partners, it also will contain a quadrant on SAP HANA infrastructure services.
In the case of DB Systel, the migration was a success. The next stage is the transformation to S/4HANA and tweaks to the operating model, which will be further characterized by continuous integration and delivery (CI/CD).