Advisory
Web3 & the Metaverse
Avatars. Token Communities. Crypto economies. Define your ambition in the new, connected ecosystem of value with ISG.
Top Story
#MetaverseMonday: Join Prashant Kelker's Journey into the Metaverse
What exactly is Metaverse, and how should your organization approach it? Join this video series as Prashant Kelker, ISG's Chief Strategy Officer, presents you with six stories, detailing the key tech stacks of Web3 and defining the business relevance of Metaverse in your industry.
Define your Market Opportunity
Web 3.0 and the Metaverse will create new market opportunities. Define your company's position now using insights from what the market leaders do.
Charting new revenue paths and seizing new opportunities has never been more urgent. Web3 and the Metaverse will unlock new possibilities. Web3 is an ecosystem play. Pioneering ideas today will create the leaders of tomorrow. Whether you are defending your market or seeking to be a disrupter, defining a strategy cannot be done in isolation without knowing the marketplace of established and new native players and platforms.
ISG is privy to the rise of new crypto-native startups and the solutions and offerings of established technology players. Getting to the how of your business plans can be challenging and ISG can help.
Build Web3 and Metaverse Pilots & Partner Ecosystems

Benefiting from and leading the Web3 and metaverse space means starting now.
But how do you achieve clarity on key questions, such as where to pilot Web3, whether metaverse pilots should be internal or external, and which strategic partners can be trusted to help? Our leading-edge partner ecosystem research, deep sourcing experience and actionable strategies allows us to occupy a unique (and independent!) position between blue-sky business strategists and boots-on-the-ground technology providers. We'll work with you to answer:
How do we start a pilot in the metaverse/Web3? In what areas?

Which partners can help us run a pilot?

What does the Web3 and/or metaverse partner ecosystem look like? What are the new categories being formed?

Who are the new crypto-native service providers? What services do they offer?

What are the services being offered in Web3 and the metaverse? What is the maturity of these offerings?

Are there some leaders who stand out? Who are they?
Can ISG Metaverse Advisory aid your Web3 journey?
To get you started, ISG helps you explore the business relevance of the metaverse, crypto economies and blockchain. Then we'll work with you to integrate these emerging technologies into your broader transformation initiatives. From assessing the efficacy of your current programs or developing pilot programs to governing your ecosystem to track success, we know how to derive business value from Web3.
Our metaverse advisory focuses on learning and "reimagining" sessions to help you envision and plan for business opportunities related to the metaverse. The sessions leverage in-depth ISG research to examine next-generation strategies, tools and technologies that will enable you to connect physical worlds with virtual worlds for employees, customers, clients and communities. Whether you need to find the right implementation partners, conduct a strategic re-design of your target operating model or define a metaverse sourcing strategy, ISG can help you separate hype from actionable strategies.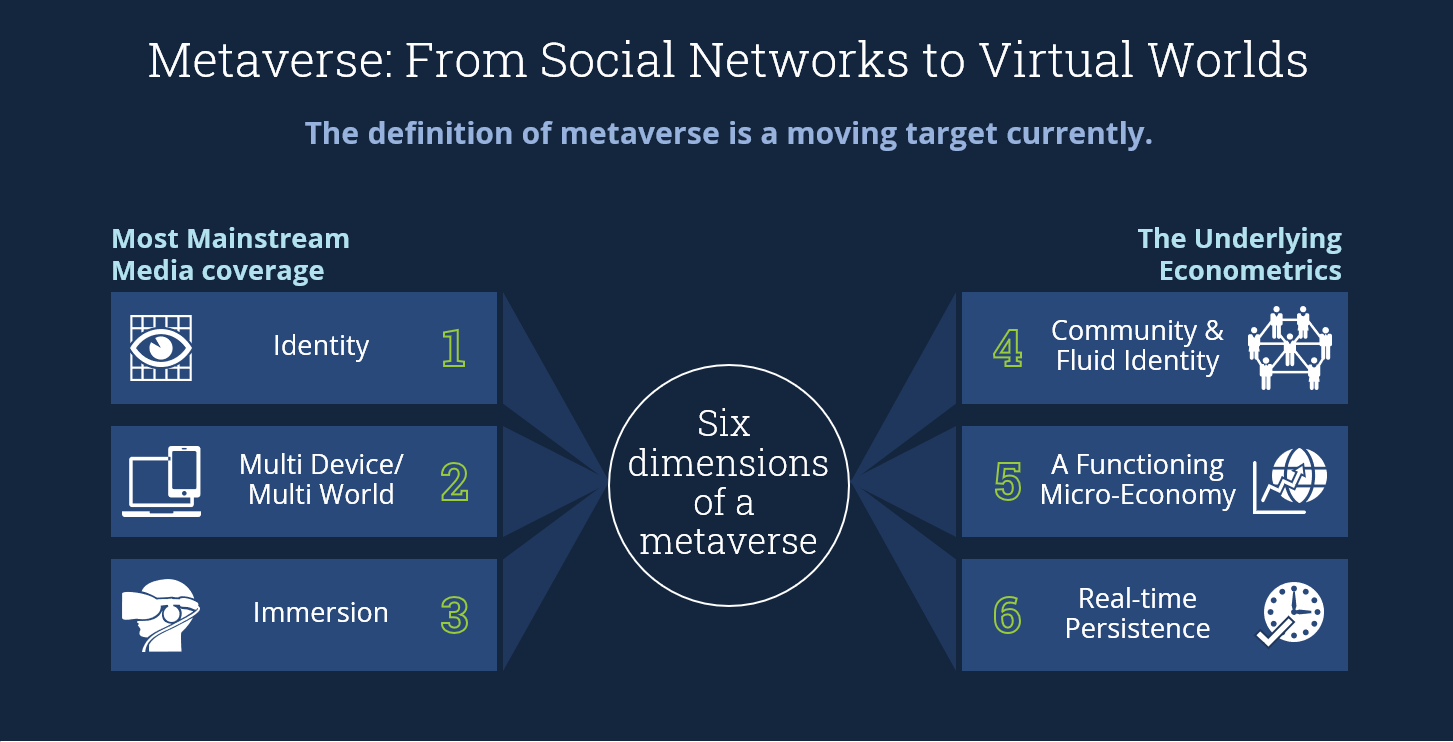 Featured Event
Xperience Summit (San Francisco)
Today, customers expect a more seamless, more digital & more personalized experience. Do you have what it takes?
Learn more
ISG Research
ISG is a leader in proprietary research, advisory consulting and executive event services focused on market trends and disruptive technologies.
Get the insight and guidance you need to accelerate growth and create more value.
Learn More
Frequently Asked Questions
Did we miss one of your questions? Contact us.
A new avatar of the internet has been creeping up on the world. This new internet is the highly decentralized Web3. Web3 is the internet owned by the builders and users, orchestrated with tokens. To fully appreciate the value of Web3 and Metaverse, it is critical to understand how we got here and the journey of web1, web2 and web3. Web1 is the era of READ when it was the time of users and builders; Web2 is the era of WRITE which was ushered in the creation of content en masse; Web3 is the era of OWN, which combines the decentralized, community-governed ethos of Web1 with the advanced, modern functionality of Web2. Contact us to learn more.
The Metaverse presents a new era where we connect, work, and shop are at the convergence of physical and digital worlds. Leading businesses are beginning to explore the metaverse and web3 to create brand new experiences and goods to accrue value back to themselves. However, true value can be created only once one understands how the entire Web3/Metaverse tech stack comes together – and when one appreciates new concepts, like decentralized, autonomous organizations (DAO), NFT, blockchain and DApps. Businesses should go beyond the hype of Web3 and Metaverse to study less known topics like crypto business models and token economies – and start defining relevance for their particular industry. And then approach the Metaverse with a near-term action by understanding these technology stacks and selecting a few lower-risk opportunities available. Contact us to learn more.
Our web3 and metaverse advisory pivots around demystifying this emerging internet through learning and reimagination sessions, enabling clients to envision their business opportunities in the metaverse and web3 by going beyond the technology into the emerging business models, and which partners to choose per topic. We also offer guidance for providers and technology platforms to develop the right portfolios and offerings for this emerging space – as we deeply understand the buy-side of the equation. With the deeper understanding on how to define business relevance of metaverse, crypto economies, and blockchain, ISG can help clients assess the relevance and efficacy of their transformation initiatives, develop a pilot program, define the right capabilities to build in house, find the right implementation partners, define a sourcing strategy, and govern their ecosystem to track success.
ISG's web3 and metaverse advisory will be empowered by ISG research, which leverages metaverse market trends, provider ecosystem intelligence, and research on the impact of metaverse across the enterprise's business, people, technology, and risks. It also addresses the solutions for the new sets of challenges on cybersecurity, privacy rights and regulatory compliance presented by the Metaverse and its components.
Contact us
to speak with an advisor about our insights.