Contributors: Pedro Maschio, Lutz Peichert, Shashank Rajmane, and Srinivasan PN
Cognizant recently held its Analyst & Advisor Summit 2020 as a virtual event, with 50 sessions across five days. The overriding theme of Engineering the Modern Business reflects Cognizant's updated mission as it works to expand its business from a technology implementation and support provider with a U.S. and U.K. focus to a digital transformation technology services partner with a global focus. To make this shift requires change across all parts of the company, beginning with its 280,000+ employees.
Brian Humphries, Cognizant's CEO, started in April 2019 with a directive to increase growth that had slowed in the past five years after decades of double-digit CAGR. His plans are built on four key strategic priorities:
Accelerate digital by evolving all aspects of the business, including offerings, partnerships, brand, talent and delivery capabilities.
Globalize by expanding delivery footprint beyond the U.S. and U.K. and diversify the leadership team.
Reposition the brand by reflecting the digital and global shifts.
Increase relevance to clients by adding thought leadership to delivery services.
Humphries repeatedly stresses a need to break from the past. Cognizant is trying to move from being seen as a traditional IT support player to a co-innovation partner for enterprises. Its legacy technology services business looms large as the new executives attempt to steer the $16.5 billion company deeper into digital. While the past may feel important inside Cognizant, the message is not as relevant to enterprises grappling with their own significant shifts and revenue reductions from the pandemic. Enterprise leaders need to know how Cognizant can help them with the specifics of their near-term challenges and whether they can advise on strategic directions in an unknowable economic future.
Cognizant's recently announced third quarter 2020 financial results reflect total revenue slightly down at 0.1 percent, with fiscal year 2020 revenue expected to be at the high end of the previous guidance range. The company's performance varied by business segment with revenue for its Healthcare, Communications, Media and Technology segments growing year over year while revenue for its Financial Services and the Products and Resources segments declined. Digital service delivery is 42 percent of the company's revenues, as this is an increase reflecting some success for the company's strategic priority to accelerate digital.
The Summit included a great deal of discussion about expanding Cognizant's global footprint, including eight country-level update sessions led by country managers., who stressed the importance of comprehensive local presence. For example, with the hiring of Dr. Rolf Werner, Cognizant lands someone knowledgeable of the German market specifics who is adding other well-known people to the German management team. Several acquisitions of captive IT service companies in the past helped grow the staff, but the company needs stronger organic growth to foster its competitive position in Germany. Here and in other countries where it hopes to expand, Cognizant must determine if it is too late to significantly engage with enterprises on their digital journeys.
When it comes to addressing digital, Cognizant sees itself as having a comprehensive stack of capabilities to deliver. Humphries claimed the company has an "underappreciated portfolio" often ignored by clients as it generated savings on engagements and then saw other service providers receive the innovation spend. Cognizant aims to change those outcomes with a combination of investments, acquisitions and aggressive marketing to reposition its brand. The company has grown its digital capabilities organically in 2020 in response to the digital demands on enterprises from the pandemic.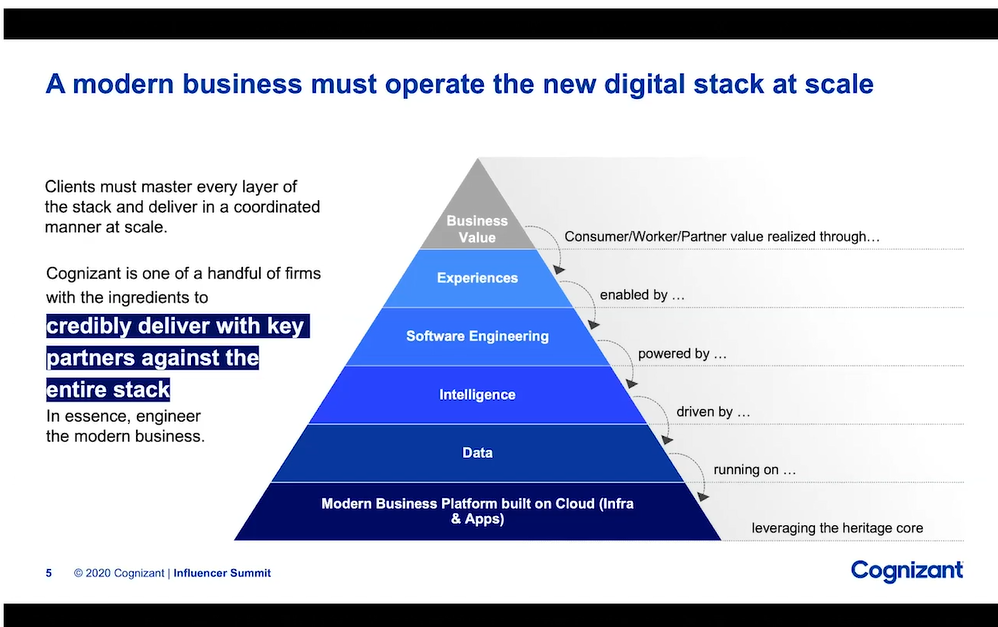 One area of focus for accelerating digital at Cognizant is its service offering for cloud and infrastructure. At the event, Cognizant showcased its growing partnerships with hyperscalers. Cognizant is working with both AWS and Microsoft Azure to develop new solutions and expand joint go-to-market strategies. The company also showcased how it has developed a strong workforce certified in hyperscaler and related technologies. It has invested heavily in training and certifying its employees in AWS, Microsoft Azure, GCP, ServiceNow, and other open source and cloud-native technologies.
The company works with clients not to just "lift and shift" workloads to cloud environments but to rearchitect workloads by leveraging containerization and microservice, so applications can take full advantage of the flexibility and agility the public cloud architecture provides. It is also using DevOps and infrastructure-as-code (IaC) practices as well as artificial intelligence-led automation with out-of-the-box API integration capabilities to manage cloud infrastructures efficiently. Cognizant has successfully delivered vertical-specific transformation solutions during the pandemic, especially in the healthcare, insurance and banking domains. Cognizant already has a strong presence in these sectors and therefore has an advantage over the competition, for instance in Life Sciences, where it provides cloud solutions to help customers improve agility, scalability, compliance and speed for clinical vaccine trial phases.
Cognizant remains a leader in many of the markets it serves, and, while its planned expansions and business goals appear sound, ISG expects slow change on the ground. New country leaders must prove themselves. Employees, partners and clients must be on the same page to move the company's transformation forward, and all are still in the process of changing. If the new leadership can guide employees toward their stated goals, while adjusting to market dynamics, ISG expects continued success.
"Brian Humphries and team did a great job explaining the plans for transforming Cognizant in this 2020 Analyst & Advisor Summit," said Jamie Burke, ISG Partner. "If you are a current client of Cognizant or considering being one, understanding this vision and how to best leverage the power of Cognizant is crucial to your organization's future. Cognizant does some of the most innovative IT work in the market and has the expertise and scale to help any organization in its digital transformation. I am excited to see the results of their own!"
ISG develops additional research about Cognizant and others, covering updates on technologies, partners, industries and other business news. ISG Provider Lens subscribers can access comprehensive reports about industry players, market dynamics and additional pertinent research as well as direct access to ISG experts. For more information please contact [email protected].
ISG hosts several flagship events to fuel learning, sharing and connecting. The agendas bring attendees, technology and experiences together for an all-encompassing collaborative environment keeping ideas and innovation flowing. Sessions are interspersed with strategic insights from ISG experts and industry thought leaders and hands-on approach to cutting-edge technologies in Innovation Labs. ISG's annual Digital Business Summit focuses on enabling and delivering advantage, improving the ability to compete through innovative new ways of doing business, and transforming into a digital organization.
About the author
Mr. Exler is a Principal Analyst with ISG Research, with a focus on the disruptive and progressive influences on businesses – and the experiences of their customers - of the Digital Workplace, Internet of Things (IoT), location intelligence, and application modernization. Ron authors ongoing ISG research reports, provides enterprise context inputs for ISG Provider Lens, and leads other research involving enterprise digital transformation. Ron bridges the gap between business and technology through active analyses and clear communications of issues and opportunities.