Digital Twin – the Heat, the Noise and the Myths
Digital twin technology has generated a remarkable amount of attention in the past few years. A simple Google search on digital twin gives over 2.4 billion results! What was once considered as a "nice to have" initiative by R&D departments is now fast becoming a "must have" initiative with a wider scope, in the context of a connected enterprise. There are new digital twin standards emerging such as National Institute of Standards and Technology (NIST), Digital Twin Consortium and International Organization for Standardization (ISO). Some industrial players are investing heavily to drive standardization efforts on their own.
Definitions for digital twin abound. For example, the Digital Twin Consortium defines a digital twin as "a virtual representation of real-world machines and processes, synchronized at a specified frequency and fidelity."
But no matter which definition or standard appeals you, when there is heat and noise, there are bound to be myths surrounding it. Here are a few of the most common myths we hear about digital twin technology:
Digital twin is an off-the-shelf and plug-n-play technology; I will cross this bridge when I get there.
Digital twin is only for Aerospace and asset-heavy industries, and I don't have to worry about it for the next five years
Digital twin is only for engineering and can be implemented for new product design / greenfield applications.
If I simply update my PLM system, I can reap the benefits of a digital twin technology
We have a Data Lake project running, let's rename it "digital twin" and reap the benefits
Digital twin is the same as model-based systems engineering (MBSE)
What Is the Promise of Digital Twin in Today's Market?
No matter the industry, most organizations are aiming to take the lead in a "secure, intelligent and connected economy." In this economy, the future of product development/engineering, manufacturing, supply chain and aftermarket systems hinges on companies' abilities to build and exploit information models. With IIoT and real-time analytics, we have a wide range of adaptive machines and systems capable of automatically transmitting information about their status, performance and usage. This can create new levels of operational and strategic business value with real-time data that feeds decision-making across the organization. It is here that digital twin technology becomes an absolute game changer. The pandemic has only accelerated the awareness of and the interest in investing in a holistic digital twin program.
Which Are Early-adoption Digital Twin Successes?
Business value for digital twin implementations can be found across the end-to-end business value chain of plan-build-operate-maintain. The benefits typically revolve around new business models, faster product launches and operational efficiency and resiliency.
Most digital twin use cases fall into one of the following six categories.
Figure 1: Digital Twin Use Cases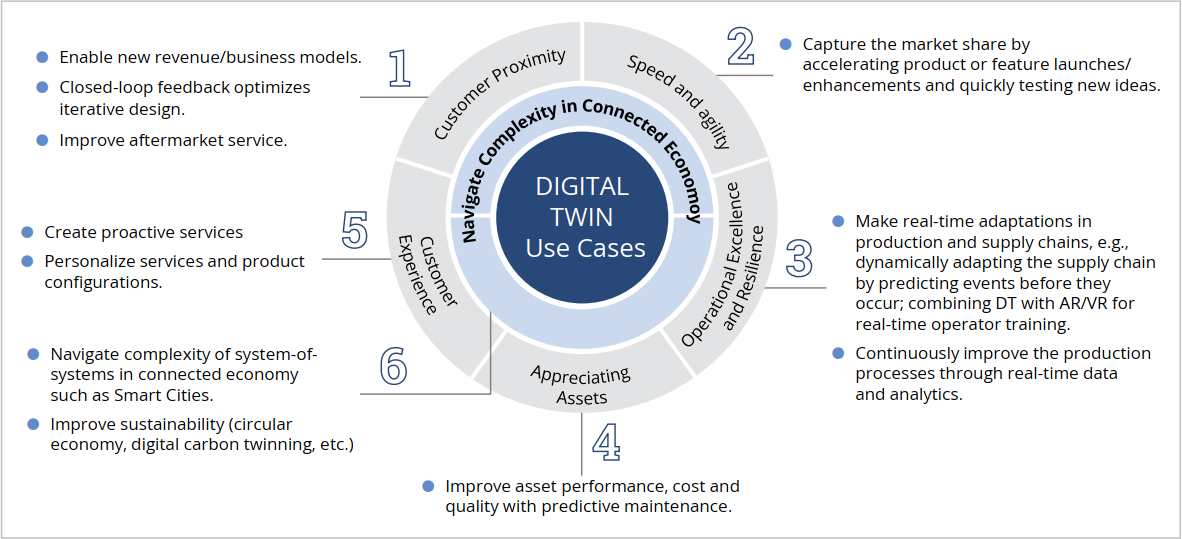 Source: ISG
How is Digital Twin Technology Evolving?
We see digital twin technology evolving across four dimensions: coverage, definition, technology and scalability.
Digital twin coverage has expanded from cradle to grave, infusing the full lifecycle of a product from inception across the product's value chain.
Digital twin definitions have evolved by swinging from basic to esoteric and then to more practical and "hybrid" definitions in between.
Digital twin scalability is expanding from a focus on increasing functionality to encompass increasing integration, interoperability and data exchange within the ecosystem.
Digital twin technology has evolved from on-prem simulation tools to combine the power of digital twin functionality with cloud/big data, cognitive, AI and mixed AR-VR reality.
Figure 2: Digital Twin Evolution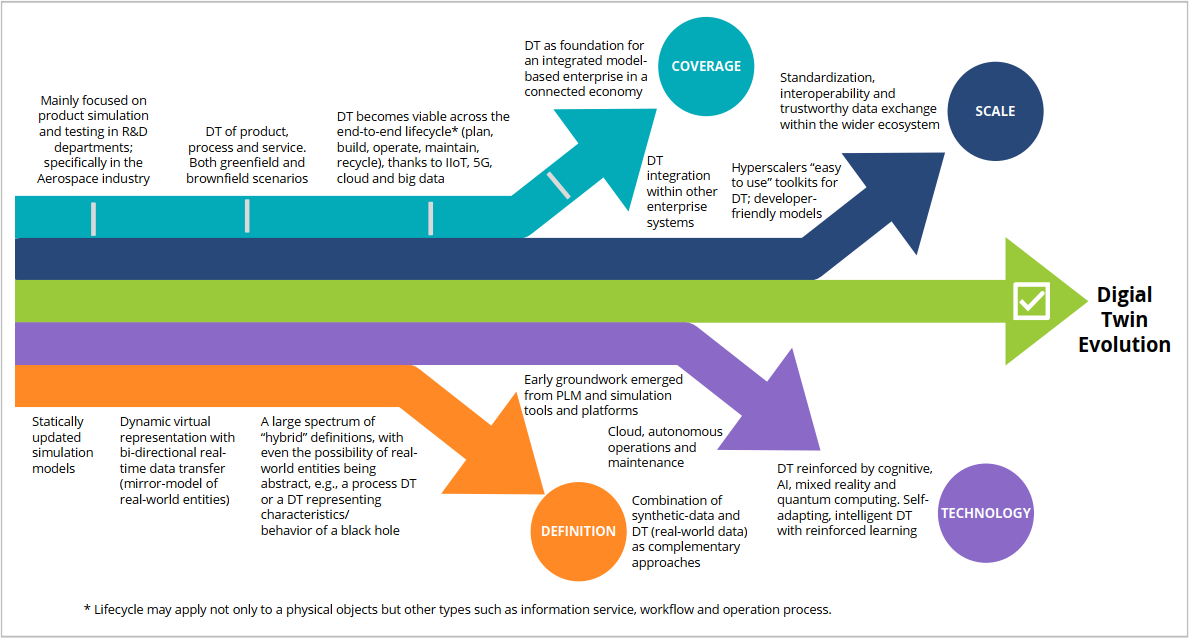 Source: ISG
A digital twin maturity assessment can offer a multi-pronged look at a company's a) value-based strategy, b) architecture, technology and tools, c) data and models, and d) organizational and ecosystem aspects.
The Three Pillars of a Successful Digital Twin Program
To ensure your digital twin initiatives achieve business outcomes, we suggest building three essential pillars.
1. Identify the value proposition of the digital twin initiative.
This is a cornerstone of your digital twin program, as it affects the subsequent components. It is often neglected in many organizations, especially in environments where digital twin applications have proliferated from the "bottom up."
Typical blind spots in achieving this goal include:
Missing a wider stakeholder alignment on business value
Failing to identify which processes and workflows are affected; which new roles, skills and governance mechanism are needed to track the progress/ value realization
Identifying and involving too late external partners that can provide solutions regarding data collection, storage, analysis and the software and platforms for data management.
Recommendation: Whether you are addressing greenfield or brownfield scenarios, start by focusing on three to four use cases in which businesses and customers would appreciate the value, and build a "minimum viable digital twin." This allows an incremental approach, by demonstrating the benefits and thus delighting stakeholders and continuously improving. Involving players in the ecosystem early in the solution design is critical here.
2. Address the magic trio upfront and create a stage for continuous deployment.
Digital twins combine data, connectivity and processing. It's critical to address this trio upfront at the solution design stage.
Typical blind spots include:
Neglecting the data diversity, integration and privacy/cybersecurity issues that can pose critical challenges
Locking the solution early with little-to-no room for a continuously evolving digital twin solution.
Recommendation: A common approach is to standardize the data structure and communication layers to tie diverse data across IT, operational technology (OT), engineering technology (ET) and consumer technology (CT). A unified, developer-friendly data model is the backbone of all digital twin implementations. For cybersecurity, in addition to deploying internal safeguards, be sure to assess what security responsibility the partners are owning and ensure the digital twin implementation will not endanger enterprise systems.
Another critical step is to establish a mechanism for continuously updating the high-fidelity digital twin model from the beginning. In scenarios in which knowledge of the digital twin deployment environment is unknown, you want an incremental approach to improve digital twin maturity, as more real-world data is integrated into it.
3. Enable a connected organization and ecosystem.
Digital twin technology can be a game-changer in today's secured, intelligent, connected economy. It does so by creating value for end users and finding business models that allow profit-making for various ecosystem players.
A typical blind spot here is the lack of a standardized and proven mechanism for secure data-sharing across ecosystem players, including companies, customers, suppliers and contractors. While digital twin standards are emerging, the required pull / acceptance from the end-users and markets will determine which standards bring business value. Companies tend to make the mistake of getting engineers and data scientists into a room, focusing on digital twin standards and protocols and then writing custom code.
Recommendation: While exploring emerging innovative and sometimes open-source technological solutions in the market, especially in the data management and integration space, can be helpful, the integration platforms need to go one level deeper. Work to unify and automate the integration process to make it future-proof. Results here are made better by trying to make the least possible number of assumptions about the evolving use cases in the secure, intelligent, connected economy. Don't forget that it requires fundamental change management to break up siloes within the organization and beyond, in the ecosystem, to impart new skills, processes and governance required for digital twin deployments.
Most organizations we speak to are dabbling in digital twin initiatives in some shape or form and have experienced the first taste of success. However, enterprise's ability to implement digital twin technology on a large scale is still at a nascent stage. This is not just because of the technological advances but because business value from digital twin initiatives is realized only with changes on the organizational and ecosystem levels as well.
ISG helps enterprises assess, design and source for digital twin capability. Learn more to find out how we can help you.

Listen to the podcast: ISG Imagine Your Future® Podcast – Episode 27: What Is Digital Engineering and Why Does It Matter?