With the integration of generative AI, digital threads will become "intelligent threads" and digital twins will become "intelligent twins."
How so?
Generative AI will augment the human workforce and, in some cases, enable "self-driving" digital twins and threads.
We are exploring how enterprises should leverage generative AI in a series of articles: How to Build an AI Strategy: A Guide for Business Leaders and How to Leverage Generative AI to Transform Your Customer Service.
This article explores how AI will impact digital threads and digital twins.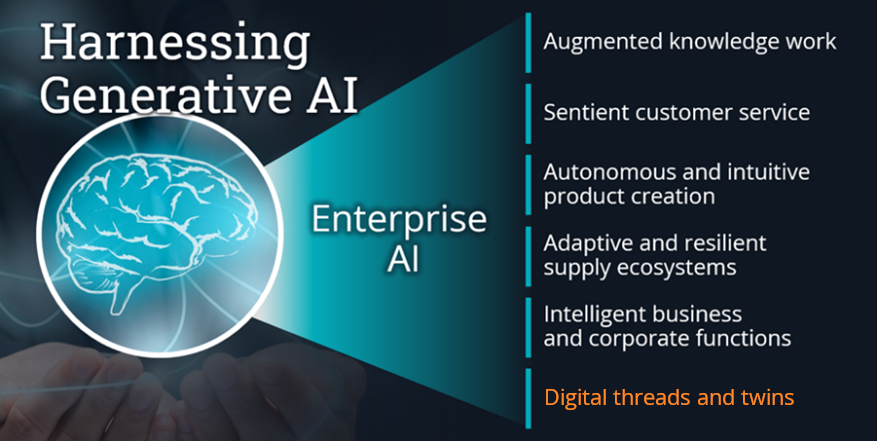 What Are Digital Threads and Digital Twins
A digital thread stitches together specific capabilities and integrates people, processes, data and systems through bi-directional closed-loop information flow. It extends across the value chain to enable information flows. A digital thread is not limited to enterprise data; it can apply to the extended enterprise value chain, including suppliers, dealers, customers and other third parties.
A digital twin is a virtual representation of real-world entities and processes, synchronized at a specified frequency and fidelity. Its primary focus is digitally predicting a product, a service or a process before the event will occur.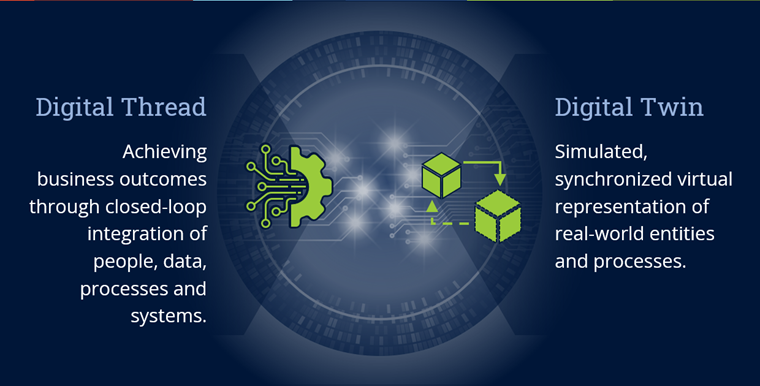 Both digital threads and twins offer fertile ground for generative AI's impact on the enterprise. Because they are interdependent, they can benefit from one another. Digital twin fidelity can be improved, for example, if actual information from a well-designed digital thread is collected.
The Benefits of AI in Digitally Representing Your Enterprise
A digital twin can be very complex to design and build, requiring the orchestration of several digital threads and the integration of different technologies, from simulation toolsets to IoT and edge devices to cloud and 5G enabled communication, all with a cyber-secure approach. Generative AI can ease this orchestration and integration complexity and bridge gaps in the design, build and implementation process. It has the potential to improve data quality and increase speed to value by leaps and bounds.
The following are real-world use cases for the power of generative AI in digital twins.
Data augmentation and synthesis: Generative AI can generate realistic data to augment the limited or incomplete data available for a digital twin. This synthesized data can help fill gaps and provide a more comprehensive dataset for training and simulation, leading to more accurate and robust models.
Human-in-the-loop optimization with natural language interaction: Generative AI can work in conjunction with human operators to iteratively refine and optimize the digital twin's accuracy. The model can generate alternate scenarios or inputs for the operator to assess, and the operator's expertise can guide the model to create better simulations describing scenarios, conditions or parameters.
Anomaly detection and fault prediction: Generative AI can be used to model the normal behavior of a system based on historical data. Any deviations from this learned normal behavior can be flagged as anomalies. This is particularly useful for predictive maintenance in industrial applications, where the digital twin can identify potential faults or issues before they escalate.
Similar considerations are applicable to digital threads as well, ultimately leading to the possibility of improving the digital representation of the enterprise, its assets, processes and ecosystem of relationships.
The following are use cases for the integration of generative AI in digital threads:
Continuous improvement and real-time data collection and monitoring: Generative AI can analyze data from customer feedback, product usage and performance metrics to suggest ongoing improvements. This iterative feedback loop helps refine product designs and features over time. This information is also a critical to the continuous tuning of a digital twin.
Data integration and interoperability: Generative AI can help integrate data from diverse sources and formats, facilitating seamless communication and collaboration between different departments and stages of the product lifecycle. It can convert data into standardized formats, ensuring that information flows smoothly across the digital thread.
Supply chain optimization: Generative AI can analyze supply chain data to optimize inventory levels, minimize lead times and predict potential disruptions. It can also help suggest alternative suppliers and materials to mitigate risks.
Of course, the more data fed to a generative AI large language model, the better the results; this leaves us open to questions about private and public data and the associated controls and security, including the possibility of a hacker poisoning the company's generative AI to impact its competitiveness.
Many enterprises and service providers are already working to incorporate generative AI into their solutions; use cases to date are mostly expansions of what has already been implemented with AI but focused on higher-impact solutions with incremental improvements on the results across the architectural landscape.
The Impact of Generative AI on the Human Workforce
Generative AI in digital twins and digital threads will have a profound impact on the role of the human workforce and the interoperability of digital devices. Humans will grow increasingly reliant on generative AI in maintaining quality and speed in product design and in problem-solving. This way of working is not limited to the Metaverse or to wearable AR glasses but will branch into all aspects of the virtual interface with the physical world. The human role in designing and building digital threads and digital twins will be to provide guidance (such as prompt engineering), instructing the technology to simulate and implement.
In this scenario, digital twin capabilities in the enterprise will evolve to include 3D representation of the phenomenon under evaluation to a connected virtual representation that consumes actual data.
While digital threads and twins integrate business activity and data models across their frameworks, intelligent threads and intelligent twins will integrate business intent and active intelligence. Thoughtful enterprises are using generative AI-enabled intelligent twins and intelligent threads along with internal subject matter expertise to build greater capabilities and increase value across the organization.
ISG helps enterprises select, source and implement intelligent twins and intelligent threads – and strategically leverage generative AI based on successful use cases. Contact us to learn more about how ISG can help you find the right partner and bring your strategic initiatives to life.