The COVID-19 pandemic and consumer demand for more effective healthcare outcomes are putting pressure on healthcare payers to meet member care lifecycle requirements and build patient-centric business models. Payers and providers alike are struggling to comply with new regulations, integrate waves of competitive mergers and acquisitions, and adapt to the needs of an aging population. At the same time, many companies are struggling to stay apace with mounting competitive pressure and growing demand for services – especially advanced and convenient digital services.
Digital transformation helps address many of these challenges. Because payers and insurance plans measure technology investments based on business outcomes, finance and other business leaders are driving digital transformation.
To share ideas with healthcare payers about the state of the industry and how digital fits, ISG recently participated with IT service management provider NTT DATA Services and not-for-profit health services company Harvard Pilgrim Health Care in a webinar, What's Driving Your Digital Strategy? Empower Your Health Plan for What's Next. During the webinar, we gathered interesting data from the attendees as pictured here.

What's the Most Important Digital Transformation in Your Company?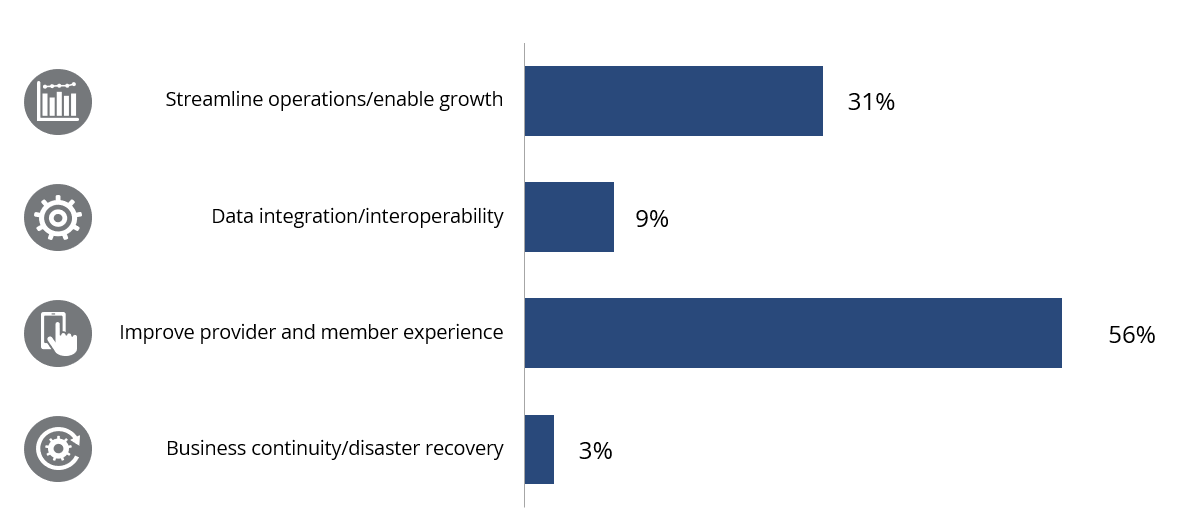 Most payers who responded say improving the experiences of those they serve is the most important goal of going digital. Other respondents cite operational improvements and growth as key drivers. This confirms what ISG sees in the market: consumer "members" are becoming increasingly central to payers' changing value propositions. Members are experiencing the effects of changes to the payer workforce, operations, business and technology ecosystems and governance, and the pandemic is accelerating digital transformation in all these areas. Few payers cite business continuity as the most important driver of digital, which may indicate they do not see it as core to IT.
What is the Biggest Gap You are Trying to Address with Digital Services?


In digital transformation, enterprises expect digital enhancements to improve their delivery of services. It was not surprising, therefore, when more than half of respondents said member engagement was the gap they were trying to address with digital services. Data exchange and internal collaboration were the other gaps noted. Harvard Pilgrim, for example, recently added a mobile app to help improve member engagement and uses analytics tools to understand its providers' needs. Providers are responding to the demand for virtual care, including telehealth services and remote monitoring, which have expanded greatly during the pandemic. As members increasingly expect digital services, payers need solid data management and integration in place.

Which of the Following Advanced Digital Technologies Has Your Organization Initiated or Expanded in the Past Year?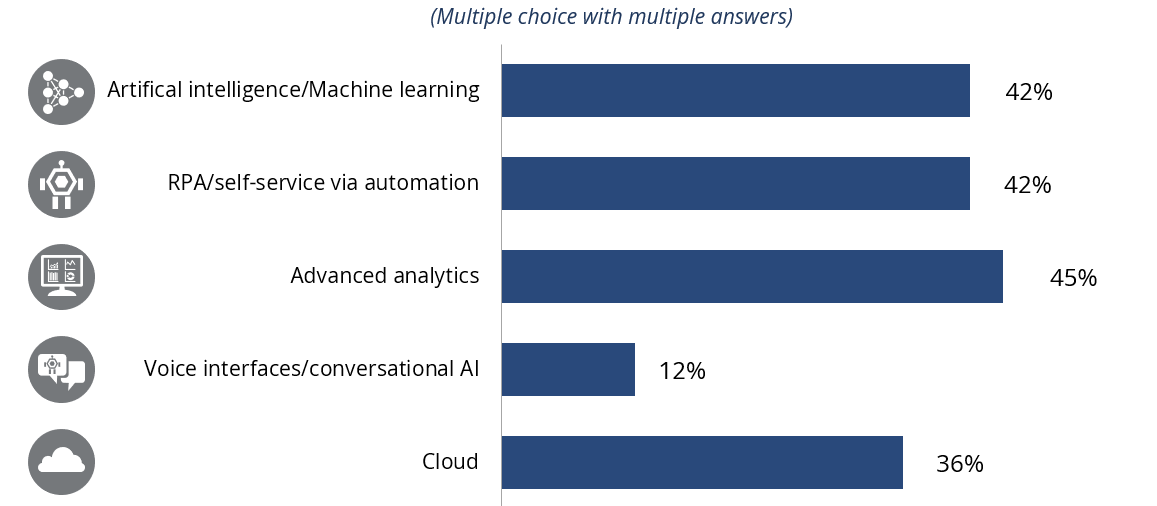 When it comes to advanced technologies, many respondents say they have initiated or expanded their use of AI, RPA, advanced analytics and the cloud, while fewer said they have begun working with voice interfaces. NTT DATA sees across its healthcare payer clients that most start with RPA before moving to more complex technologies, such as AI and voice interfaces. Most payers apply AI in the back office by combining multiple data sources to interpret clinical data to improve services. Healthcare payers require a frictionless flow of information between sales and service channels and are looking for holistic solutions rather than point solutions. Holistic solutions combine automation with deep learning and advanced analytics with conversational AI offered via cloud platforms. Harvard Pilgrim, for example, is using auto-adjudication to improve its claims operations.
For payers, business resilience and flexibility are top of mind. The following strategic initiatives will help payers stabilize and simplify their IT operations:
Deploy a cloud-first strategy to improve flexibility
Embrace hyperscalers, including Amazon, Google and Microsoft, as they enter the market
Simplify the service provider landscape, use more managed services and increase focus on applying digital to improve business processes
Reduce technical debt and rationalize applications to avoid complex environments that add cost and obstacles.
To watch a replay of the webinar, go to https://us.nttdata.com/en/events/2020/september/what-is-driving-your-digital-strategy.
For more than a decade, ISG has been helping healthcare organizations achieve their goals through rapid cost takeout, organizational change management, digital business model transformation, innovative sourcing solutions and intelligent automation. To date, ISG has advised 15 of the top 20 healthcare payers in the U.S.
ISG Provider Lens is launching a new study evaluating service providers on their digital transformation services in the Healthcare and Life Sciences markets. For more information please contact the authors or [email protected].