For years, organizations have been getting by with the bare minimum when it comes to training, especially sustaining employee learning and introducing innovation. Maybe it's the same job aid printed in 2016, shoved in a file cabinet and never updated … or the company leans on internal subject-matter experts to provide instructor-led training and on-the-job (shoulder-to-shoulder) training … or it uses a provider to bring in hundreds of trainers for onboarding rather than using eLearning and virtual reality. Obviously, these aren't the best ways to maximize and stabilize your budget as training needs rise, fall and evolve.
Now more than ever, enterprises are forced to focus on training for three core reasons:
1. The Great Resignation – Many fancy descriptions are out there, but bottom line, this means more onboarding and shifting around of resources that demands upskilling with proper training for roles people are hired or shifted to do.
2. COVID – Most don't want to use this as an excuse anymore when it comes to business, but we should recognize that we relied heavily on instructor-led and on-the-job training in pre-COVID days. The pandemic pushed everyone to eLearning, virtual reality and online instructor-led training, which dramatically increases the demand across centralized corporate learning and development functions.
3. Cloud and as-a-Service – As everything shifts to the cloud and as-a-service models to offset on-premise and IT costs, training needs are coming to a head. In the past, most technical training was decentralized within an enterprise and maintained by just one or two people. Now, the products themselves change daily, weekly or monthly.
You have people moving in and out of organizations more than ever, coupled with a massive shift to eLearning that's here to stay. Pile on products that are evolving rapidly, and we have entered a period over the next decade in which, if large enterprises and executives don't start looking at their direct spend and operation costs in this area, they will lose tons of money off their bottom line and not even know it.
Training as a Service to Maximize Your L&D Efforts
At ISG, we specialize in outsourcing, cost optimization and training. When you put these together, you have a partner uniquely positioned to: 1) help you optimize your internal and external spend across providers, and 2) provide you with Training as a Service (TaaS) options to help maximize training-development efforts, increase speed to uptime to drive more revenue, and partner with your business to control the volatile nature of learning and development (L&D).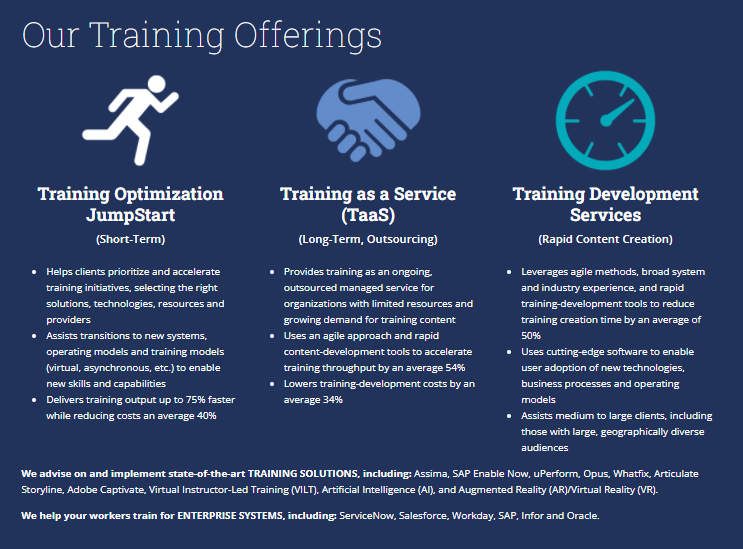 ISG's global resources have helped train and support more than 5 million end users, leveraging our experience to meet your unique needs around budget, resources, technology and business priorities.
With ISG, we find operational efficiencies across L&D efforts and set the stage for scalable, self-funding training efforts to weather any challenge you face. We leverage best-in-class tools and resources to deliver cost-effective, digitally enabled training and continuous learning customized for your organization. Contact us for more information.