Global organizations are dealing with the growing complexity that comes with managing an increasing number of multi-cloud scenarios. They face a constant need to address the associated cost complexities, accelerate new application development and delivery, empower the workforce and enhance productivity. Approaches such as FinOps are becoming critical in public cloud migration strategies.
U.S.-based cloud computing and virtualization technology company VMware is working to address these challenges. Its cloud-smart approach is aimed at enterprises wanting to achieve top-line growth through digital innovation while containing associated costs and complexities. The company recently showcased its initiatives at the VMware Explore India event.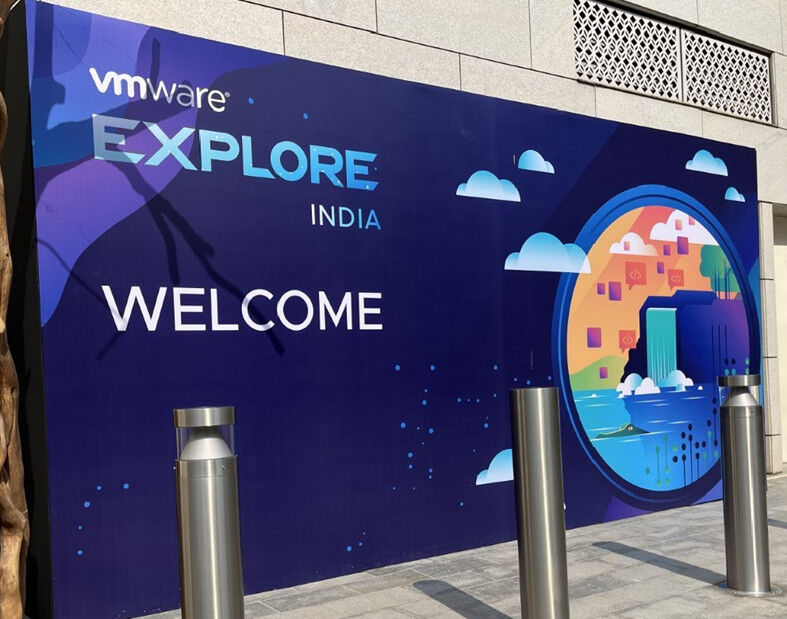 The VMware Explore India event was held in Mumbai and attended by thousands of VMware practitioners, partners, clients, industry analysts and the media. The event was much anticipated as the industry still seeks clarity around the company's future direction after its announced acquisition by Broadcom in May 2022. While the acquisition is still under the scrutiny of regulatory bodies, the sessions and discussions at the event indicated that Broadcom intends to let VMware's solution portfolio continue to operate post-acquisition as it has been operating.
At the event, VMware showcased multiple cloud management and digital workplace solutions and featured presentations by top executives, including CEO Raghu Raghuram. It emphasized multi-cloud and the edge environment as essential to business innovation and that it is committed to addressing its clients' computing needs irrespective of the data and application residency, whether in the multi-cloud, data center, edge or devices. Many VMware clients from India and other Asian countries shared VMware solution success stories from the stage.
Key Highlights of the VMware Explore India Event
At the event, VMware announced it is working on the following:
Addressing multi-cloud challenges and opportunities

VMware CEO Raghu Raghuram described two types of key enterprise strategic requirements: "offensive" – referring to rapid application development and delivery for digital transformation – and "defensive" – referring to optimizing costs and simplifying complexities.

VMware applies its cloud-smart approach to these two goals by leveraging its Tanzu, Aria and Workspace ONE solutions. The secured and scalable environment of the VMware Tanzu Application platform allows developers to build and deploy applications faster, so operations teams can manage and scale them. VMware Tanzu for Kubernetes Operations provides a consistent Kubernetes environment across multiple cloud providers, enabling businesses to deploy and manage Kubernetes clusters. VMware Aria also provides cross-cloud management services that address cost, automation, operations and security.

Simplifying complexities and enhancing security in end-user computing

VMware addresses the challenges of a complex multi-cloud environment and end-user computing through its Workspace ONE and Horizon solutions. To support multi-cloud Desktops-as-a-Service (DaaS) deployment, VMware has moved several components that were earlier part of the architecture managed by customers to its Horizon Universal Control Plane. This provides lower cost, greater scalability and opportunities for advanced automation, alerting and reporting. It is another example of how companies can simplify the complexities of a multi-cloud virtual desktop management environment.

The Workspace ONE solution has Zero Trust capabilities based on conditional and contextual access for end users to their applications and data. The solution uses the Zero Trust platform to leverage Workspace ONE Intelligence powered by VMware Carbon Black, network intelligence and Mobile Threat Defense. It assesses the risk scores before providing access to end users.

Transitioning to an employee experience journey at a steady pace

VMware provides Digital Employee Experience Management (DEEM), also called end-user experience management or Digital Experience Management (DEX). VMware DEEM takes VMware Workspace ONE Unified Endpoint Management (UEM) and Horizon data as inputs and analyzes end-user device performance, connectivity, application performance and user sentiments. This functionality empowers enterprise IT organizations to provide uninterrupted technology access to end users and ensure greater productivity. At the event, VMware clients shared their success stories of starting their journey from VMware device management solutions and steadily transitioning to DEX with growing confidence and increased user adoption.

VMware also introduced Freestyle Orchestrator, a low-code platform to build and manage IT workflows. The platform can integrate with third parties, such as ServiceNow, and simplify workflows across the IT ecosystem. For example, users can build a workflow that raises an incident ticket in ServiceNow on the user's behalf when the UX score turns poor.
ISG Research Perspective
Key solutions such as Tanzu and Aria, critical parts of VMware's Cloud Smart approach, are also strongly rated in ISG Research. According to the latest ISG Provider Lens™ Public Cloud report, VMware leads the global FinOps market with its Aria Cost solution. ISG has highlighted VMware's differentiation in assisting clients at any maturity stage for public cloud adoption. Similarly, VMware Tanzu is rated as an absolute leader in the U.S. and the U.K. for the cloud container platform solution market. ISG has highlighted its strengths in managing multi-cloud environments, and VMware clients at the event reinforced the theme.
ISG also highlighted VMware's leading position in the Cloud-native Observability Solutions and Cloud-native Security Platforms market in its reports. However, the pace of product development and marketing activities could have been better compared to other vendors in the space. VMware addressed these concerns at the event by announcing continuous innovations and increasing visibility.
VMware is also a leader in the ISG Provider Lens™ Future of Work - Services and Solutions - Unified Endpoint Management - Global 2022 report. Its continuous innovation and simplification of the Workspace ONE solution are key differentiators. With its foray into the DEX space, VMware will compete with well-established players. While it is helping clients gradually adopt the employee experience outlook with DEX, other established vendors in this space are innovating faster.
Key Takeaways:
VMware continues on the path of innovation: When we analyzed the VMware acquisition by Broadcom, we highlighted concerns regarding the future of VMware innovation. However, the several features showcased at the event highlight that VMware continues to innovate and improve its solutions to address changing client needs.
VMware is focused on the edge and multi-cloud environments: As global enterprises focus on bringing data and applications near physical devices, leveraging the edge and industrial Internet-of-Things (IIoT) environment, VMware is developing solutions to support them. It has many client success stories to support these initiatives.
Clients should consider expanding their use of VMware solutions beyond server virtualization and end-user computing: VMware is firmly positioned to support multi-cloud, cloud-native and digital workplace space. Clients can leverage and expand the use of existing VMware solutions for new requirements such as cloud-native observability, security and DEX solutions on their multi-cloud journey without investing in new solutions.
ISG has extensive experience helping clients with VMware technologies. Please get in touch with us for any assistance.