In Part 1 of this Life Sciences 2022-2023 series, Part 1 Cybersecurity Threats, we examined types of cybersecurity threats, impacts of cyber attacks and leading strategies for preventing them. Here in Part 2, we will examine the Life Science supply chain first by profiling the functions and activities within the cycle and the headwinds that affect each phase of the cycle. We will also review the technologies that are disrupting each of the phases in ways that can enhance sustainability.
It is estimated that over 90% of Fortune 1000 companies have experienced significant supply chain disruption over the past two years. Given the complexities of supply chains within Life Sciences organizations and the importance of health to our everyday lives, this becomes significantly magnified when it comes to biopharma entities, medical technology companies and contract research organizations. So what potential disruptors, both disabling and enabling, lie ahead for 2022 and 2023?
There isn't a "one size fits all" solution for every firm. The intricacies and functional execution of the supply chain cycle will vary from enterprise to enterprise. However, the core fundamentals will be built around four components: a demand phase, an R&D phase, a manufacturing phase and a supply phase. Depending on organizational structure, these phases can contract or expand, but for purposes of understanding the potential headwind disruptions and technology disruptions, let's focus on these four phases.
4 Components of the Supply Chain in the Life Sciences Industry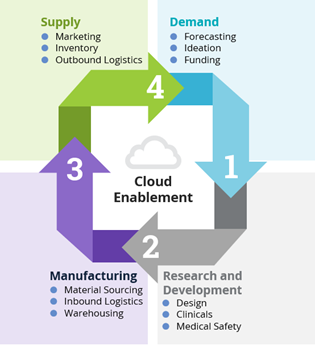 Figure 1: Four Components of the Supply Chain in Life Sciences Industry
In the demand phase, much of the activities related to financial business modelling (including target addressable market), ideation and securing funding are initiated to assess feasibility and build a foundation.
The R&D phase is complex and sophisticated. From a high-level perspective, it includes activities such as scientific assessment, product design, clinical trial execution and key aspects of drug safety capture and reporting.
The manufacturing phase is arguably the most challenging component of the supply chain cycle. It includes the coordination of activities related to sourcing raw materials with shipping and transit activities or inbound logistics of these raw materials and, of course, the warehousing of raw materials and the finished product prior to the supply phase.
The supply phase involves commercial activities such as marketing, speed to shelf, logistics of product distribution, as well as product warranty and/or pharmacovigilance facilitation. Timing of logistics in this phase is critical.
As we all witnessed over the past 30 months, no enterprise is immune to interruptions in their supply chain. However, organizations exhibiting the greatest capacity for resiliency all share a couple of common threads. First, they are enabled with a level of informational insights that equip them to foresee most potential supply chain threats and act accordingly. Second, they are innovative in their business processes and digitally enhanced in their operations. Potential threats are not always definitive and predictive and can, of course, come in various forms, but current indications suggest a few headwinds that draw significant attention in each phase.
Challenges at Each Phase of the Life Sciences Supply Chain
The demand phase can be greatly impacted by the growing threat of economic softness. At best is a soft landing of our pandemic recovery into an economic downturn. At worse is extended recessionary conditions. In either case, there is already evidence of contraction in capital spending as returns on investments metrics come more into focus. Historically speaking, because of the margin-based management style and culture of both North American and Asia-Pac-based Life Sciences companies, the contraction will be more likely there than with European-based Life Sciences companies that prioritize market share over profit margin and governmental subsidies. As such, broad-based and agile-based cost optimization strategies are being deployed to help enterprises overcome this headwind.
Governmental regulations are another major headwind facing Life Sciences organizations, and they often cause turbulence in the R&D phase. Everything from interoperability mandates to medical safety compliance and reporting, information and data security requirements to environmental (ESG) sustainability adherence will impact R&D for enterprise clients and their managed service providers. Leading supply chain organizations are taking active steps to broaden stakeholder involvement when it comes to the strategy discussion table.
The dynamic and often opaque headwinds associated with imports and exports are probably the toughest to predict and overcome. These headwinds are quite multifaceted and have devasting impacts on the manufacturing phase. Sourcing and cross-border transiting can be extraordinarily difficult. The ever-changing and often politically driven tax and tariff legislation, intellectual property security requirements and general geopolitical conditions across the globe add to this difficulty. Discussions with Life Science leaders seem to indicate a minimum level of preparedness in their supply chain management strategy for potential escalations with China (particularly with respect to Taiwan). Though considered to be fairly improbable, such an escalation would lead to government sanctions or embargos much more impactful to Life Science companies than today's sanctions on Russia and Belarus. The preparedness strategies include, but aren't limited to, geographical location adjustment evaluations, alternative material capacity and strategic mergers or acquisitions that could dilute the risks.
Coming full circle in the supply phase, we again see inflation and price pressures associated with economic conditions forming significant headwinds. Increased fuel costs will affect both finished product outbound transit cost as well as packaging material cost tied to that finished product. Traditionally, prudent hedging transactions help offset some of this type of risk and this will continue, but keen inventory management and working capital oversight, enabled by digital platforms and protocols, could produce key differentiation. Here is where having the right supply chain ecosystem partnerships will produce increased value.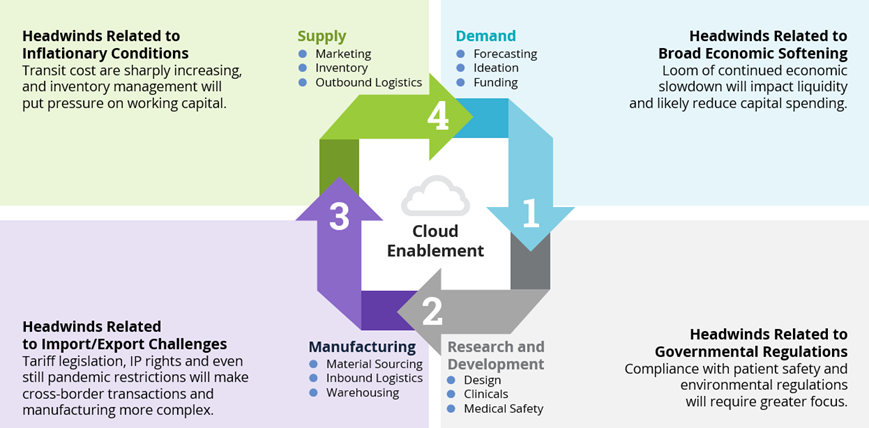 Figure 2: Challenges at Each Phase of the Life Sciences Supply Chain
In addition to the aforementioned challenges, supply chains are being disrupted by technologies that are being leveraged to overcome barriers of entry for some and enhance a competitive advantage for others. These technological disruptions are at various points of maturity and penetration but nonetheless trending in the Life Sciences marketplace.
Solutions that Address Life Sciences Supply Chain Management
You can't spell "Supply Chain" without "AI." When it comes to the demand phase, the advancement and the pace of advancement of artificial intelligence combined with predictive analytics platforms provide a foundation for precision in personalized medicine. The concept of a digital twin of the organization (DTO) is also gaining momentum as a supplement in mapping cross-functional aspects of minimal viable products (MVPs) and product development prior to initiation. Here again an ecosystem with the right partners of software, hardware, networks and service provision helps optimize the value proposition.
Personalized and digital medicine is no longer coming, it is here and becoming more pervasive in the market. Technology is at the heart. Whether it's mobile and edge computing that facilitates decentralized clinical trials, or the digital pill that reports critical ingestion stats, or the wearable device that records vital biometrics, or imaging technology that enhances effectiveness of therapies and procedures, these innovations are only as useful as the efficiency of the underlying supply chain. This is particularly true in the R&D phase.
Decentralized distributed ledger technologies, such as blockchain and hyperledger, are reshaping the sourcing and logistical functions of the manufacturing phase. Many would argue blockchain is more of a transformational technology than a disruptive technology. This means it is more foundational to transformation and produces the true disruptive solutions such as smart contracts and decentralized autonomous organizations. This is similar to the way transformational internet produced disruptive e-commerce and voice over internet protocol (VOIP) solutions in the early 2000s. The immutability and traceability of distributed ledger technologies not only facilitate the auditing process, it also provides transparency throughout the cycle. With respect to supply, blockchain has achieved greater maturity and prominence.
In the supply phase, personalized and digital medicine has advanced to a point of actually achieving significance in patient engagement. This is the objective of a smart supply chain cycle with technologically recombinant platforms. The medical Internet of Things combines modern hardware and innovative software with social mediums and mobile platforms all enabled by sophisticated networks and cloud computing to serve real benefits of the patient community.
Figure 3: Solutions that Address Each Phase of Life Sciences Supply Chain Management
For Life Sciences enterprises, supply chain is the life blood of operations. Agility and resiliency could be the difference in market share and top tier sustainability. In Life Sciences 2022-2023: Part 3 Cloud, we will examine how Life Sciences business leaders are viewing cloud and executing their cloud strategies.
ISG helps Life Sciences firms make the most of their supply chain investments, find the right partners to implement solutions and accelerate growth. Contact us to find out how we can help you.