As businesses continue to face increasing pressure to remain competitive, many find themselves making strategic automation decisions based on their enterprise's ability to achieve ROI from automation platforms and solutions. Some organizations struggle with the initial investment required in software licensing and infrastructure to get an automation initiative off the ground. Other organizations have overcome that hurdle but then are unable to scale their initial success in one area of the business to others. This can be due to the fact that the team supporting the initial successes did so at the expense of new development or an unwillingness to invest in additional tools or platforms to unlock new opportunities.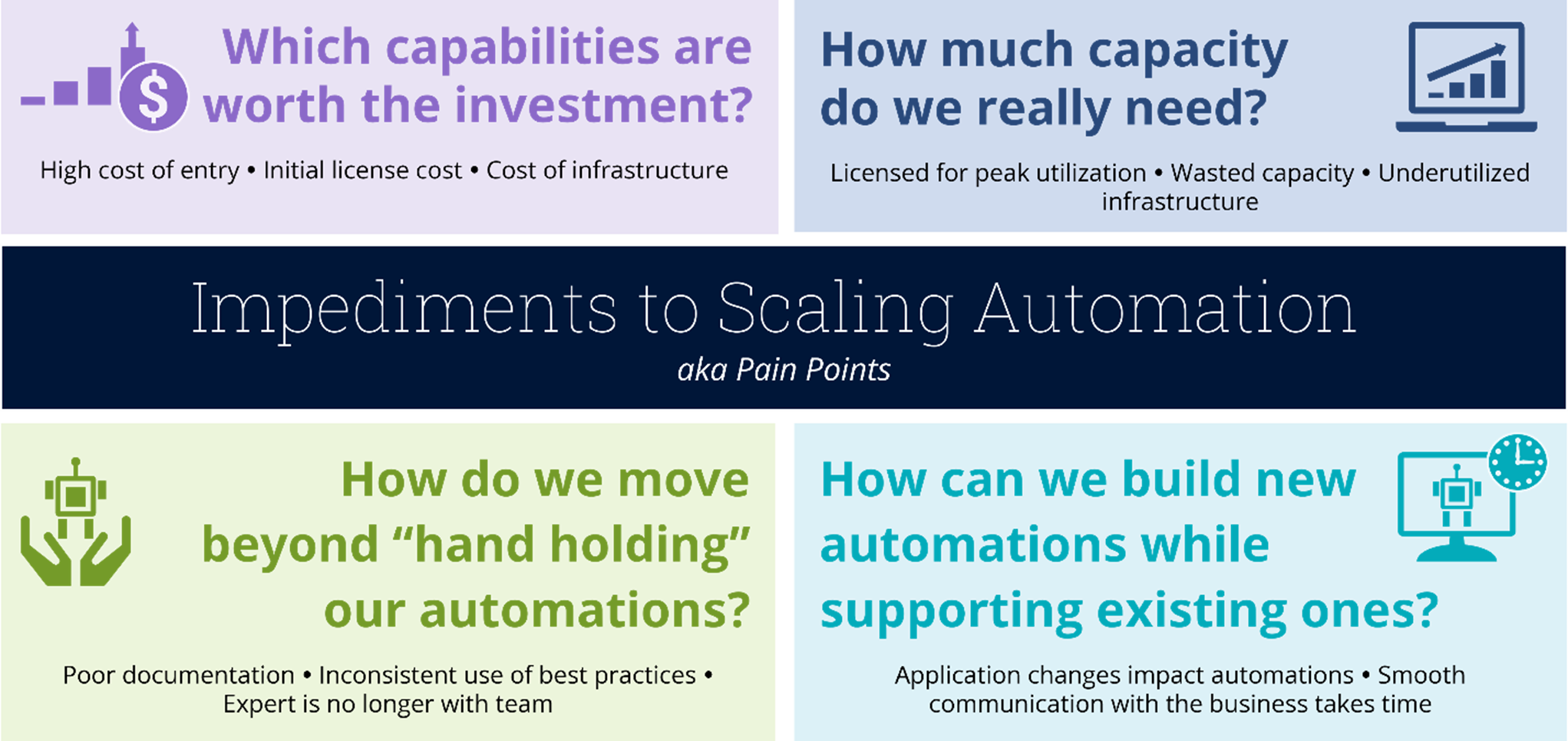 Figure 1: Automation Scaling Challenges
ISG Automation has a long history of automation advisory and implementation experience with our clients in exactly these kinds of situations. We've partnered with leading automation software providers to release a platform designed to improve enterprises' ability to start and scale their automation initiatives. It's called ISG Automation on Demand™.
ISG Automation on Demand
ISG Automation on Demand is a 100% consumption-based managed service built on the concepts of on-demand capacity for commonly used automation tools like robotic process automation (RPA), intelligent document processing (IDP) and natural language processing (NLP), plus automated management of SLAs and ITSM managed L1/L2 support for client automations.
Why are we focused on these concepts? The picture below (figure 2) explains the key elements of ISG Automation on Demand. Let's take a closer look at each one to see how they come together to accelerate and smooth your path from start to scale.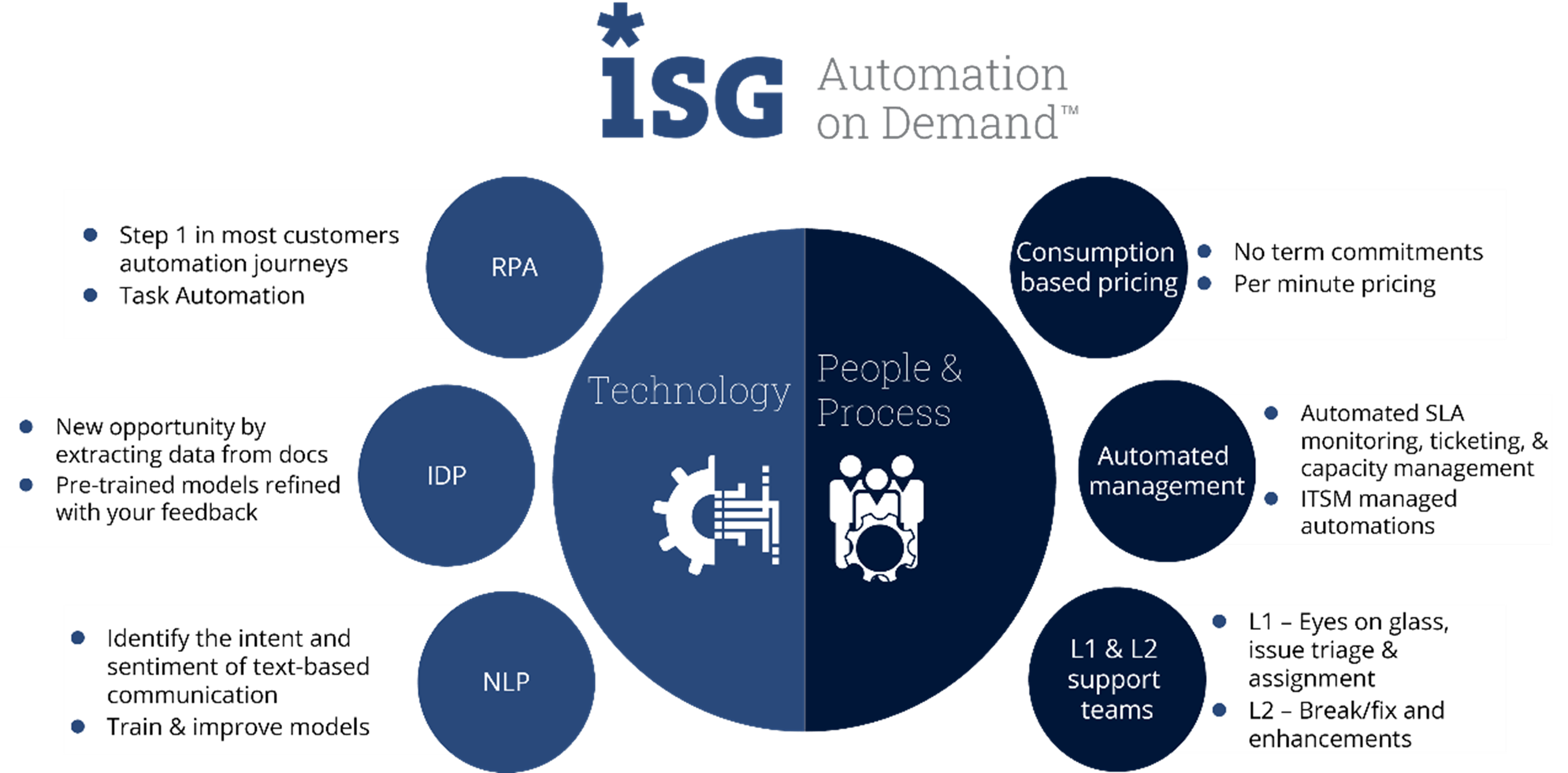 Figure 2: ISG Automation on Demand Key Elements
Key Technologies of the ISG Automaton on Demand Platform
Before we dive into the benefits of our on-demand capacity, let's define the automation tools that currently make up ISG's Automation on Demand (AoD) platform. RPA is a technology that uses software robots to automate repetitive, rules-based tasks, such as data entry and file processing. IDP is a combination of optical character recognition (OCR) and artificial intelligence (AI) that automates the processing of structured data, such as invoices and customer forms, by extracting relevant information and routing it to the appropriate systems. AoD's NLP capability uses machine learning (ML) to mine context from unstructured data, such as emails or documents, and turn them into actionable data.
"Pay as You Go" Payment Structure
If you were to purchase these tools from software vendors, you would need to invest in licenses and possibly on-premises infrastructure before automating anything. Even if you use a cloud-based solution, there is still an initial investment in licensing. Instead, AoD delivers all these tools through the cloud and invoices customers using a pay-as-you-go payment structure. RPA is charged according to minutes of automation execution, IDP is charged by the page read and NLP by the number of characters processed. Clients incur no traditional license costs but are instead billed based on their utilization of the platform. These pay-as-you-go costs include any infrastructure required to execute the automations and their L1/L2 support.
Fully Managed Services for Automation
Once an automation is running on AoD, it is constantly monitored by our teams and tools; this is all part of the managed service. We ensure it is meeting your needs by documenting your SLAs and OLAs, then ensuring that your automation has access to the infrastructure to meet both. Does your automation process under 100 transactions every day during most of the month but spike to several thousand at month's end? Our automated management and cloud-based delivery means we can provision new systems in minutes to meet swells in demand and ensure those transactions are completed within your defined timelines.
Flexibility, Scalability and Faster Time to Market
If it appears an SLA will be breached or if system errors or business exceptions occur, our automation will open incident tickets to facilitate communication with your automation team, your business customers and our L1 and L2 support teams to resolve it. Documented escalations and procedures are followed by our teams, who will stay connected with you to ensure your automation recovers and that any lessons learned are used to improve your automations.
Finally, the service is completely transparent. You can review configuration, logging, analytics and billing for each of your automations. Couple AoD with automation development services from ISG to have us worry about automation while you continue to find ways to improve your business. Learn more about ISG Automation on Demand here or contact us directly.