We are going to be hearing about the metaverse a lot in the coming years. Even now, we are seeing small versions of it coming to life. What do these look like? Games such as Fortnite and Roblox give us a sense of what the metaverse will offer: avatars, currencies, big brand marketing, live events.
But, according to recent conversations with a telecom firm that is looking into provisioning for the metaverse, we are at least a decade away from a truly permeable, ubiquitous metaverse.
One of the impediments today is that you cannot fluidly move between Fortnite and Roblox – they are silos at the moment – and the metaverse, by definition, will be synchronous and interoperable. A place where identity can be fluid across platforms.
For this, we will need to move beyond imagining how the metaverse could be used (as seems to be the focus of most mainstream media) and concentrate on the techno-commercial aspects of metaverse implementation.
Synchronous Interoperable Worlds Will Rely on Fluid Identity
As each Fortune 500 firm plans its own interconnected world, the need for customers to be able to move fluidly between those worlds will increase.
Wearing a virtual Nike shoe (which is an NFT) bought in a virtual Nike shop to a virtual Live Nation rock concert will require interconnection between the two worlds. So, while organizations are planning for how their customers will live inside their worlds, the customers will be focused on how to move between the worlds.
Can we learn from today's online environment in terms of identity and authentication system design? Valve's Steam, Blizzard and Riot Games each has its own unique identity ecosystem. While these systems work well, they still exist as closed systems.
There is one emerging concept, however, that hints at how things may change to create fluid identities in the future. That is the NFT. NFTs are much more than digital art. They are tokens stored on the blockchain; each represents a unique entity. This could mean a unique piece of art, or it could represent a digital "thing" like an interoperable online identity.
Startups like Magic are offering blockchain-native identity. This is just one example of the new set of Web3 services that will constitute the metaverse. NFTs might be our answer to open interoperability. We are tracking three other firms that are trying to establish verification and validation platforms.
Businesses planning their metaverse presence and creation should have this multi-world in mind while conceptualizing their metaverse approaches.
The 6 Dimensions of a Metaverse
Though the definition of a metaverse is a moving target at the moment, there are six dimensions that bring the vision to life.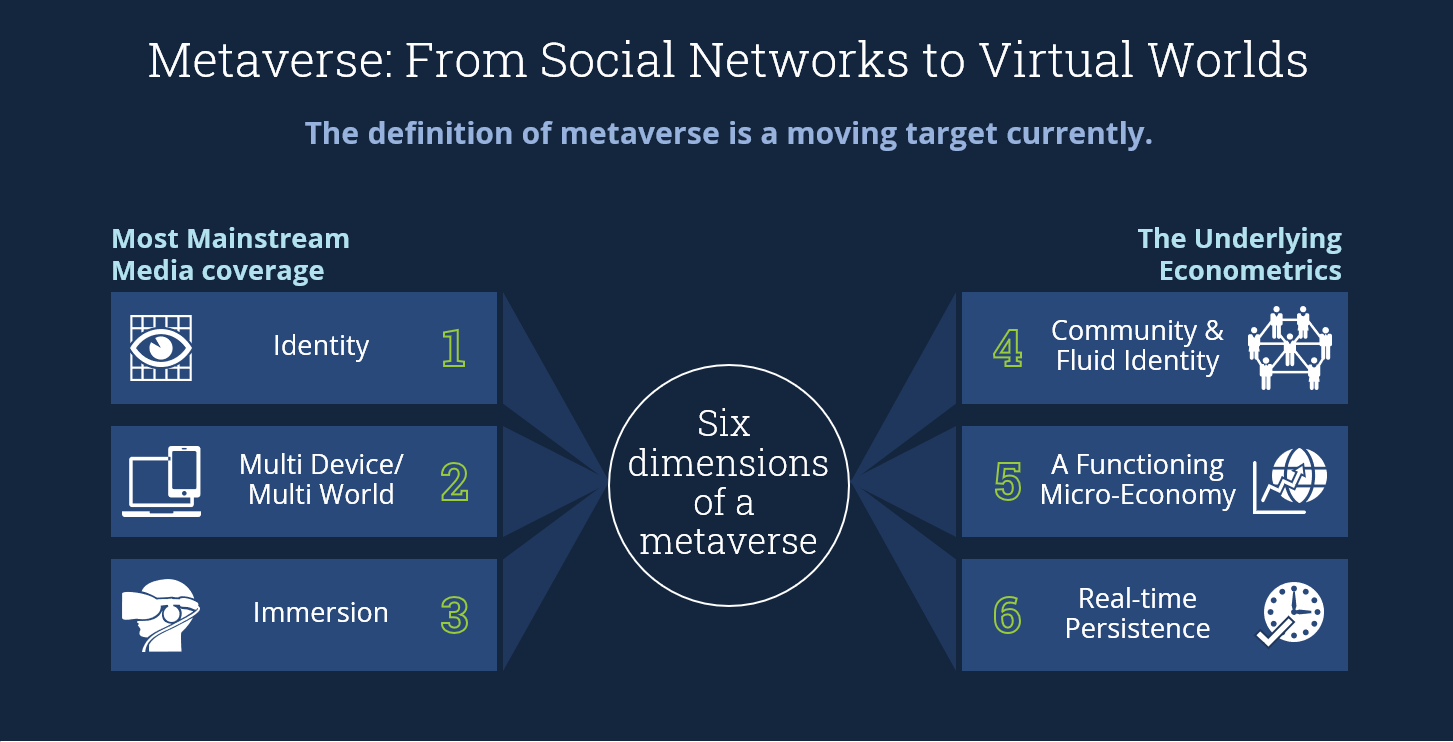 Much of the conversation about the metaverse today focuses on three dimensions: virtual identity, multi-device / multi-world and immersion. Enterprises that are looking ahead need to go beyond these characteristics to explore the underlying econometrics. To understand what makes a metaverse truly work, we should look at three important aspects of the world of massive multi-player online role-playing games (MMORPG). These three are community, a functioning economy and real-time persistence.
Community
Customers are not going to come to a metaverse to buy virtual goods. They are going to arrive as curious spectators to see what is happening and ask questions like "is it cool to be with this crowd?" The social dynamics of a community and all that is needed to keep one alive will be what stokes its growth. One can learn from the masterful design of World of Warcraft, which was built on the creation of communities. Communities drive stickiness. Communities in the metaverse – as in reality – will drive belonging.
A Functioning Economy
A functioning economy that persists and seamlessly crosses digital-physical boundaries will be tantamount to the creation and perception of value in Web3. The ability to continue a customer buying journey that might have started in the metaverse and continues in the physical world is what will win consumers over. Niche travel firms are already working on this: a pre-journey experience, which will exist in the virtual world, followed by a physical journey experience and then capped with a post-journey experience that will serve the traveling group as a community in the metaverse.
Real-time Persistence
The metaverse is more than experience design; it relies on persistence across virtual real estate, virtual objects and goods. These rooms and goods should still exist when a person goes back into the metaverse. Such persistence gets more complicated when this is no longer business-to-customer engagement but instead business-to-community engagement. A multi-customer model – with capabilities for co-creation and collaborative conversations – is imperative. Will your customers be able to create content together? Will that experience be in real time? And how can you ensure uniqueness and persistence of the objects created?
These three factors – co-creation, real time and persistence – will form the bedrock of a successful metaverse experience.
Many underlying conditions will need to exist for a metaverse experience. And no organization can master all these conditions. This is where we see a new implementation stack forming. While all the pieces and players are not yet clear, the layers are.
Business Creation at Each Level of the Metaverse
As Fortune 500 enterprises implement their metaverse ambitions, we will see business creation at each level of the implementation. The firms named in the diagram below are just examples; this is our attempt to protect the identity of actual client conversations.
The Metaverse Builders
These are the B2C firms like Walmart, Disney and NFL, which will plan their new customer journeys across physical and digital realms – creating augmented experiences, plan eSport events and simulate exotic destinations. They will rely on a solid bedrock of partners.
The Building Blocks for Experience Design
Building an end-to-end metaverse experience will need accelerators for avatar and experience creation, intermediaries for themes like identity authentication, emerging communities of creators and democracy design in any experience for true collaboration. We are expecting system integrators like Capgemini, Deloitte and others to upgrade their AR/VR/CX capabilities and create new accelerators to emerge as implementers in this space.
The Metaverse Substrate – the New PaaS
Metaverse implementation will rely on a new stack of services (application PaaS) and protocols. This is where ISG is tracking remarkable creativity and entrepreneurship. On top of decentralized blockchain protocols, enterprises are building platform services for persistence, creation of environments and staking of ownership. A new creator economy stack is also emerging that tackles data and digital assets. Some firms will create the tools. Other firms (digital agencies) will emerge that use the tools – the creator economy. As users cross digital and physical boundaries multiple times in any given interaction, input/output protocols for real-time persistence will be key. And as large pools of money collect across virtual assets like NFTs, decentralized autonomous organizations (DAOs) and smart contract implementation stacks will help codify governance.
The Metaverse Infrastructure – the Ubiquitous Connected IaaS
Much of what will be possible will be determined by the coming together of several technologies, including 5G, multiaccess edge computing (MEC), AI and IoT (AIoT), and the ambitions of the technology giants like HoloLens by Microsoft and Oculus by Meta. At this moment, it is difficult to predict the exact sequence of events, but experience shows that the threat of substitutes is high. For example, WiFi6 may very well threaten the business case of MEC.
How Far Are We from Mainstream Implementation?
A lot of what we have described has already been implemented in the gaming industry; it is the only industry where virtual experiences have been the most immersive. Travel, Hospitality, Media, Retail and Entertainment industry players are starting to create their position papers based on ISG studies and findings. Virtual interaction, NFT creation and crypto worlds are already spawning a creator economy that has not yet impacted the enterprise – but soon will.
While it might be too early for technology to support a ubiquitous immersive multi-metaverse experience today, it is not too early to think about how your customer journey can be redesigned for new value across digital and physical experiences.
Key Takeaways for Enterprises
Do not design only for the Metaverse; design for Web3. Get beyond the decentralized narrative of metaverse and Web3. Web3 is about to get "recentralized." In other words, new players will emerge to create new platforms. Blockchain was probably the fastest recentralization of a decentralized technology. Centralization is neither bad nor good. It provides the bedrock on which to build. As technologist and writer Tim O'Reilly said recently, "Even if you're a true believer in blockchain technology as a power for decentralization, you should look for the next vectors of recentralization." Scout out and observe these vectors carefully and track the projections for what this might mean in B2B and B2B2C worlds.

Develop assets on the digital-physical bridge. The sale of NFTs has shown the world the power of digital goods. True enterprise opportunities lie in the power of combining digital goods with physical goods. Do you like the purple Nike sneaker on your digital avatar? Want the real one for the physical world? What if you were one of only 200 to get a pair? What would you be willing to pay? A digital good can lead to a physical sale. A physical good can lead to a digital perk.

Explore new partners and platforms. Don't just look for metaverse developers. Study the stack in this article carefully. It will show you how to plan your build/buy/partner strategy. How you plan avatar development will be different from digital asset/token/NFT development. And the partners will be different. The world is changing quickly in this space. Lead your development toward continuous business outcomes and choose your partners carefully.
ISG help enterprises think strategically about change and select the right partners to get there. We can help you understand what's coming with the metaverse and Web3 and how to plan for your future. Contact us to learn more.