Right now, a "perfect storm" is prompting companies and providers to become concerned about evaluating and shoring up their existing relationships. A new study by ISG Research shows a major rebound in the number of contracts up for extensions and renewals between companies and their IT provider partners in 2023. During the pandemic, the percentage of IT deals that were contract extensions and renewals plummeted from a historic 40%+, as companies sought new services to boost customer experience online and help employees work from home. Now, extensions and renewals are back in a big way, as those 2021 pandemic deals come up for renewals, along with the usual older deals, and as we experience a palpable climate of market uncertainty. Bottom line: This is a critical time for providers to focus on keeping clients happy.
Relationship-health assessments are a simple way to figure out what's going right and wrong with your client/provider partnership before you get to renewal time. These assessments can also be used at the beginning of new client/provider partnerships to start them off on the right foot. ISG's Partnership Experience Assessment helps both providers and client companies better understand strengths, weaknesses and opportunities. We're now also seeing companies take advantage of this type of assessment right after a transition, so both sides can quickly improve buy-in to the transition process, identify emerging issues, shift resources, and focus on the areas that need the most attention.
These relationship assessments show your stakeholders that you care, which is invaluable. They also provide value as an independent, third-party view with diagnostic data and benchmarking to compare with other, similar company/provider partnerships in the marketplace. Companies and providers can use the reporting to communicate throughout their organizations about what's going on and how they will address problems.
ISG Research from the "ISG Index Insider" shows the market share of client/provider extensions and renewals is growing.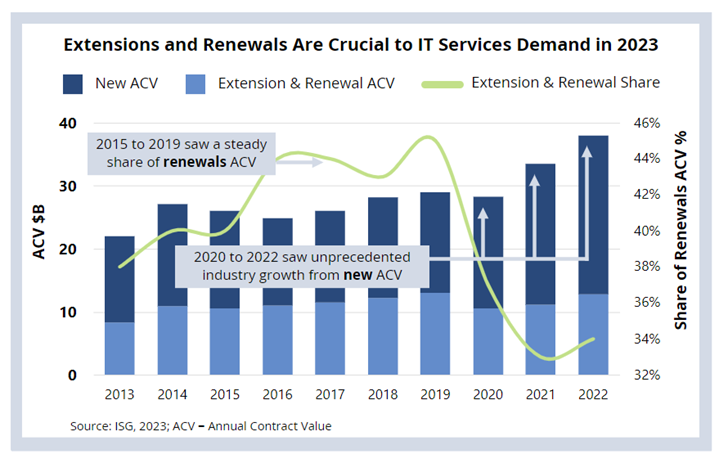 The Benefits of Assessing Your Provider Relationships
The reasons for focusing on relationship health are abundant. A Happiness Study by ISG found 61% of client/provider relationships are "at risk" (including those described as "unhappy" or "hostile"). The same study found BOTH clients and providers are responsible for the state of the relationship, whether it is going well or not. A competitive rebidding process can easily cost participants more than a million dollars, and switching providers can be extremely disruptive to business. Also, if you don't fix the underlying relationship issues, a company is likely to have the same problems again, even with a new provider.
Our research shows the main reasons a provider loses a client include:
The provider's inability to demonstrate capabilities
Perception of a poor relationship
Perception of poor delivery
Relationship-health work can help remedy all these concerns by daylighting and helping both sides address them. An ISG Partnership Experience Assessment, for example, includes in-depth interviews with select leaders from both the company and its provider. It typically also includes an online survey of a broader group of chosen stakeholders for additional insight. Good relationship assessments also include benchmarking against similar relationships in the marketplace, so you can gauge how significant the issues really are.
Creating a shared understanding through relationship-health work can make a big difference. Most client/providers experience the same general challenges, which can be dealt with if uncovered. ISG assessments include deep analysis and recommendations for fixing the issues.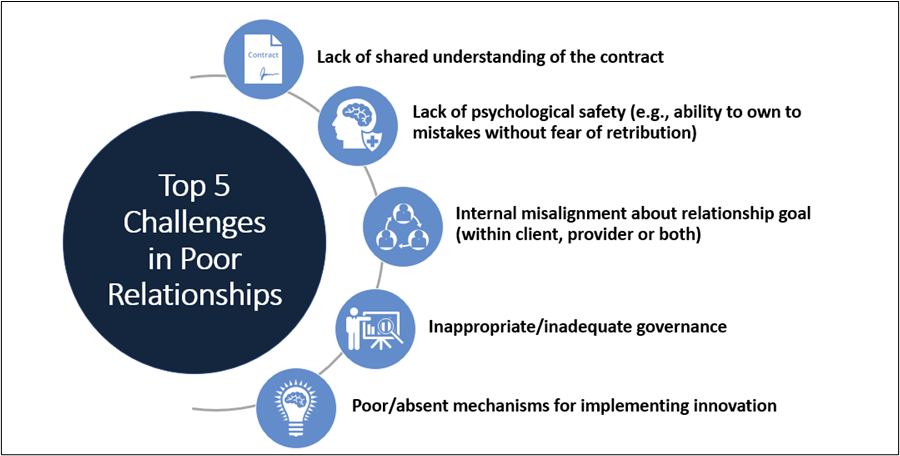 When Should I Assess My Client/Provider Relationships?
Many companies use relationship-health assessments about 18 to 24 months before contract renewals or decisions. Unfortunately, some wait until less than a year before renewal, which makes it tougher – but not impossible – to see optimal results before a decision has to be made.
Again, recently, we've seen companies boosting new client/provider relationships by doing these assessments just after a transition. When starting a new client/provider relationship, everyone typically goes through a difficult adjustment process. That may include dealing with layoffs, redeployment of resources, and/or rebadging of some company employees to the new provider. Awkwardness can also be pervasive as the provider collects information about the company's current processes and new processes, often attempting to make changes.
If an assessment helps get people at both the client and provider actively and positively talking with each other, it can dramatically ease the tension, create more understanding, and speed up the "storming and norming" process, so organizations can more quickly stabilize and see a return on investment. (Sometimes, clients even conduct assessments as early as the initial transaction with the new provider because they want to actively monitor their partnership over a multi-year period to realize the strategic aspects in a concerted relationship-building effort.)
Since relationships are dynamic, some companies perform these partnership assessments on a regular basis. As the client/provider situation evolves and changes, relationships can ebb and flow. ISG has some longstanding agreements with companies to conduct assessments once or twice a year, so things don't get too far off the intended path and bumps are easier to fix.
What Are the Outcomes of a Partnership Experience Assessment?
Regardless of when you use a relationship-health assessment, it can yield significant results. Here are two real case examples:
A service provider had a longstanding relationship with a major utility company, but the relationship had significantly deteriorated over time. The impending contract renewal was likely going out to market. ISG did a customized provider-optimization engagement that included bilateral interviews. The operational issues and their root causes were identified, and a workshop series followed, putting forth potential solutions and creating an ongoing dialogue. The provider's Net Promoter Score (NPS) subsequently rose by more than 60 points, and eight months after the assessment, the client conducted a sole-source renewal with the provider. Additionally, more provider personnel are now eager to work on this client account, and relationship-health engagements were rolled out to two more strategic partners.
One of the world's largest healthcare companies decided to outsource various IT functions to a managed service provider (MSP) at a scale beyond its usual scope. The transition to the new MSP included significant layoffs, process-documentation challenges, contract and resourcing questions, and other issues that heavily affected the relationship right away. An ISG team was brought in to do a Partnership Experience Assessment, including comprehensive interviews with key leaders and a customized survey of select representatives from both the client and provider to identify the main areas on which to focus and begin improvement. Immediate benefits included accelerated outcomes across project-management office (PMO) objectives, increased success in aligning the client and MSP delivery teams, and work toward a rewards/recognition program across both client and provider. As assessment results were presented and other ISG-facilitated activities kicked off, the client realized it would benefit from engaging ISG for a second Partnership Experience Assessment with another new MSP, too. Detailed presentations on both tracks provided the client and each provider with third-party data and analysis of pressing issues and opportunities. Readouts with custom Q&A sessions, independent benchmarks, and extensive recommendations helped the companies all make progress, including better communication, increased respect, joint trips to certain facilities, more cultural awareness, blame-free forums and other gains. The relationships improved and became more positive and strategic, rather than oriented toward day-to-day activities and issues. Stakeholders also received more support because leaders better understood their concerns. The sponsor said, "Thank you. It's made a tremendous difference and is going to help provide good momentum and end up getting the value we expect out of all these programs."
The team at the ISG Experience Assessment Center can help you better understand your client/provider relationships, whether they are new or longstanding. Contact us for more information to help you at this time of booming extensions, renewals and major contract decisions.