The first impact is over. Every organization was taken by surprise. Without notice, we've just experienced a live global test of every business's ability to withstand the sudden changes that have impacted our lives. Going forward, we need a pragmatic framework to confront the challenges to survival and growth over the next 18 months. A framework that balances short-term triage with longer-term planning. To prepare for the next 18 months, enterprises must think through and prepare for industry-specific impacts to immediate profitability and short-term liquidity. The framework below plots industries relative to these challenges. As proof of the volatility of the global situation, Oil & Gas moved from challenged liquidity and moderate profitability impact to extreme profitability impact with the collapse of the oil markets in the last 24 hours.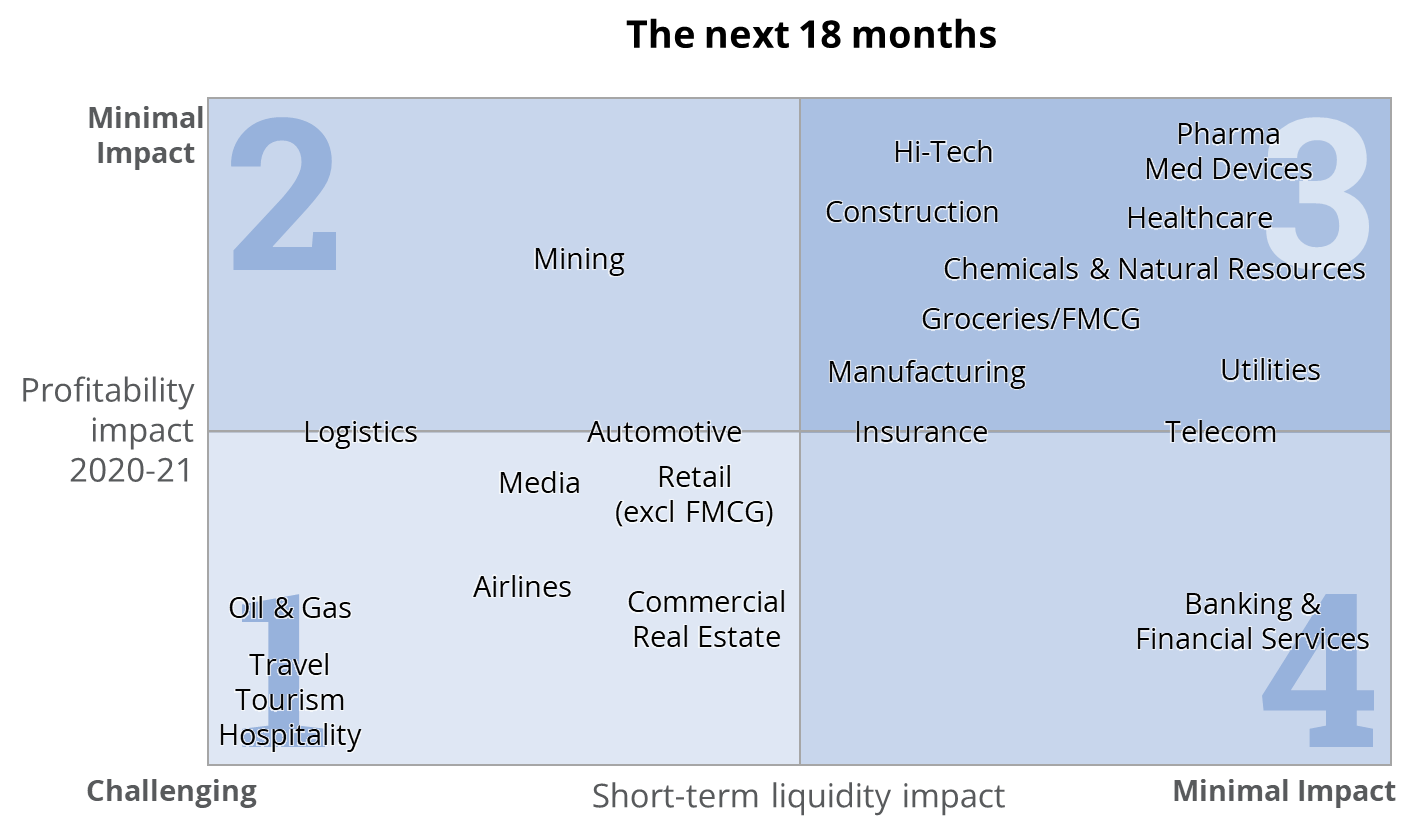 All businesses will need to start to think about a new way of building resiliency into their operations. This is not just about designing a better business continuity plan – one that accounts for a global pandemic. It's about re-thinking the way work gets done, enabling your company to "bend but not break" during a time of crisis. It's also about enabling your company to snap back quickly and be prepared to take advantage of new opportunities that may present themselves. The most successful companies will learn better practices from this situation and be prepared to apply them in the future to increase resiliency, innovation and market position.
The challenge for most organizations, especially those in quadrant one and two of the framework above, is that internal crisis teams are (rightly) focused on immediate fixes and finding funding for these fixes. They are essentially in survival mode. And, while many of our clients have moved beyond emergency preparedness, most are now focused on cost takeout, which we have discussed at length over the past several weeks. We believe that, while cost takeout is taking place, enterprises should also be planning for what's next. Decisions you would normally make in a time of mere financial stress will require a different way of thinking.
All companies will need to navigate their way toward three "horizons" over the next 18 or so months while they continue to strengthen business continuity plans, take out unnecessary costs and boost efficiency. Setting your sights on these horizons will encourage thinking that is appropriately focused on the need to build more resiliency in how work gets done – what we call an operating model for resiliency.
Horizon One: Recover and Resolve
The entire globe is in this state now and will continue to focus on staying alive over the next one to two quarters. Enterprises should identify and attack short-term challenges like supporting remote customers and employees with technology and automation. It's important here to think about the viability of critical processes, how well you are serving your remote customers, how you are balancing technology spend to achieve these objectives, where you might incorporate automation at scale and how to prepare to scale your cloud adoption.
Horizon Two: Be First and Resilient
Companies must not wait too long to think about the second half of 2020 and beyond, toward the new baseline of a post-COVID era. A critical step is building resilience, competitive advantage and modernized compliance into a new-foundation operating model. Key considerations will depend on how your industry has been impacted over the last months through the COVID crisis: Cash-rich firms should use the opportunity to acquire assets and strengthen their market position – we expect to see a flurry of M&A activity – or get into new lines of business and revenue streams. Less fortunate firms might look at monetizing assets and strategic divestitures to improve working capital positions – which in turn will sponsor projects that increase resiliency. For example, manufacturing firms will now have to face the dilemma of how to build resilience in supply chains with the JIT/JIS business paradigm they have been following over the last decade. Some others will also look to early adoption of government mandates as a competitive advantage.
Horizon Three: Prepare for New Future
This horizon looks out one to two years from today. Companies should think about how the baser foundations of their business will change post-crisis. Picture yourself in June 2021, and as you look back, ask yourself what opportunities you wish you could have used to change your business? For example, what will supply chains look like for food distribution companies? What will retail stores look like with contactless commerce? What testing and sanitary measures will Travel, Transportation and Hospitality firms need to implement to win back wary customers? And how do you get into the minds of your customers to understand what they care about now, which may have little to do with your primary offering at the moment. Finally, how does your organization, technology platform and decision-making process need to change to capitalize on the next-normal conditions we all find ourselves facing? This calls for a new operating model, and a new way of working – and it's going to be digital. What employees do today will not be what they do in the next few months and into the future.
The question today is this: what must we do to prepare for this new way of working? You need an operating model that can ensure process continuity and invite and nurture innovation in the face of a disaster while both your employees and customers are virtual. And you need partners, platforms and ecosystems that play in this new operating model.
Join us for a webinar as we work together to planning for resiliency and set out on the road to recovery.