A strategy realization office (SRO) is an execution engine that enables organizations to develop, realize and sustain the value of their digital initiatives. What is an SRO? Let's explore what an SRO can do for your organization.
Organizations must focus on generating value. Where once business cases led to projects and projects led to execution to obtain value (in theory), organizations are increasingly seeking to achieve and sustain value generation. Because of this, organizations have become increasingly interested in adopting an SRO.
What Is an SRO?
An SRO is a cross-functional governing body that ensures the strategic alignment, investment and execution of a portfolio of transformation (program and project) initiatives, ensuring the intended strategic outcomes are realized.
To ensure initiatives are aligned with the organization's transformation strategy, the SRO is rooted in the three core tenets, including:
Strategic alignment for deployment of resources
Prioritization and business value of investments
Management of transformation projects and programs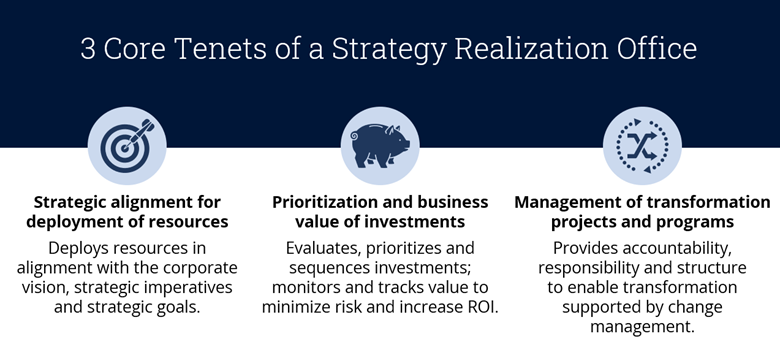 Figure 1: Core Tenets of the Strategy Realization Office
The key mission of the SRO is to take strategic responsibility for optimizing transformation investments while maximizing ROI – all while ensuring alignment between tactical execution and strategy.
In one example, a manufacturing company established an SRO to manage the design, development and strategic execution of their portfolio of digital threads with the goal of improving aftermarket sales, product quality and customer experience to name a few. These digital threads (or programs) are a compilation of various projects, all strategically designed to generate high business value. The digital thread SRO (DTSRO) evaluates and prioritizes the company's portfolio based on the value expected, generated and ultimately realized. If the digital threads do not generate value, the DTSRO realigns investments accordingly and pivots the project. In this way, the DTSRO continues to make small investments toward the area of value generation.
What About the PMO?
While organizations have historically leveraged a project management office (PMO), they are struggling to realize and sustain the value generated by projects. This is because a PMO focuses entirely on the management of project delivery.
While PMO effort is critical, it's also important to incorporate continuous strategic alignment and ongoing value realization to ensure the sustainability of business value and outcomes. This is why ISG defines the capability scope of an SRO to include four areas: program (and project) management, investments and value management, execution risk management and organizational change management.
Not only are both the PMO and SRO critical, but they work together symbiotically. The SRO can be an escalation point for the PMO to rapidly and efficiently shift and/or allocate resources across business units.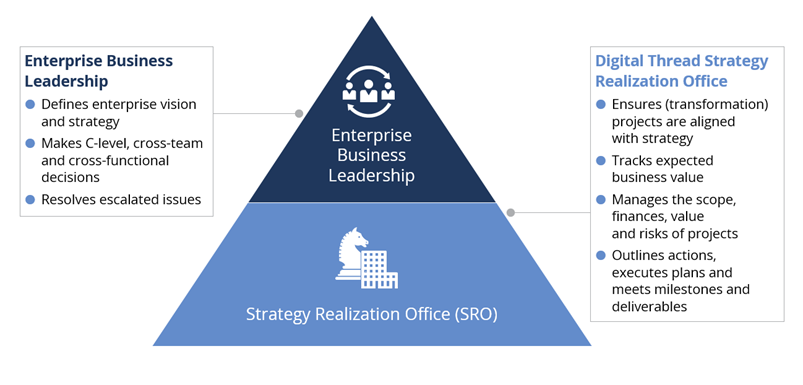 Figure 2: Strategic Execution Engine of the Organization
What Are the Benefits of an SRO?
An SRO is the value-generating engine that ensures the strategic outcomes are realized in alignment with the strategic direction of the organization. Overall, the SRO brings both strategic and tactical benefits. These include:
Strategic benefits:
Improved investment decision-making for innovation and transformation
Aligned resource deployment with strategic objectives
Cross-functionally shared risk and reward encouraging cultural adoption
Tactical benefits:
Consistent and repeatable process for evaluating investments
Increased user adoption and stakeholder engagement through change management
Improved benefits through tracking and monitoring of business value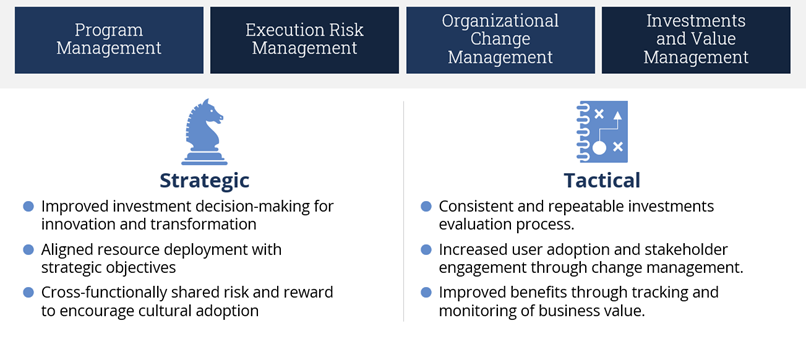 Figure 3: Benefits of an SRO
5 Signs an SRO Is Right for You
You have poor value generation and low ROI on digital investments. An SRO makes pilot and smaller-scale investment decisions, thus ensuring achievement of value and outcomes for each digital investment. This allows improved ROI and decreases risk of digital investments that don't add value.
Your digital initiatives are not realizing or sustaining value. The inability to realize or sustain value is largely due to poor definition, monitoring and tracking of value and outcomes. An SRO provides the capacity to define and manage the value at a portfolio-and digital-initiative level.
You lack visibility across your digital initiative's portfolio. The SRO provides transparency at the portfolio level, thus reducing duplication of effort, improving resource efficiency and ensuring cross-enterprise alignment with strategic objectives at the portfolio level.
You face limitations in turning strategy into action. The SRO provides the resource capacity to define, develop and execute a strategic digital initiative – allowing the organization to be more agile with its digital strategic approach and investments in response to market changes or emerging opportunities.
You struggle with execution of cross-functional initiatives. As organizations are increasingly connected, they require improved cross-functional collaboration. An SRO provides the cross-functional governance platform to break down siloed boundaries.
If any of the above are true for your organization, an SRO may be the solution. ISG helps companies implement SROs that help their digital initiatives succeed.
ISG serves the Global 500 and beyond with the mission to boost enterprise value through winning solutions and services research. We are the market leader in the deal advisory space for the technology service sector, advising over $15 billion annually in technical service transactions. Contact us for more information.