Early in the first quarter of 2020, companies in the smart manufacturing and Industry 4.0 sectors around the world were anticipating another strong year with an accelerating global economy after more than a decade of rapid growth. In January 2020, market research from MarketsandMarkets forecasted year-over-year accelerating growth for the smart manufacturing market with a total market value of $214.7 billion in 2020 and continued strong growth through 2025, reaching a projected total market value of $384.8 billion and a 12.4 percent CAGR from 2020 to 2025. See Figure 1 below.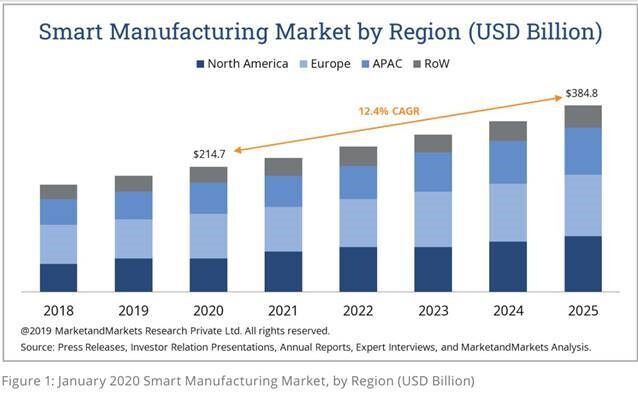 When the COVID-19 pandemic hit in the first quarter of 2020, the impact on the global economy was significant, and the smart manufacturing segment felt it with the loss of 1.3 million manufacturing jobs in the U.S. during the month of April. As Asia-Pacifc, Europe and North America shut down their economies with governmental stay-at-home orders, MarketsandMarkets and other industry research firms began to publish a post-COVID-19 year-over-year forecast with a revised impact to 2020, predicting a negative growth rate with a drop of 16 percent. Figure 2 illustrates the revised projection with estimated growth for the market from $181.3 billion in 2020 to $220.4 billion in 2025, a CAGR of 4.0 percent. While this is less than one-third of the pre-COVID-19 forecast, it still predicts a healthy recovery starting in 2021.
Increased demand for smart manufacturing products and services in response to the public health crisis will drive further growth. This will likely spur continued evolution of digital twin technology – digital replicas of potential and actual physical assets, processes, people, places, systems and devices – in maintaining manufacturing operations across the ecosystem and a rapidly expanding role for collaborative robots in the healthcare and manufacturing sectors.
This ISG white paper, Smart Manufacturing Accelerates Adoption Post-Pandemic, explores the trends that affected the smart manufacturing sector going into the COVID-19 pandemic and the trends that are most likely to affect it coming out of the pandemic. It also outlines how manufacturers can maximize value and ROI of their smart manufacturing initiatives.