2023 ISG Market Scan on UK Wealth & Asset Management Automation and Outsourcing
UK-based wealth and asset management firms are under immense pressure, especially when it comes to the cost efficiency of their underlying business processes and IT estate. The following three trends will be important for leading wealth and asset management firms to consider as they work to gain efficiencies and reduce costs:
Intense competition to address the same "high net worth" market, especially as traditional sources of funds are drying up from places like the Middle East, China and Russia
Nimble, digital-first new competitors that are able to offer a "hybrid experience" and are not burdened with legacy IT
Newer investment opportunities in the form of new asset classes, such as environmental, social and governance efforts
Automation and outsourcing are two levers that wealth management companies can use to address the challenges posed by these trends. While most asset management firms have a strong outsourcing record, they have yet to take full advantage of end-to-end automation. This is especially true of large asset managers that handle more than £50 billion in assets under management (AUM).
Compliance costs are also increasing around Know Your Customer initiatives, compelling wealth and asset managers to consider digital solutions that will help them enable and streamline this work. The goals are reducing human effort, standardizing underlying applications and increasing cost-effectiveness.
To give wealth and asset management firms in the UK a comprehensive overview of the current automation and outsourcing trends and market dynamics in their sector, we conducted a market scan of more than 45 wealth and asset managers of varying sizes. We looked specifically at their technology environments, key challenges, priorities and evolving ecosystems. The outcome is a a balanced perspective of the UK wealth and asset management sector.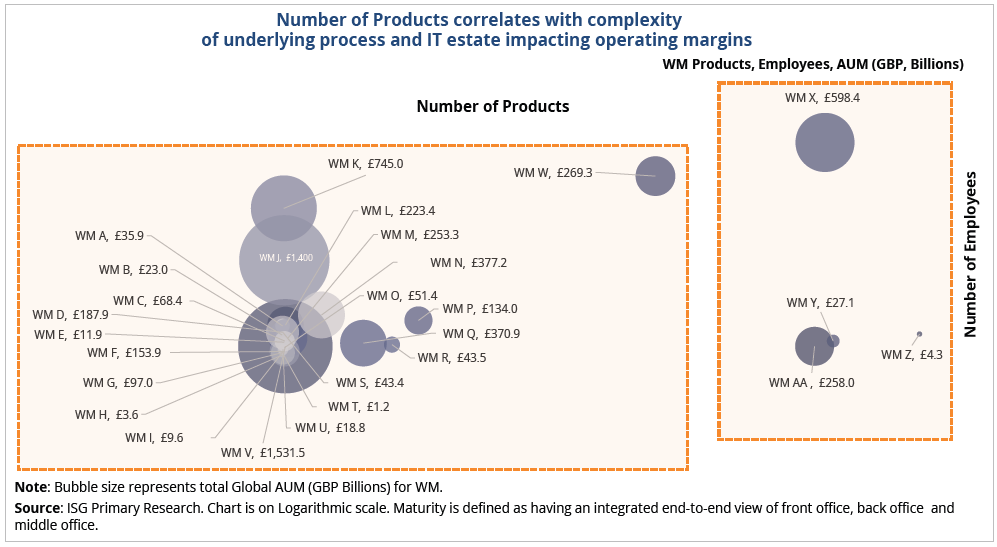 Figure one – A glimpse inside the report
Download a summary of the ISG Market Scan on UK Wealth & Asset Management Automation and Outsourcing

ISG advises wealth and asset managers as they navigate the challenges presented by industry shifts, particularly in the context of their IT and business processes. We provide tailored guidance to clients, answering pivotal questions so they know what, when and how to automate and outsource.
To receive a complimentary ISG advisor readout, along with a summary of the report, simply complete the contact us form on the right.

Do you have a question, comment or suggestion?