The need to reimagine and deliver a seamless employee experience
The idea of employee experience (EX) has gained traction with enterprises over the last few years. In this new era of hybrid work, enterprises across industries must constantly reinvent themselves and reimagine their workplace to unlock positive business outcomes. Employees are now at the center of the workplace, and they expect more personalized experiences and flexible benefits that can enhance the workplace and create a sense of belonging. Modern employees also expect more training and development opportunities that can help them upgrade their skill sets and achieve their career goals. This makes technology adoption key to talent recruiting and retention.
According to the U.S. Bureau of Labor Statistics, the number of people quitting their jobs reached 4.2 million in July 2022, a little higher than in July 2021 (4.1 million). Although the number of job openings increased from 10.8 million in July 2021 to 11.2 million in July 2022, the number of hires decreased by around 0.2 million. With the intensifying talent war, increasing resignations and changing employee preferences, enterprises must create new work policies that support hybrid working models and establish a culture that promotes employee well-being. Enterprises realize the growing need to develop a culture of innovation and growth.
Managed workplace service providers and experience-centric offerings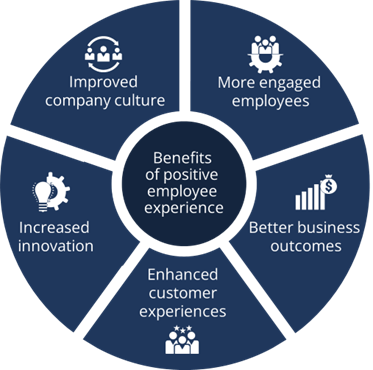 Figure 1: Benefits of Positive EX
Managed employee experience services are EX-focused services that help enterprises provide employees with a connected, simplified and unified EX. These services offer a holistic approach that further empower enterprise clients to deliver value to their employees regarding technology choice, self-sufficiency and workplace flexibility.
According to a new ISG Provider Lens™ Future of Work Services and Solutions 2022 report, several service providers offer a strong portfolio of EX-focused services. These services emphasize multiple areas such as experience level agreements (XLA)-based services, employee engagement and productivity. Leaders in this space offer differentiated managed EX services by leveraging emerging technologies such as AI, analytics, automation and AR/VR-enabled workplace support services.
Although providers offer a comprehensive set of experience-focused services to meet the current workforce expectations, enterprise clients find it challenging to differentiate among providers offering similar capabilities. Selecting a potential provider from market-leading players to niche players that understand an enterprise's business needs and meet the evaluation criteria can be time-consuming. Enterprises find it difficult to select managed service providers (MSPs) that consistently provide quality and on-time service to meet their modern workplace needs.
The ISG Provider Lens Future of Work - Services and Solutions 2022 report assists enterprise clients in identifying service providers that lead the pack of equals. As per ISG's IPL report, experience-driven, custom-built, user-centric, intelligent, immersive and smart workplace offerings differentiate the providers in this space and make them a leader in managed workplace services.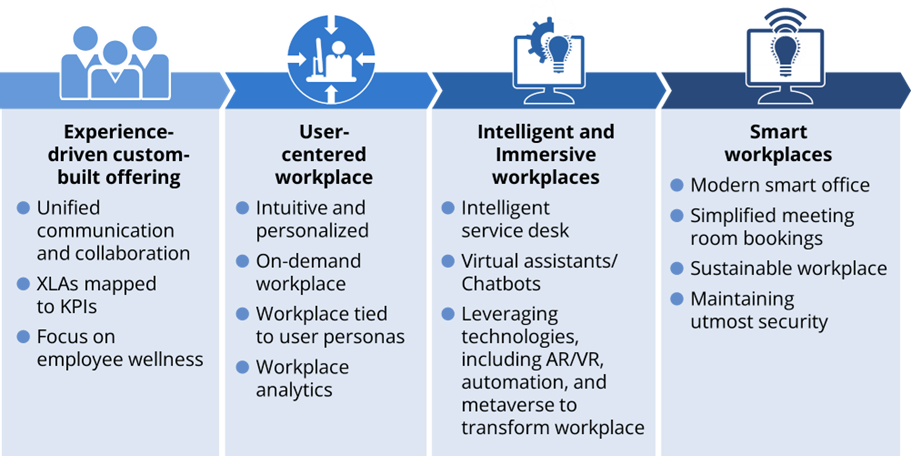 Figure 2: Key Characteristics of Leading Experience-Focused Providers
4 Characteristics of Leading Managed EX-Focused Services
The following four characteristics are common among leading providers today:
Experience-driven, custom-built offering: Global enterprises want to ensure they provide seamless experiences to their employees and therefore are measuring the experience level using XLAs. All 10 out of 10 leading service providers in the U.S. offer end-user experience level (XL) measurement capabilities and key performance indicators (KPIs) for measuring device and application performance, employee engagement and employee productivity. EX metrics and KPIs, including employee productivity, wellness, satisfaction and retention, must be measured periodically to address employee issues.

User-centered workplace: Leading providers in managed EX services focus on three main aspects, namely, people, technology and workplace. These providers assist their clients in defining a strategy that is built on specific personas and employee journeys to enhance employee productivity further. Globally, enterprises are using analytics to address critical issues from the users' perspectives, identify the root cause and drive improvements and a user-centric workplace. Leaders in managed workplace services also leverage gamification techniques to drive change management and engage employees more in learning and training.

Intelligent and immersive workplaces: Immersive technology has become an essential technological development, and leading providers in this space are taking a leap forward in embracing augmented, virtual and mixed reality. Providers have taken significant steps such as AR/VR-based training, onboarding, immersive virtual meetings, metaverse and digital avatars to offer immersive experiences to enterprises. Service providers are offering intelligent virtual assistants to make workplace support intelligent and serve as key differentiators in this highly competitive market. They are also using virtual assistants to empower enterprises in automating business processes including IT and HR helpdesks and offer a hassle-free experience to their employees, resulting in enhanced employee productivity and business outcomes.

Smart workplaces: In this post-pandemic world, enterprises must offer smart facilities and physical on-premises services that ensure employee safety. From smart climate control technology to smart windowpanes, enterprise clients across the world are adopting smarter technologies to drive digital transformation in the workplace. Leaders in managed workplace services are offering AI- and IoT-enabled connected workspaces to deliver exciting business outcomes, including faster migration, reduced costs, increased employee productivity and enhanced workforce experience. Creating a sustainable workplace and carbon-neutral business is another area of focus for enterprises and providers to promote a greener future.
What's Next:
The ISG Provider Lens Future of Work Services and Solutions 2022 report demonstrates that the future of work is now hybrid and experience-focused, which revolves around employee engagement, wellbeing and flexible work arrangements. The global pandemic catalyzed enterprise clients to redesign their workplace models and boost employee productivity. Leading providers in managed workplace services not only offer their standard digital workplace capabilities but also value-added EX services. According to the report, finding and retaining talent remains a critical concern for enterprises worldwide. To keep their best talent, enterprises must move toward offering experience-centric services to their workforce.
To know more about the growing importance of managed EX services and how to meet current workforce expectations, please see the ISG Provider Lens Future of Work Services and Solutions 2022 report for the U.S. here and to know about ISG Provider Lens™ Quadrant Reports, visit this webpage. You can also listen to the latest podcast on Peering Beyond the Lens to find out how this report can help you build a successful strategy in the future.