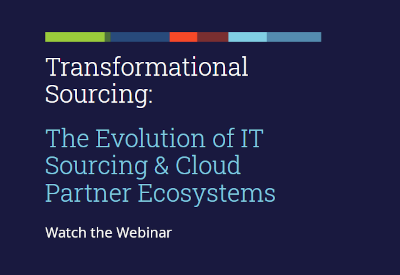 In response to the rapidly evolving business landscape, companies must adopt new and rapidly evolving technology faster than they may be accustomed to. Enterprise buyers are increasingly using cloud-based platforms to drive transformation. And migration to these platforms is accelerating. New partnerships are being established, and new platforms are opening the door to new opportunities. It's a lot of change!
Because of this, IT sourcing is undergoing a paradigm shift.
The Evolution of IT Sourcing
According to the ISG Index, global IT and business services combined annual contract value (ACV) grew at its fastest annual pace ever (29%), to a record $84.2 billion for 2021.
Traditional IT sourcing is about optimizing your IT capability. Today, companies need more than that. They need their IT to underpin nearly everything they do. IT sourcing transformation is about enabling the business and driving digital transformation.
To break it down, we can see how a shift from traditional to transformational IT sourcing impacts the enterprise in five distinct ways.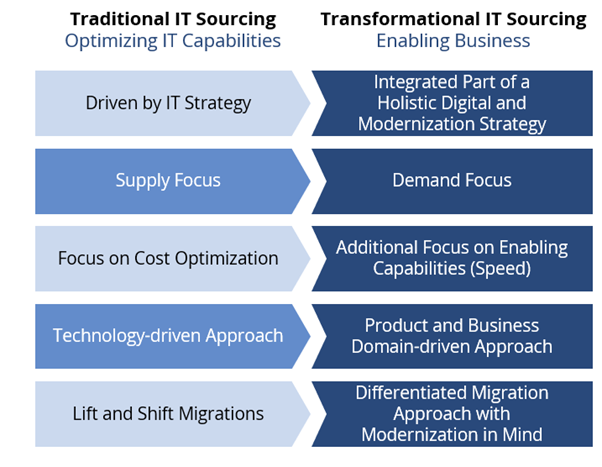 Traditional IT sourcing is driven by the IT strategy. Transformational IT sourcing is an integral part of a holistic digital and modernization strategy.
Traditional IT sourcing is based on known business patterns, user behavior and baselines, and supply services with mid/long-term predictable demand. Modern IT sourcing is demand-focused so it can adapt to constantly changing business patterns and user behavior, pay-as-you-go models and on-demand services.
The goal of traditional IT sourcing is cost optimization while the goal of modern IT sourcing is enabling capabilities and speed.
The technology-driven approach of traditional IT sourcing is shifting toward a product-and business-domain-driven approach based on standardized hosting or development platforms.
To make their IT more transformational, organizations must move away from lift-and-shift migrations to a differentiated migration approach with modernization in mind.
Such a shift has an impact on the sourcing lifecycle. The focus should start with a sourcing strategy and then turn to evaluation and negotiation. This is when you shape and define the sourcing initiative. Managing and governing the relationship ensures that the operation is, in fact, transformational.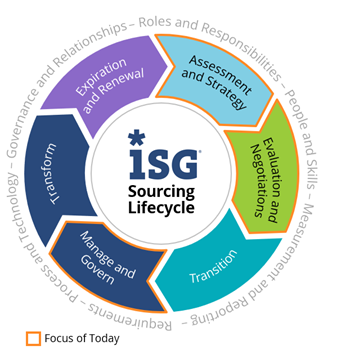 Three Cornerstones of a Successful IT Sourcing Transformation
You might have a variety of components – some software-as-a-service, some mix of cloud services, SAP or mainframe landscapes – sourced by different parts of your organization to meet different needs. The sourcing environment is complex, but what do you need to do ensure a successful IT sourcing transformation?
First Cornerstone – Key Drivers
At ISG, our engagements always start with a clear understanding of the reason for a transformation and the breakdown of the make-or-buy decisions. According to our experience, around 85% of all sourcing transactions are triggered by one of these four key drivers.
The need to optimize value across the portfolio. Most companies have built for themselves a very heterogenous provider landscape. They want to ensure they spend the money wisely and have their spend under control. They want to know if costs can be shifted from CAPEX to OPEX and what possibilities gainsharing might bring in terms of cost reduction.
The need to increase speed and flexibility. Flexibility costs money, but if flexibility brings value, it's worth it. A frequent requirement for organizations is to avoid vendor lock-in, which, in some cases, is a regulatory requirement. To find a balance between flexibility and speed on one hand and the appropriate spend on the other hand is key for transformational sourcing. In many cases, clients are looking for verticalization of the IT value chain, which includes not only sourcing design but organizational design and a target operating model.
We are often asked by our clients how such verticalization or DevOps fits in with the centralized operation of shared platforms and such questions need to be considered in the beginning to ensure a sustainable sourcing design.
The need to manage complexity with best practices. Due to ongoing technical, political and economic changes, the complexity of the enterprise IT environment is on the rise. Adoption of new business and technology platforms, cloud migration, application modernization and SAP S/4HANA rollouts are high priorities for nearly every organization – and most cannot handle such dramatic and ongoing change with their own resources and capabilities alone. Meanwhile, the provider market is also growing, and the dependencies and impacts of sourcing relationships are increasing. Transformation means "it will be different," but the target state is seldom clear at the beginning of the journey. Early proof of options and a clear understanding of the provider market is key for success.
The need to drive innovation and manage risk. It's widely known that companies often seek sourcing as a way to share the risk of early adoption of new technologies with partners.
Second Cornerstone - Design principles
ISG clients often ask what other companies do. Our answer usually involves keeping the drivers for transformational sourcing in mind. Then we dive into the design principals for a successful transformation. Use cases for transformational IT sourcing can vary between application portfolio transformation, infrastructure rationalization, cloud adoption and business process optimization.
Regardless of the specific use cases and examples, the same six essential aspects apply to all transformational IT sourcing initiatives. These essential aspects include:
Business and digital strategy – Define the business value the transformation initiative needs to deliver.
Business (value) case – provide a holistic total cost of ownership (TCO) view that can evolve along the transformation journey.
Enterprise and IT architecture – Map solutions to business capabilities, ensure flexible APIs for future needs and define which components may have to be upgraded or replaced. Analyse architectural impacts of the relevant parallel projects.
Simplification and standardization – Develop mandatory and optional requirements for the sourcing partnership and clearly define ownership of services; leverage best practices that ensure scalability instead of enacting siloed solutions.
Business continuity – Strive for minimal business disruption and ensure appropriate compliance and risk management. Keep the transition part in mind.
Organization and change management – Configure fit-to-purpose target operating model and governance from the beginning to help manage change that comes with the new solutions and user interfaces.
Third Cornerstone: Partner Ecosystem
The IT and business services provider landscape has changed dramatically over the years. ISG Provider Lens™ reports show that the marketplace supporting digital services is growing rapidly. Providers are establishing instruments to accelerate digital transformation (in the shape of landing zones, migration factories and vertical solutions) – and emerging technologies such as automation, analytics and AI are becoming more and more important.
To navigate all these changes, companies need a holistic range of services to support digital transformation from different angles, including:
ITO infrastructure as well as application development and maintenance services
Public cloud services, including IaaS, PaaS services, cloud-native features (APIs), analytics services
Software-as-a-service solutions like Google's G Suite, Microsoft Office 365 or Saleforce.com
Intelligent BPO, including business process automation, analytics, IoT, AI, business process platforms
SI platforms that enable services for managing environments and controlling and integrating services
Transformation project services that can assess, design, build, run and accelerate digital transformation initiatives, e.g., migration factories
How would such a vast range of services impact the IT sourcing process? How would it impact negotiations and provider ecosystem management?
At ISG, we recommend a strong focus on capabilities for managing and governing IT sourcing transformation. The capabilities should include the following key components:
Strategic and functional leadership that drives the overall strategy, portfolio, directions and management decisions and ensures the organization continuously adapts and achieves business requirements/goals
Transformation capability that manages the transformation journeys and ensures that strategic objectives are met. It holds apropriate resources (talent and skillsets) to accomplish the transformation journey
Service integration capability that manages the dependencies, integration, orchestration and provisioning of services and ensures the end-to-end-provisioning, delivery and visibility into usage/spend of services
Delivery steering capabilities that consist of a provider ecosystem with heterogeneous integration level and scope of services that ensure performance, continuity and improvement of services.
Preparing for Change
We are often asked if we see sourcing activity growing or diminishing. Our answer is we see neither. Rather, we see the nature of sourcing changing, with greater dynamism in the market, a greater variety of players, new creativity in pricing models and whole new offerings, like hyperscalers.
To manage the ever-increasing complexity of the IT ecosystem, enterprises need their providers to deliver client-specific value, balancing standardization and flexibility, and sometimes sharing the risks. Enterprises, meanwhile, have to anticipate and prepare for technological and organizational transformation and build KPIs that measure the value of that transformation.
To learn more on how to drive your transformational IT sourcing, tune in to ISG's recent webinar on Transformational Sourcing: The Evolution of IT Sourcing and Cloud Partner Ecosystems.