Major players continue to dominate the IoT services landscape as evident in the forthcoming 2022 ISG Provider Lens™ (IPL) Internet of Things (IoT) Services and Solutions study. Enterprises are shifting from IoT proofs of concept and discrete solutions to large-scale deployments. They are seeking providers that offer the right set of technologies, platforms and architecture from the outset to ensure quick ROI and to get help managing the increasing complexity and preserving the long-term viability of an IoT ecosystem.
Recent shifts in market dynamics could be disruptive. While enterprises across the globe showed a keen interest in IoT initiatives in 2021, factors such as challenges associated with the pandemic, a global chip shortage and talent crunch slowed down the growth. At the same time, these factors also contributed to radical changes in the provider community. The spinoff of Kyndryl from IBM and the merger of Mindtree and LTI, among other acquisitions, are examples of market developments affecting IoT practices. While creating new options and opportunities, these changes also trigger confusion among customers.
The 2022 IPL IoT Services and Solutions study explores these changes, makes sense of current market conditions and showcases the providers that are most relevant in this space.
Feeling the Talent Squeeze
In the past year, attrition has become a growing challenge for providers, including the ones delivering IoT services. One strategy to counter this challenge has been to expand internship programs that engage prospective employees while they are still pursuing their academics. Such initiatives build relationships and reduce ramp-up times and learning curves.
Some India-based providers are looking beyond leading engineering universities, with targeted programs in less heavily recruited areas. Retention efforts are equally important and often include career plans that chart goals, measure progress and offer cross-training initiatives that orient employees to new skills and distinct parts of a business. The 2022 IPL IoT Services and Solutions study includes an evaluation of provider strategies to address the IoT talent crunch challenge.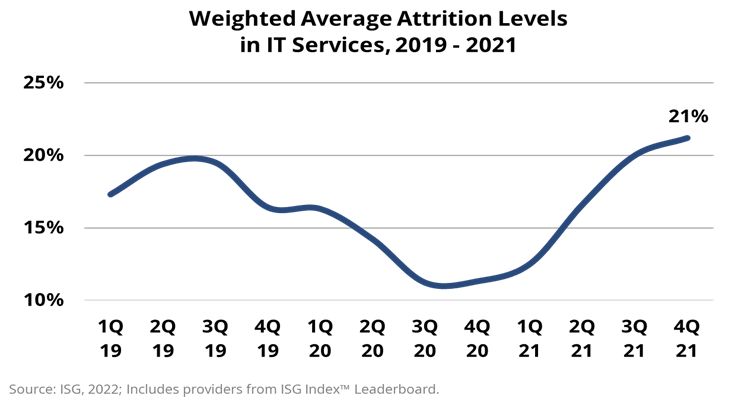 A growing demand for managed IoT services over the past year reflects the difficulty enterprises face in managing their complex IoT environments and in tracking associated security requirements. The Q1 2022 Americas ISG IndexTM reported that the overall managed services annual contract value (ACV) reached $4.4 billion, with a growth of 22 percent ― IoT managed services are following that trend. Maturing technologies such as cloud and 5G, and the growing demand from the midmarket will continue to boost the demand for managed services. Like in 2021, the 2022 IPL IoT Services and Solutions study assesses managed IoT services with a country/region specific view.
Sustainability Gaining Prominence
Sustainability is becoming a priority for both enterprises and service providers, and IoT technologies and services create unique opportunities to address sustainability objectives. Data from smart energy and water meters can, for example, reduce energy and water usage. IoT-enhanced logistics can optimize trucking routes to reduce fuel consumption. Moreover, enterprises are discovering that a focus on waste reduction and environmental sustainability yields positive business results. According to ISG 4Q21 IndexTM, sustainability is one of the top trends to watch on C-level agendas in 2022.
Of course, maturity levels in sustainability efforts vary among IoT service providers. Some have committed to net zero goals or ambitious improvement targets for their own operations and have, consequently, proactively integrated sustainability objectives into their customer strategies. Other providers are limiting their initiatives to respond to client requests. For the first time in 2022, IPL is collecting specific information about sustainability offerings as well as company goals.
Responding to Market Dynamics
In response to market changes, ISG has updated the quadrants for the 2022 study to assess Strategy Consulting and Implementation and Integration as separate quadrants. The intent is to reflect the market trend of IoT managed services moving away from limited IoT projects and creating companywide IoT strategies that include products and processes before starting implementation in a variety of departments. Also, the Connected Mobility quadrant in the 2021 study focused primarily on connected vehicles. Given the growing relevance of IoT in the context of logistics and supply chain, the scope of this year's quadrant has broadened to include mobile asset tracking and management, focusing on the use of connected sensors to monitor products, equipment and people in transit and in remote environments.
While the 2021 study included a global quadrant for IoT Endpoint Security, the research revealed that providers now embed security in services across the IoT ecosystem. According to the global cybersecurity firm, Kaspersky, over 1.5 billion IoT breaches occurred in H1 2021, double the number from H1 2020. The growing number of connected devices is increasing attack surface and adding to security risks. In response, enterprises around the world are doubling their efforts to address cybersecurity challenges and ensure safe IoT environments.
On the Edge
The 2022 IPL IoT Services and Solutions study has also broadened the scope of the Edge quadrant to address data management, in addition to AI capabilities for edge applications, while shifting from a global evaluation to a country-based assessment. 5G adoption is driving IoT growth for applications that need greater speed, stability and secure connectivity with ultra-low latency. Rapid 5G adoption will accelerate the growth of the IoT market, including bringing about new areas of IoT applications and use cases. It is to be noted that 5G also means more data moving at faster speeds, which implies that AI and data management capabilities on the edge are evolving quickly.
Lastly, in 2021, the IPL study included a global quadrant called IT/OT Tech Data Convergence as related services reached critical mass. The 2021 research showed us that the providers tie IT/OT interaction and convergence services into the other service offerings for most service providers. Therefore, the 2022 study assesses those, as appropriate, in each of the quadrants.
Innovation and Transformation
The past 12 months have given us a continuing pandemic, a war in Ukraine, supply chain challenges and talent attrition. Yet, innovation in sensors and applications continues, with an improving network infrastructure in many countries. Also, enterprises are looking toward digital technologies to help transform their businesses and become more competitive and sustainable. The IoT ecosystem and the markets for services will continue to grow as a part of overall digital expansion.
Scheduled for publication in July, the 2022 ISG Provider Lens™ IoT Services and Solutions study will provide valuable insights into the IoT landscape. Lead authors, David Pereira (Brazil), Oliver Nickels (Germany) and Alex Kozlov (U.S.) assess market conditions, client priorities and provider capabilities with a regional focus in this fast-paced sector. Contact us to learn more.