At the Inspire conference last month, Microsoft announced its new desktop-as-a-service (DaaS) offering called Windows 365. With this offering, the company puts forward its entire Windows 10 operating system (and Windows 11 after it launches) on Azure. Starting in August 2021, users can access Windows 365 through a client application via Windows, Mac, iOS, Android or Linux devices and even through an HTML browser. Microsoft called the announcement the beginning of the "cloud PC" era.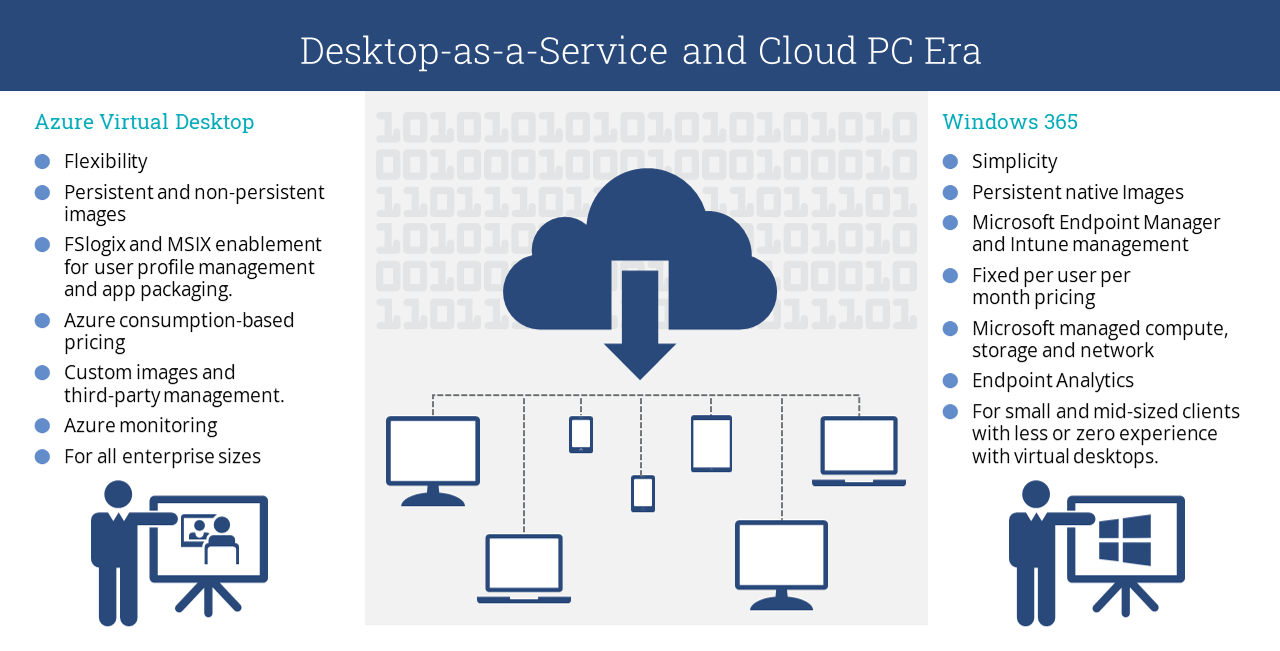 Source: ISG
Windows 365 is expected to disrupt the desktop virtualization market in the same way Microsoft did with Azure Virtual Desktop (AVD), which was introduced as Windows Virtual Desktop (WVD) in September 2019.
Here are the takeaways for IT decision makers from this announcement:
Windows 365 and AVD
ISG has observed a growing interest in DaaS among enterprises over the last few years, noting a major surge in demand in 2020 after the introduction of AVD. According to a survey published in the annual VDI Like a PRO report, around 27 percent of global DaaS clients use Microsoft AVD. This number is expected to increase in the coming years. In spite of Microsoft's clarification that Windows 365 is distinct from its AVD services, the two offerings do leverage the same technical architecture, which we expect may cause some confusion.
Windows 365 enables easier management of virtualized desktops but with a limited feature set. For example, while it provides personalized persistent image desktops for Windows 10, it's without the multi-session Windows 10 capability that AVD offers. It also lacks AVD's hypervisor-level backup for disaster recovery. The biggest difference between the two offerings is Windows 365's fixed monthly charge and AVD's consumption-based pricing model.
Licensing and cost savings
Virtual desktops infrastructure (VDI), or DaaS, is less about saving costs and more about providing user flexibility. However, enterprise buyers that adopt these technologies typically look for cost savings and optimization opportunities. Creating a cost-effective business case is the biggest challenge for building virtual desktops in a public cloud.
Although DaaS solutions such as AVD offer compute, storage and networking costs covered in Azure consumption, enterprises often experience unpredictable usage that results in an increase in the total cost of ownership (TCO). While Windows 365 offers a fixed fee per month for each user to combat this unpredictability, buyers will need to purchase an additional Cloud PC license to cover compute, storage and networking costs. For both AVD and Windows 365, clients will need a Windows 10 Enterprise or Microsoft 365 suite license.
Windows 365 appears to be best suited for SMBs
Most AVD deployments leverage third-party applications such as those from Citrix and VMware to manage environments. This will not be the case for Windows 365 deployments, which will be managed by Microsoft. The new offering will come in two versions — Enterprise and Business. The Enterprise version is for clients that have already invested in Microsoft Endpoint Manager (MEM) to manage Windows 10 desktops. The Business version is meant for individuals and small businesses.
Overall, Windows 365 is designed for clients that don't have a dedicated or expert IT staff to manage complex DaaS environments themselves. In return, they will go without some key features. For example, Windows 365 will offer a native user profile experience for virtual desktops without additional FSLogix-powered management to allow containerized roaming of user profiles from one virtual machine (VM) to another.
Longer notebook and laptop delivery times
Many enterprises have adopted the device-as-a-service model (which is fundamentally different from desktop-as-a-service, though it shares the same acronym), in which a service provider manages the complete device lifecycle from procure to dispose, irrespective of the user's location. But many enterprise technology buyers have been facing slower deliveries of Windows devices due to the major chip shortage for notebook and laptop OEMs. With such challenges in delivery time, these enterprises are unable to provide devices to their employees on time.
Longer delivery times for laptops have also led enterprises to switch OEMs, with some considering non-Windows devices such as those from Apple or Google. DaaS eliminates dependency on devices and allows users to access any non-managed device through a simple web browser interface. It also helps reduce carbon footprint and is considered an ecofriendly approach. Windows 365 enables access to Microsoft operating systems for non-Windows device users.
UEM and virtual desktops
Unified endpoint management (UEM) solutions ensure secure access to applications from both corporate and personal devices. Modern mobile operating systems also offer strong containerization technologies to protect SaaS applications irrespective of the device. As the wrappers around these technologies get more and more secure and user flexibility grows, one may question the need for virtual desktops.
As majority enterprise work revolves around Windows applications, including legacy Windows applications, virtual desktop technology remains relevant. Moreover, enterprise IT leaders are not considering UEM and DaaS as either-or. Some UEM solutions also manage both persistent and non-persistent virtual desktops in addition to physical devices. For example, AVD allows users to enroll in Windows 10 Enterprise multi-session VMs via Intune and manage them through MEM.
The COVID-19 pandemic and the subsequent shift to remote work has fueled the adoption of public cloud-hosted desktops over the past year. Many clients have already adopted or are running proofs of concept for AVD. Since features such as auto-scaling enable rapid provisioning and decommissioning of virtual desktops as the workforce expands or contracts, they support gig and contingent work.
With Windows 365, Microsoft is paving a new path for this market and challenging the competition and partner ecosystem. Managed workplace service providers, particularly those that target the small and mid-sized business (SMB) segment, should develop offerings to support Windows 365, especially around networking and image management.
ISG is closely watching this space. You may reach out to us for support in understanding, implementing or maintaining your virtual desktops or DaaS environment. ISG's upcoming Provider Lens study on the future of work will compare service providers offering managed services for virtualized workplace.