In one of the most significant M&A activities ever in the IT and business services sector, Larsen and Toubro (L&T) group recently announced the merger of two independently listed IT services firms under its umbrella L&T Infotech (LTI) and Mindtree. The combined entity, now called LTIMindtree, will be a technology services firm worth around $3.5 billion. While this combination will open doors to many new opportunities, there will also be risks, challenges and opportunities. Leveraging the best of the two firms will require – at the least – changing the client mindshare and integrating distinct market and business models.
LTI+Mindtree Better Together
Apart from access to a wider talent pool, cross-selling to existing clients and cost optimization, the merger has additional advantages and benefits. We see four main synergies for the combined entity: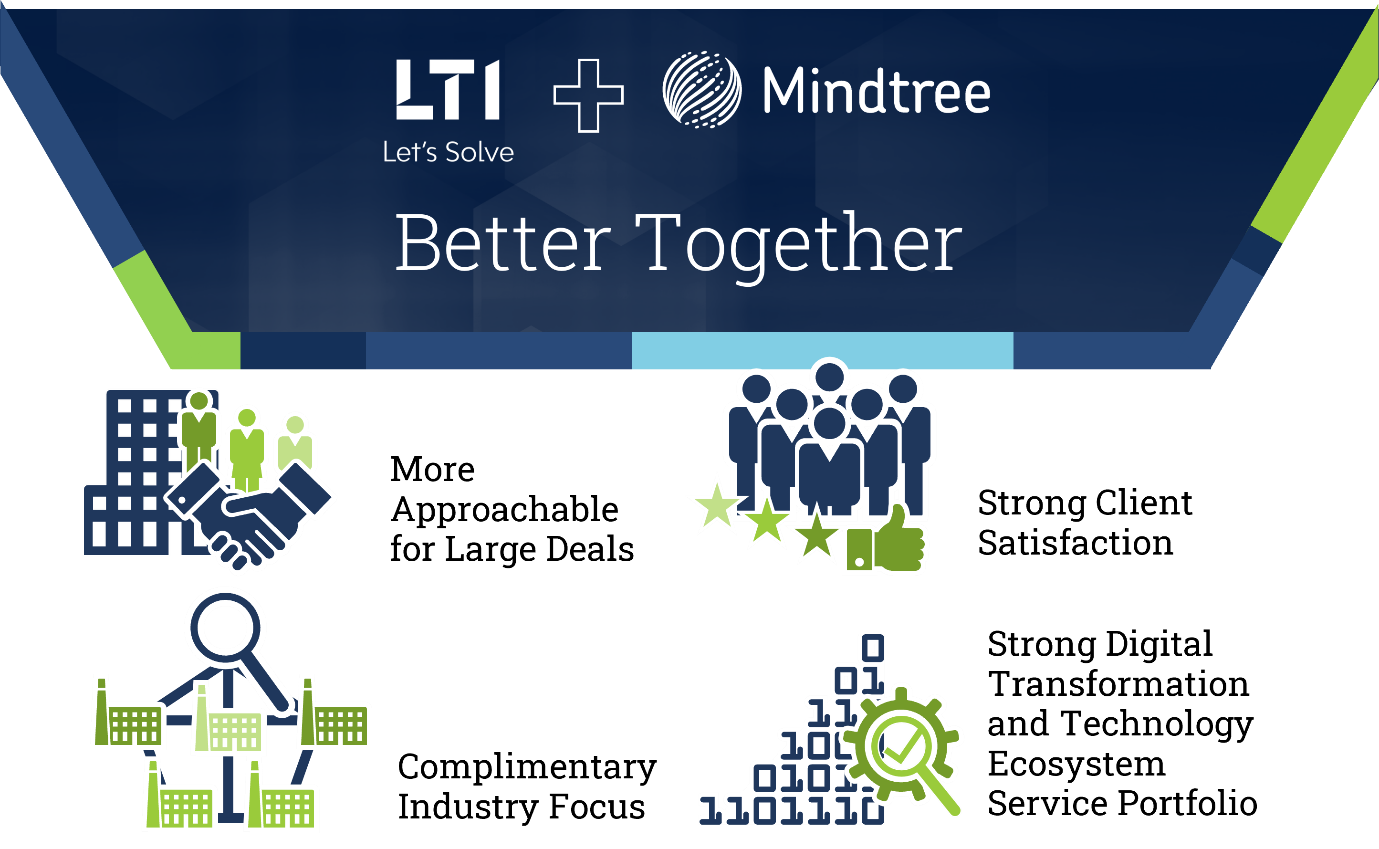 More approachable for large deals: The combined entity provides a larger scale, enabling LTIMindtree to handle more large-sized deals. ISG has observed a post-pandemic proclivity from enterprise clients toward larger providers due to concerns around access to talent. Creating a strong firm with more than 80,000 employees will help LTIMindtree create the scale it needs to win business on par with the biggest IT services firms in the world.
Complementary industry focus: LTI had a strong portfolio with the Banking, Financial Services and Insurance industries, which made up nearly 45% of its revenue. The combined entity will see almost 35% revenue from BFSI. Mindtree, on the other hand, had a strong client base in the Communications, Media and Telecom industries, with around 50% revenue, making it the second-biggest vertical for the combined entity. LTIMindtree will also have industry-wide synergies with complementary verticals from LTI, such as Energy, Utilities and Pharmaceuticals, and those from Mindtree, such as Retail, Consumer Products and Travel and Hospitality. Industry-wide coverage will further strengthen its core offerings, partner ecosystem and knowledge sharing across geographies and technology teams.
Strong digital transformation and technology ecosystem services portfolio: Both LTI and Mindtree complement each other's capabilities for multiple technology areas. LTI was rated more than 45 times as "Leader" in multiple ISG Provider Lens reports recently, mostly for AWS, ServiceNow and Salesforce ecosystem services. Mindtree secured 21 leadership positions, with the majority of them from SAP HANA, for overall digital business transformation and mainframe support services. Application Development and Maintenance (ADM) services is an area in which both firms earned multiple leadership rankings. The combined entity will be a powerhouse of digital transformation and SaaS ecosystem support services. In addition, it will leverage strong service platforms such as LENI for analytics-powered decision-making, Mosiac for AIOps and NxT for IoT services.
Strong client satisfaction: Enterprise clients have rated both LTI and Mindtree with high satisfaction. According to ISG's client experience survey, clients rated LTI strong in three areas, including using emerging technologies, ensuring limited downtime and adapting to clients' working culture. Mindtree, on the other hand, was rated highly for demonstrating innovative work models, effective cybersecurity measures and consistently maintaining high-quality work. ISG believes the combined entity will exhibit stronger client centricity and business understanding.
Challenges in Going Big in IT Services
Despite the above-mentioned synergies and opportunities, the combined entity should be cautious about the key risks and challenges associated with this merger. A few are mentioned below:
ADM-heavy combined portfolio: Since both LTI and Mindtree have considerable revenue and strong capabilities in application services, the combined entity could have significant ADM concentration. Although it makes LTIMindtree stronger in the space, the relatively lower focus on IT infrastructure and business process services can limit its chances to compete for large-sized deals that include multiple service towers.
Possible rise in attrition: The merger is being announced at a time when the industry is grappling with all-time-high attrition levels. ISG has recently analyzed the attrition levels of both Mindtree and LTI. Although both firms are facing similar attrition rates, the uncertainty that immediately follows a large merger may escalate it for at least the next few quarters.
Geopolitical risks: The merger of the two firms is taking place at a time when there are major political and economic developments happening around the world, impacting IT services. The Russia-Ukraine conflict, fear of a recession in 2023 and a slowdown in investments in the semiconductor industrycould affect enterprise spending in the coming years, which could be a risk factor for the combined entity.
Opportunities for LTIMindtree
Despite the risks, there are multiple opportunities for LTIMindtree to consider based on its current service portfolio and market demand:
Investing in branding: To compete on a larger scale, LTIMindtree can focus on building a brand image competitive to other large service providers. It will take time for the market to change its established perception of the two firms, but brand building can begin with a clear and strong marketing message and a strong value proposition.
Integrating distinct business models and middle-level management: The combined entity can integrate two different but successful business and operating models, i.e., Mindtree's 4*4*4 focus areas, in which it defined industries, service lines and geographies in four different buckets, and LTI's CHIP framework, which has helped it gain the market share. Since both firms have a comparable service portfolio size, LTIMindtree can also focus on integrating middle-level management, which is rather new for both the firms and has been inducted mostly from competitors.
Building a strong engineering services portfolio: The combined entity can have a strong portfolio in engineering services; LTIMindtree can work with its sister firm, L&T Technology Services (LTTS) to outshine the competition. ISG has written in the past that the combination of LTI, Mindtree and LTTS would be stronger in competitive bids in this space.
ISG Recommendation
For enterprise clients that are currently engaged with LTI and Mindtree, ISG recommends working with account teams and executives to ensure business continuity to avoid a drop in service delivery quality. For enterprise clients considering either of these companies, ISG recommends partnering with the firms for large-scale digital transformation work that includes modernizing core IT and managing the SaaS technology ecosystem.
Mergers of this nature have mostly played out well for the participating parties, be it Tech Mahindra-Satyam or KPIT-Birlasoft. Despite the challenges and risks, the merger of LTI and Mindtree indicates more positive outcomes and opportunities, not only for the combined entity but also for clients and partners.