Customer experience or CX is commonly used in B2C scenarios to optimize the end-user or consumer experience for products and services. Although its application in B2B scenarios is well-known, CX is seldom measured to assess enterprise satisfaction with an investment in technology and outsourcing managed services.
Measuring CX in the end consumer product industry is important for future product roadmapping and identifying improvement areas. Similarly, measuring CX for technology services and solutions is important to highlight the overall industry sentiment and identify areas for improvement. For more than five years, ISG has been tracking enterprise CX through its ISG Star of Excellence™ program to address this industry need and highlight factors that make-or-break client experience with their technology investments.
Enterprise CX is a quantifiable measure of a client's experience with a technology or managed service provider. Measuring enterprise CX involves quantifying the enterprise's satisfaction with its provider across six aspects, known as the six CX pillars. Each of the pillars consist of specific parameters that measure the performance of a managed or technology service provider, which, in turn, influence enterprise CX.
The 6 Pillars of Enterprise CX
The Enterprise CX Pillars

Ways providers can influence enterprise CX

Business continuity and flexibility

Ensuring limited downtime in any systems or services provided
Avoiding friction while transitioning
Adapting to changes in demand due to external macroeconomic and global factors

Execution and delivery

Executing plans and projects on time
Providing the agreed resources to deliver services
Maintaining consistently high-quality work

Governance and compliance

Policies and regulations compliance
Proactive engagement for issue resolution
Effective maintenance of cybersecurity measures

Collaboration and transparency

Defining the handoffs/milestones between provider and client staff
Communicating information and data around projects, workload and timelines
Being open to constructive criticism or suggestions for improvement

People and cultural fit

Adapting to the client's working culture
Understanding client business and industry
Adapting delivery to meet client business objectives

Innovation and thought leadership

Supporting end-to-end processes, supplier monitoring and ESG reporting
Demonstrating new methods of work, techniques and tools
Adopting emerging technologies and helping in their widespread use
For technology providers of hardware and software solutions, the corresponding parameters per CX pillar differ slightly to those for managed service providers.
How the ISG ISG Star of Excellence Program Works
In the ISG Star of Excellence program, ISG reaches out to enterprise clients via a "never-ending" survey and asks them to weigh each of these six pillars and then rate their managed and technology service providers on a score from 0 to 100. Zero indicates the least satisfied and 100 indicates the most satisfied. Enterprise CX is calculated as the weighted average of the six pillars' satisfaction and importance scores.
In 2022, ISG collected feedback from close to 2,000 enterprise clients across all sizes, industries and regions in the ISG Star of ExcellenceTM program. We calculated the enterprise CX scores for close to 70 leading managed service providers based on client responses. The average enterprise CX score across all service providers was 62.36. The program also lets clients provide a recommendation score for their provider between 0 to 100. The average net promoter score (NPS) of 28.0 was calculated based on the recommendation score for all providers.
The top 10 providers that scored the highest CX scores are listed below (in alphabetical order):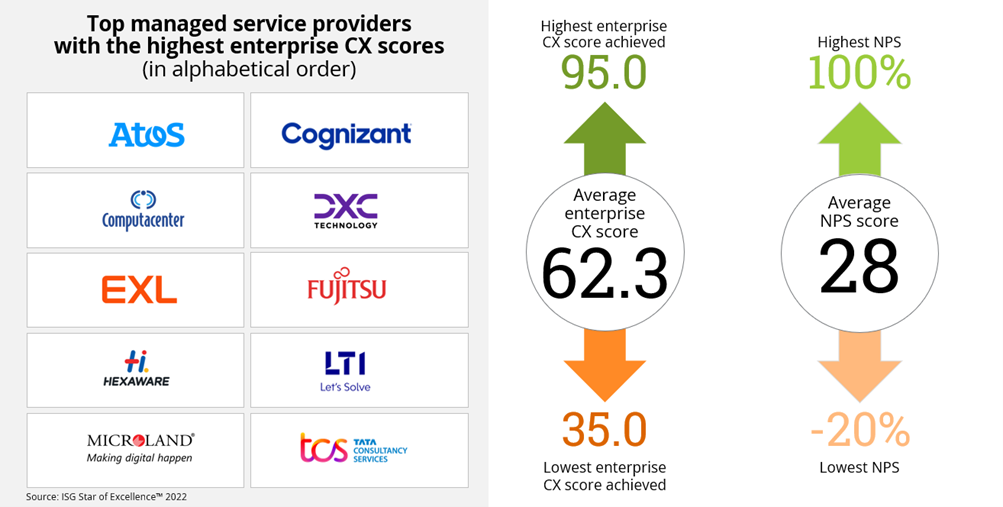 How ISG leverages Enterprise CX information in its sourcing advisory and research services
In addition, ISG also analyzes enterprise CX by different regions, technology services (as covered in the ISG Provider Lens™ program) and industries, and publishes these insights and trends in its quarterly CX Insights reports. The enterprise CX scores also feed into the providers' positioning in the ISG Provider LensTM evaluations on the competitive strength-related axis of quadrants. The CX is also integral to the Candidate Provider Qualification (CPQ) process, in which ISG sourcing advisors shortlist service providers for their clients' consulting engagements.
Providers that receive the highest CX scores across different categories are awarded a Star of Excellence Award. ISG provides different providers with benchmarking reports that detail their CX scores across various categories and conducts workshops with service providers to delve deep into the insights to understand areas of improvement.
Currently, global enterprises are dealing with a rapidly changing technology landscape and a fiercely competitive service provider market. Understanding the factors that influence CX for peers in the respective industry, region and technology services can assist clients in making an informed decision and managing their relationship with their service provider.
ISG can help in providing insights related to enterprise CX. If you are a service provider and want to know how enterprise clients perceive you regarding CX, please contact us. You can also get more information about the ISG Star of Excellence program in this webinar.