Please complete the form to read the full report
HR organizations today face the competitive challenges of becoming a top destination for talent, building the workforce of the future, managing an agile organization and retaining top employees, all while providing strategic insight to key decision-makers. To become true strategic partners to the business and enable enterprise-wide digital transformation efforts, leaders must act quickly to modernize the HR organization and align its capabilities to address these new challenges.
Today's dynamic HR technology and services market is responding in kind. Human capital management (HCM) software providers continue to expand and acquire new capability, emerging technologies such as artificial intelligence (AI), machine learning and HR chatbot solutions are flourishing, and new automation is being used to improve operational efficiency and employee experience. Innovation is happening everywhere in HR tech – from the core HCM softwareas-a-service (SaaS) providers, to employee experience technologies, performance and feedback tools, to talent acquisition solutions, digital learning technologies, wellness platforms, and even payroll services (think flexible and on-demand).
For organizations seeking to leverage this innovation, a new organizational capability in the adoption and optimization of these technologies is required. To better understand these challenges and how organizations are making their way along the digital transformation journey, ISG engaged 271 companies with a series of questions about their HR technology and service delivery environment. The companies represented a cross-section of industries operating in key geographic regions around the world and ranged in size from 1,000 employees to more than 20,000 employees. ISG's 2019 Industry Trends in HR Technology and Service Delivery Report is an analysis of that data, augmented with our deep market experience.
Answers from survey respondents paint a distinct picture of the typical journey toward maturity in HR technology, happening in phases, as seen in Figure 1 below. As organizations evolve their HR capabilities, they move toward a full SaaS solution, experiencing an increasing degree of digital adoption with optimized processes and strategic business insights that feed critical decision-making and drive business outcomes.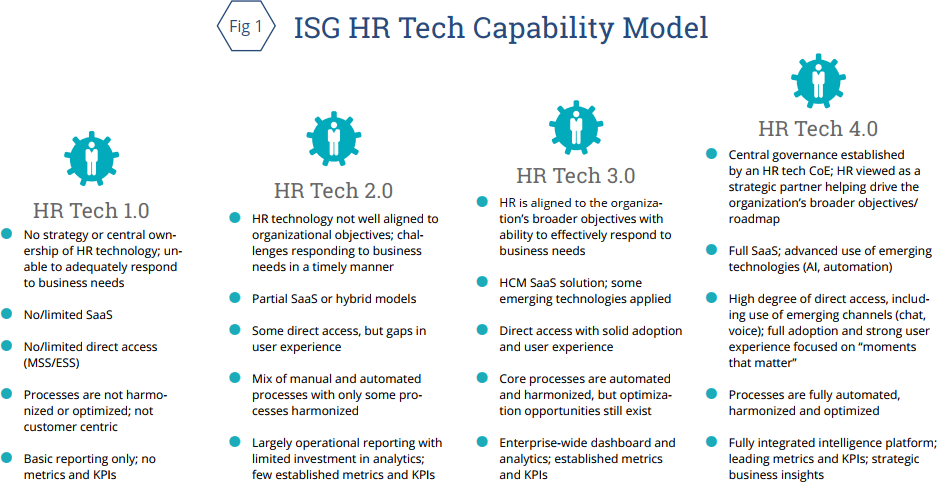 Report Highlights
Organizations are eager to move to full SaaS solutions, but many are not moving as quickly as they had hoped.
While SaaS often costs more than anticipated, more than 60 percent of companies cite significant savings in the areas of IT/technology operations and HR administration.
Although strong governance is required in this complex and dynamic technology landscape, many organizations have not yet created an HR technology center of excellence (CoE) or defined an HR technology strategy to drive business outcomes.
In moving more HR functions to a single platform, organizations are finding they require new software solutions for an improved end-to-end experience and an integration layer that will allow them to capitalize on innovation happening outside the HCM platform.
Organizations are making significant investments in advanced technology to address many of the complex HR challenges, but they are missing opportunities to optimize processes and failing to prioritize change management to ensure adoption.
And, while many enterprises are improving capability and gathering better data, they are not sure how to translate the data into measurable business value.
This report explores the state of HR technology and services today and provides guidance to address some of the challenges and opportunities organizations face as they move through the phases of HR tech capability toward digital transformation.