ISG Events Sponsorship Opportunities

Engage with your clients and prospects on the topics that matter most. ISG Events offer sponsors the opportunity to demonstrate your thought leadership through live participation to a captive audience.
You'll get to expose your company and service offerings to a whole new pool of enterprise attendees, plus book exclusive on-site sessions with ISG advisors to discuss opportunities and solutions specific to your business goals.
Learn the Sponsorship Benefits
Want to be a ISG Event sponsor?
Please email [email protected].
Sponsorship Benefits:
Thought Leadership
Demonstrate thought leadership through on-stage participation to a captive audience.
Showcase your expertise through a keynote presentation, panel session or hosted breakout room.
Promote your cutting-edge solutions through an Innovation Lab.
Capture your target audience and boost lead generation.
Keep the conversation going with post-event distributions of your presentations and reports to enterprise attendees.
Benefit from limited competition – each event has limited opportunities, so attendees can truly experience and learn the solutions that are the best fit for their organizations.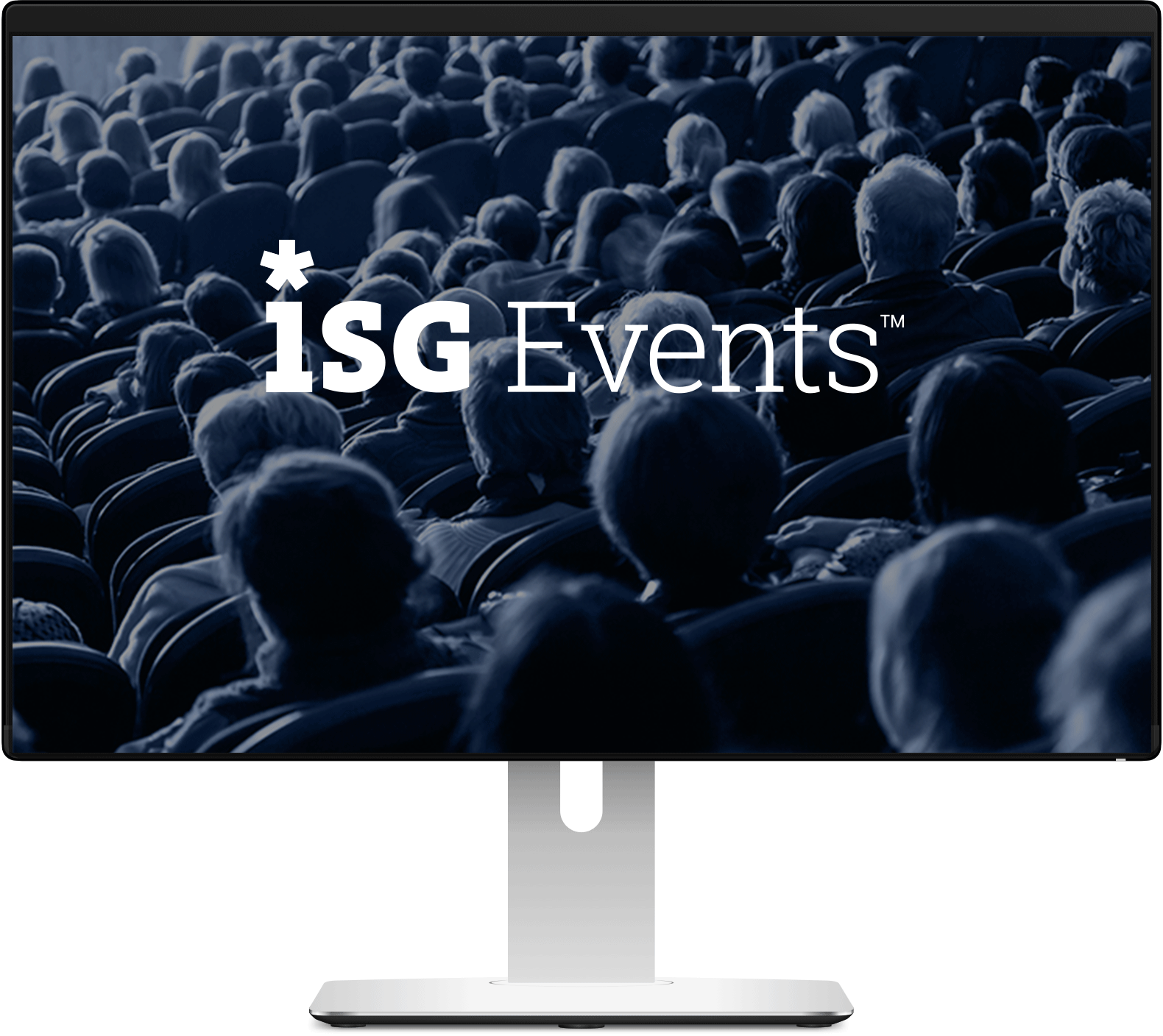 Brand Awareness
ISG Events provide an avenue to position your brand effectively in front of our audience of decision makers and influencers.
Our Digital Ad Retargeting leverages reporting to give you a measurable ROI.
We guarantee at least 100,000 impressions through our Digital Ad Retargeting Package with a campaign duration average of 3 months.
We help you expand your digital reach by strategically positioning your ads to reach visitors of ISG's event websites before, during and after the event.

Your logo will be featured on the main ISG event website.
Your sponsor branding will also be featured on the event program guide, signage, etc.
We recognize our strategic partners. Multi-event sponsorship is recognized on our event website and at dinner at our iconic Sourcing Industry Conference annually.
Make Connections

Benefit from opportunities to form and build relationships with C-level decision makers in an intimate, low hype setting.

Schedule 1:1 meetings with our ISG Advisors during or after the event to discuss opportunities and solutions specific to your organization during or after the event.

Use our live community chat feature to engage with audience members and answer any questions they have regarding their digital transformation needs.

Leverage executive passes for company representatives.

Take advantage of a custom, complimentary code to invite enterprise clients and guests.

Provide ISG with a list of targeted key clients and prospects and we will invite them on your behalf.